"Heart Valve Leakage After Surgery?" Asks Julie
By Adam Pick on October 8, 2009
I just received an excellent question from Julie about trace heart valve leakage after surgery.
Julie writes to me, "Hi Adam – My husband, who had mitral valve prolapse surgery on October 31, 2008, went for the annual check-up with his cardiologist. In review of the echocardiogram results, we were told that there was slight leakage in the mitral valve. The cardiologist told us that it was okay. But, when I asked him if the valve could require surgery again, he said that was possible. Do many patients experience heart valve leakage after surgery. Thanks, Julie and Jon!"
I can directly relate to the concern and worry that Julie carries regarding the trace regurgitation in Jon's mitral valve.
So you know, Dr. Rosin, my cardiologist, told me that I had trace leakage in my aortic valve one year after my Ross Procedure. That news was very, very, very tough to digest.
Why?
Well… As patients, we want the post-operative valve to function perfectly. We want to hear that everything will be okay for the rest of our lives. We want to hear that we are "fixed".
However, as Dr. Rosin shared the echo results with me, he noted, "Adam, I can see your concern. But, please know this is trace leakage. I would not even go so far as to say it's mild leakage."
I started to feel better considering all that I knew about the different classifications of aortic regurgitation.
Dr. Rosin continued, "Just so you know, most people have some form of leakage in their valves. Aortic, tricuspid, pulmonary and mitral leaflets do not always seal perfectly. In my opinion, you are just like everyone else. You are fixed. This is nothing to be concerned about. There is just a little leakage around one of the sutures. This does occur. Everything else in your echo looks great!"
Then, Dr. Rosin looked up at me with a convincing smile and ended our appointment by saying, "Now.. Get out of here! Go have some fun!"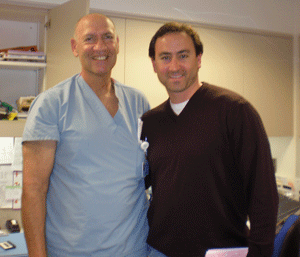 Dr. Ben Rosin (My Cardiologist) & Me
So… Is my situation the exact same as Julie's husband, Jon? The answer to that question is a simple no. All patient cases should be considered unique. However, my gut tells me that if Jon's echo is only showing trace leakage this is not much to worry about right now.
Could Jon's valve deteriorate? Yes.
Could my valve calcify? Yes.
Could the Earth stop spinning tomorrow? Yes.
However, current echocardiogram results and celestial data suggests that those things will not happen in the near future.
Remember, heart valve surgery is a medical miracle. Enjoy your "second chance" at life. We are not cats. We do not get nine lives. So, please make the most of this opportunity. As I have learned time-and-time again, worry is a useless attribute.
Keep on tickin!
Adam
Adam's Newest Blogs
Adam's Newest Posts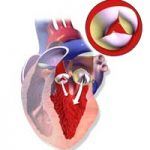 Surgeon Q&A: What Should Patients Know About Aortic Regurgitation? Learn More.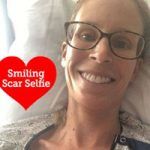 Sara Educates & Inspires 38,443 People About Heart Valve Surgery! Learn More.