"Sensitive Keloid Scars? Sternal Wire Bumps?" Asks Josh
By Adam Pick on September 5, 2009
Josh has an interesting set of questions regarding keloid scars and sternal wires.
As you can read below, Josh is specifically looking for help from our blog readers. Here is what Josh writes:
Hey Adam-
Things are going great 5 months after my aortic valve replacement and ascending aortic graft.  Most of the unpleasant sensations have subsided to a very manageable level. However, I do have an issue that I wanted to ask you and the blog members about…
I have two problem areas on my incision site that I saw my surgeon about today.  First, the bottom of my scar has a fairly large raised keloid (shown below) which is very sensitive to the touch.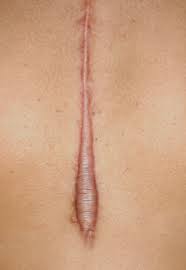 Second, the top of my scar has a prominent bump that turns out to be part of the sternal wires that were used to fuse the bone that are sticking out.  Most of the time these wires are left in place, but my surgeon said they could do a removal.  He further added that if we were going to remove the wires, he'd have a plastic surgeon consult and help with the re-closure of the incision so as to try to avoid the keloid problem again.
Has anyone had any experiences with one or both of these issues?  My symptoms are not intolerable, but they are fairly uncomfortable.  I'm not looking forward to another surgery, but my understanding is that it's a fairly simple outpatient procedure.
To leave me a comment, please scroll below!
Thanks and hope all's well,
Josh

Esther Flores says

on October 1st, 2014 at 12:32 am
I had heart surgery 3 months ago and I have the same problem.


Verita Lesar says

on October 8th, 2014 at 5:01 am
Hi Rosey the wires are a life long problem I believe….my scar feels more sensitive now than when I first came out of hospital..more so in the morning when getting out of bed…..where I cannot lie on my sides but on my back only…. 🙁


Verita Lesar says

on October 8th, 2014 at 5:06 am
I have discomfort when wearing my bra but brave it till its time to remove… If I could I would go without a bra….. all these complaints are so surreal… its everything I'm going through, glad to know I'm not alone….


guardian angel says

on April 29th, 2015 at 3:45 pm
Hi linda I am praying for you hope it goes away


April says

on July 27th, 2015 at 9:01 pm
I am 3 months out from my surgery, have a keloid very similar to yours, but i also have a raised hole at the top of my scar. The keloid is open as well. A few times a daw, I have to exprss the liquid from it, and sometimes a peice of filamint comes out. I am hoping this stops soon and these woulds close!


Mary Ann Spehar McGwin says

on October 18th, 2015 at 1:53 pm
At 4 weeks you should be still "treating" your scar by washing with sterile water and covering. About that time is when I had my worst chest pain. I've had a lot of surgeries and accidents and it always amazed me how things seemed worse after 4 weeks. My rehab therapist explained that by that time the nerves are beginning to "wake up" again. He was right, after another month everything settled down. Remember this isn't like surgery with just soft tissue involved. Bones heal at different rates and the sternum has lot of cartiledge which is slower healing. Wherever the took a artery, the nerves went with it, allowing for phantom pain at the removal site. Remember to keep doing your breathing exercises, your chest pain could be from needing to completely inflate your lungs back to normal capacity. I'm 6 months out and finally getting some stamina back. It amazes me to read all the glitches that come up a year or even two later. And while I'll probably get a good 10years out of this surgery, its still 10 years of post menopausal life, sweating, losing my hair, being fat and old!


JanMan says

on April 29th, 2016 at 11:48 pm
Make sure it's not a pocket or tunnel in the incision the reason it is still draining. I had trible bypass in Dec 2015 and March 2016 was read mitten because a pocket had formed in my incision and burst open.


Sam Brar says

on June 23rd, 2016 at 10:58 am
I'm going in for surgery at the beginning of July 2016. I'm a bit worried about recovery time and how long it will be before I can drive – I was told 5 to 6 weeks. My keyloid scar is painful and tender to the touch and my operation to remove 3 clots from the pulmonary artery was done 14 years ago. This is going to sound silly but where are the wires around the sternum? Don't they fuse into the bone? I know healing time is different for everyone but what have been your experiences?


Joanne Hewitt says

on August 1st, 2016 at 6:39 pm
Hi Sam. I just had open heart surgery June 24th this year. It's been 5 weeks. I was told not to drive until 2 months. Def won't drive yet. Still too stiff. I don't notice the wires at all. Maybe it's too early?? The wires are in the middle where the cut open. The sternum is cartilage and not bone, so it heals different and takes way longer. My surgeon didn't use staples to stitch me up, so my scar is a very fine line. I'm starting to get a better range of motion, but still can't put on shirts over my head of use my arms for lifting of pulling. I'm a 40 yr old woman in extremely great shape. Worked out 6 days a week hard prior to surgery. Able to walk 3 km on flat surface no problem already


Maria del Pilar says

on August 18th, 2016 at 7:11 am
Hi!
I'm almost 6 months out of my OHS and i'mhaving trouble with my wires. Surgeon said he will have to remove them, but he'l wait till febraury- a year from the original surgery. 4 out of the 5 wires I've got are protruding and causing pain and constant discomfort!!! My surgeon told me he had to remove them very few times in his career, allways thin women as is my case(i'm a 33 year old woman, weithing 48kgs)!!!! So for the time being i can only take pain killers and wait……my scar has healed perfectly……
(sorry if there are any mistakes in my writing, I'm
from Argentina)


Carol Navin says

on August 27th, 2016 at 8:54 pm
Can someone get back to me regarding the healing processs after the removal of wires. I am considering it with caution. All the work i do requires lifting. I am 9 months preop BAV. and all is good except surgeons office beleives any pain is now coming from the wires being too close to the surface. I dont relish the ithought of anothr surgery with 4 or more weeks of pain and not lifting. I hear its a 20 to 30 minute procedure and i can go homE the same day. IT IS STILL GOING UNDER, AND A TRAUMA TO THE BODY. SURGERY IS SURGERY.
HELP


Carol Navin says

on August 27th, 2016 at 8:56 pm
Is there any chance that the wires will naturally calm down and the body will stop hurting just by assimilating to the foreign substance.? Please say yes.


ロクサン ヨシコ ミユキ says

on March 20th, 2017 at 1:15 pm
same here, i am Filipina and got aortic replacement last June 2016 here in Japan. I am tired to think on how to cure my keloids specially it hurts when I stretch my chest. I need an advise too. thank you


Tobz4uhuni says

on April 17th, 2017 at 9:02 am
Physical therapist can give you little things strips for it. They gave new some. Just ask.


Amy Campbell says

on July 30th, 2017 at 1:04 am
Hi my name is Amy. I am 42 years old and I had MVR 3 months ago. I have developed a hard knot between my breast. Right underneath my scar. My cardiologist looked at it last week and ordered a CT. The ct revealed scarring and/or inflammation. Good! Right? It is so tender and it feels like it is getting a bit bigger. Has anyone else had this issue? Thanks in advance and God bless you all.


Joel Graham says

on August 25th, 2017 at 12:44 am


LaMetra Wallace says

on March 26th, 2018 at 9:23 pm
Yes, I have. Mine is very painful and sensitive from top to bottom of my incision.


LaMetra Wallace says

on March 26th, 2018 at 9:26 pm
I live in Dallas, Texas and I would like a referral of a good plastic surgeon.


Sarah says

on April 5th, 2018 at 4:48 pm
Hi,
I had open heart surgery four years ago and my scar formed a keloid. I know this may not be the forum for it, but I'm having trouble with finding bras that don't rub and chaff on the scar. I live in a very very humid and hot climate so this is a pretty rough task. I've only found Victoria's Secret lounge bras (now discontinued) and CK bralettes to be bearable.
Thanks


Renee Smith says

on June 9th, 2018 at 1:05 pm
Ive had my surgery a year ago and I'm feeling the same have you found a solution to help you


Renee Smith says

on June 9th, 2018 at 1:10 pm
I've had my surgery a year ago my scar looks similar to yours it's very sensitive I can't wear a bra my clothes irritates the wound any advice it's uncomfortable

Adam's Newest Blogs
Adam's Newest Posts