The Importance Of Support Groups For Heart Surgery Patients?
By Adam Pick on August 27, 2009
Throughout the highs and lows of my heart valve surgery experience, my support group never wavered. Their commitment to me and my recovery was extraordinary considering the challenges (cardiac depression, pain management, Vicodin addiction) I faced.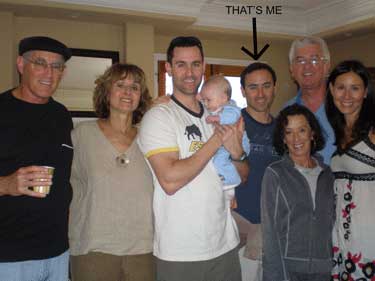 Me (Adam) With My Family
That said, I am always thankful when I receive a patient note that echos this point. So, without further ado, I felt you might like to read Charles' (also known as Chaz) thoughts about support groups, heart valve surgery, and the use of iPhones to stay connected with his family and friends – before, during and after surgery.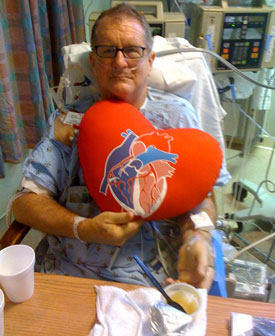 Chaz In The Intensive Care Unit
Adam,
One week ago I entered Good Samaritan Hospital in downtown Los Angeles for an aortic valve replacement.
I've been home now for three days. In retrospect, I find the whole journey positive – except for the occasional cough. To enhance my recovery, I look forward to starting cardiac rehab next week. I know, I know… I'll take it easy.
I am a 62-year old architect who lives with my girlfriend (Jane) and dog (Duncan) in North Pasadena, California.  As I have lived here for less than a year, most of my family and friends live back east. But, they still formed an amazingly protective support group even though they were thousands of miles away. Thank you Internet! Thank you iPhone! Your idea of building a "support group" was the single-most important part of approaching each step in the heart surgery process, positively.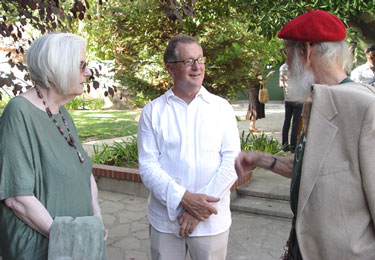 Chaz With His Support Group
Finally, I wanted to thank you for your heart valve surgery book. It provided me a much-needed road map for my cardiac surgery – even if different turns were occasionally made. Your book helped ease the unknown, answer simple questions (many of which I would not thought of asking), and established a realistic expectation for each "next step".
Again, thank you!
Chaz
Adam's Newest Blogs
Adam's Newest Posts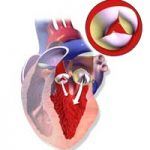 Surgeon Q&A: What Should Patients Know About Aortic Regurgitation? Learn More.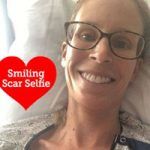 Sara Educates & Inspires 38,443 People About Heart Valve Surgery! Learn More.