After Fainting While Biking, Randy Is "Lucky To Be Alive"
By Adam Pick on July 10, 2009
Randy just sent me an email that made me think, "Wow! Scary! Oh My God! Phew! Good Move! Thank God! Great Job Dr. Werner! Way To Go Randy!"  That said, I thought you might like to read it…
Hi Adam,
I am a 52-year old male. About 10 years ago, I was diagnosed with a bicuspid aortic valve. Every year since then, I have been getting regular echocardiograms to monitor the valve. Up until last year, when I fainted while running with my daughter, I remained active – biking, racquetball and tennis.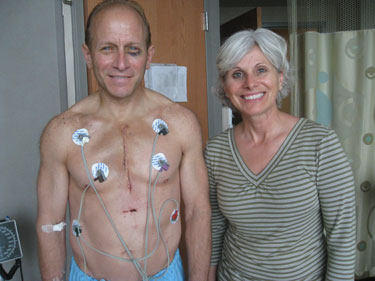 Randy With Cheryl, His Wife – Two Days After Surgery
Last year, my echocardiogram showed a larger-than-normal increase in aortic stenosis. Since then, I have given up most of the sports I played but still enjoyed riding my bike… That is until June 15, 2009.
On that day, I was riding my bike when I "passed-out" and crashed one block from my home!!! (You can even see my bruised, black-eye from the fall in the attached picture.)
Luckily, two police officers were driving by and stopped to help me. I later learned that I "blacked out" for ten minutes and my lips had turned blue. I was immediately transported to the local hospital. The next day, I was transported St. Luke's Hospital in Milwaukee.
After a cardiac catheterization, it was determined that I had no blockages. However, the doctors suggested that it was time to have my aortic valve replaced. I was told I was "lucky to be alive".
Considering the severity of my aortic stenosis, Doctor Werner, the heart surgeon, wanted to do the operation just two days later. I know how strongly you believe in getting second opinions… But, under the circumstances, I simply did not have time.
However, I did discuss my prognosis and Dr. Werner with several people. Every person we spoke with said that Dr. Werner was the best valve surgeon in Milwaukee. So, after thinking about it, I said, "Go for it!"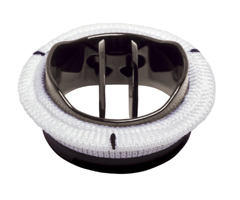 So you know, I reread your book the day before the surgery. That helped a lot. For my valve replacement, I selected the On-X aortic mechanical valve (shown above). In fact, I am now in their study group.
It's a few weeks after surgery and I am doing great. I start cardiac rehab tomorrow.
I just want to say that your heart valve surgery book and all of the stories I have read on your website have helped me tremendously.
Thank you!
Randy Heimerl
Slinger, Wisconsin
Adam's Newest Blogs
Adam's Newest Posts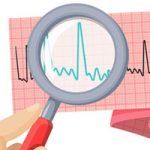 "How Do I Know When My AFib Is Gone After Heart Surgery?" asks Linda Learn More.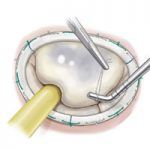 New Findings: Mitral Valve Repair Restores Normal Life Expectancy! Learn More.