Heart Trivia: How Long Does It Take Blood To Circulate Through Your Vascular System?
Quick trivia for you…
According to The Cleveland Clinic, "How long does it take for blood to circulate through your vascular system?"
A. 2 second
B. 20 seconds
C. 2 minutes
D. 20 minutes
E. 2 hours
To find the answer, scroll down below the beating heart.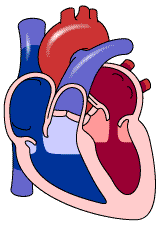 The answer is… 20 seconds.
That's pretty amazing considering the complex network of blood vessels – arteries, veins and capillaries – that carry blood through the body. According to The Cleveland Clinic, that system is over 60,000 miles long. That's long enough to circle Earth twice!
Keep on tickin!
Adam