Heart Trivia: How Much Blood Does Your Heart Pump Each Day?
By Adam Pick on March 18, 2009
Any guesses as to how much blood your heart pumps each day?
Need a hint? It's more than 10 gallons.
Need another hint? It's more than 100 gallons.
To find out how much blood your heart pumps each-and-every day of your life… Scroll down below the beating heart animation.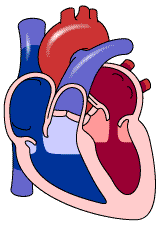 According to The Texas Heart Institute, most healthy hearts can pump up to 2,000 gallons of blood during each twenty-four hour period. Isn't that incredible?
I just did the math. During the time you just read this blog (I assumed one minute), your heart pumped 1.38 gallons of blood through your body!!!
Why am I writing about this? Well… This is exactly why our heart valves need to function properly. If our valves do not open-and-close tightly, the heart needs to pump even more blood which puts additional strain on the heart. If the heart "works overtime" for long periods of time, the cardiac muscle can thicken, dilate and, ultimately, fail.
Keep on tickin!
Adam

Hans Evers says

on March 18th, 2009 at 4:34 pm
Hello Adam,
Thank you for all your information.
A friend of mine will need a valve replacement soon.
This particular page will show her how and how much the heart works.
thanks again
Hans


JD Jordan says

on March 19th, 2009 at 2:35 pm
Our personal contact and reading your book early last year, 2008, helped me proceed in the right direction. Thank you and Keep up the good work.
J David Jordan

Adam's Newest Blogs
Adam's Newest Posts