After Ross Procedure, Bruce Praises Dr. John Oswalt
By Adam Pick on February 18, 2009
Even though there continues to be some, ongoing debate as to the long-term efficacy of the Ross Procedure, many of my readers continue to select this unique form of aortic valve replacement. Here is the latest Ross Procedure success story from Bruce in Texas.
Hello Adam-
I am now almost 5 weeks post-surgery. I feel GREAT after the Ross Procedure! Doctor John Oswalt is such a caring, compassionate and wonderful surgeon.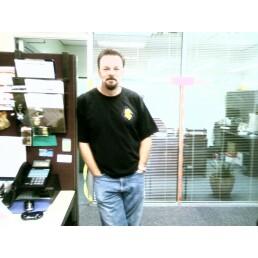 For me, the days leading to my surgery, specifically the morning of, were very challenging. About one minute after being rolled into the operating room, the general anesthesia kicked in and… I was OUT! The next thing I remember is trying to open my eyes, some 4 hours later. INCREDIBLE.
Here's a quick play-by-play of my first few days in the hospital:
Day one – I was standing up.
Day two – All tubes, wires, and other "stuff" were removed. I was actually walking stairs in front of the nurses station.
Day three – I was on my way home, two days shorter than most other patients. Certainly, I was scared at the short time in the hospital, but I was ready to be home.
Here I am now, five weeks after surgery. I'm driving and already back to work full time. If not for the dreaded allergy season in Austin, Texas… I would be just perfect. I feel great, but for the nagging cough associated with the allergies. THAT HURTS THE INCISION!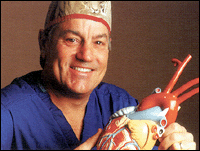 Dr. John Oswalt – Heart Surgeon
Adam, I owe you a great deal of gratitude. It was your heart surgery book that led me to the Ross Procedure. You also referred me to Dr. Oswalt. Thank you so very much for helping me make the most important decision in my life. Now, I am 47 years old and ready to take on the world!!!
God Bless,
Bruce Hale
Austin, Texas

Shelby Hudgens says

on February 18th, 2009 at 10:02 am
From one Ross patient to another — glad to hear you are doing so well! Wishing you the best from here on out.
-Shelby


Don Henry says

on February 18th, 2009 at 3:22 pm
I have not heard anything negative concerning the Ross Procedure; however I don't think a lot of these procedures are performed as compared to the others, because most surgeons have not performed the Ross procedure and are not comfortable in doing so. I was told by my heart surgeon that the Ross Procedure is more complicated and during this operation the entire root is removed and if another surgery was needed it would be even more complicated. And you are now involving 2 valves instead of one and the pulmonary is in good shape, so why chance another complication when you do not have to. And I don't think this procedure has been performed long enough in oder to estblish a bonified study for longevity. The Ross does seem like the best option ,but since the longevity rate seems to be unknown I think patients are opting for the tissue or mechanical. Congrats to Bruce and Shelby. You and Adam may very well have chosen the best surgery. I would be interested inany recent post op studies on the Ross. It may come down to the SURGEON.
Don


ken tobin says

on February 18th, 2009 at 3:27 pm
I too was told that aortic replacement only, tissue, would be best for me age 60. There are developments in the pipeline where replacement will be much simpler if needed. A recent study at St Jude has a 92% survival rate with tissue valves at TWENTY YEARS!!! Quite phenomenal. At age 60 or so tissue is preferable to avoid taking coumadin long term. Dr Paul Stelzer is a top surgeon in NYC for aortic surgery


Pops says

on February 18th, 2009 at 5:28 pm
I concur on the assessment of Bruce's proceedure. Several of us were with him pre-op, post op, thru his recovery, and home. We were all well informed and permitted maximum participation. Bruce came away strong and healthy. Our love and respect to all involved with healing our Brother
Pops


Duane Schlosser says

on May 13th, 2009 at 8:29 pm
Bruce, I too live in Austin, and have talked with Dr. Oswalt concerning my operation. My wife who works at St. Davids said "this is the guy". And after meeting him and discussing my concerns, he told me to take a vacation and come back and give him a date to go the operation. I currently do not have any symptoms, but my eco, would suggest I should have had it last month. I haven't taken a vacation yet, so the date is not made. But knowing who will do it and reading your words helps. Thank You.
Denial is the First step of recovery.
Duane


Mollie Renforth says

on June 10th, 2012 at 8:33 am
I would love to hear more from Dr. Oswalt's former Ross patients. My husband and I met with him last month and were very impressed. We also met with Dr. Will Ryan in Dallas who is the other expert in this procedure here in Texas. Let me know what you think. We're going back to Austin to visit with Dr. Oswalt again before making our decision.


jennifer says

on December 15th, 2012 at 10:58 pm
I am also former patient of Dr. Oswalt\'s. I had the Ross Procedure done in September of 2011 at the age of 28. When I was born my aortic valve was fused creating a bicuspid rather than tricusid valve. I had very few problems going up but began having some headaches, shortness of breath, fatigue,etc around a May of 2011. My regular cardiologist recommended traditional valve replacement to me because he was not very familiar with the Ross Procedure. I did my own research and found Dr.Oswalt. Both my regular cardiologist and Dr.Oswalt decided that I was a perfect candidate for the procedure because I was young enought to handle the surgery and have no heart disease. I did have a small ascending aortic aneurism due to the valve but no heart disease. The surgery was a great success. I have a scar, but Dr. Oswalt did a great job keeping it from showing too high on my chest. I was up and walking around the office the evening of the surgery, though I don\'t remember much about they first week. I had a few issues after the surgery getting my digestive system moving again and with fluid on my lung. However, both were resolved quickly and within a couple of weeks I was back to normal. Actually better than normal. I have no restrictions on activity anymore and my new husband and I are thinking about starting a family, which we would not have done if I chose a traditional valve replacement.
I highly recommend Dr. Oswalt. He is a great surgeon. His bedside manner is really great as well. He personally removed my lead wires and carried on a seperare conversation at the same time, so I didn\'t even realize he had done it. Later he drained my lung, which although uncomfortable, could have been much worse if he wasn\'t talking and keeping me focused on other things. (He was actually giving me relationship advice!)

Adam's Newest Blogs
Adam's Newest Posts