Doctor And Mountain Climber, Leo Hernandez, Recovering From Bicuspid Valve Replacement
By Adam Pick on January 30, 2009
I just received this educational and inspirational note from Dr. Leo Hernandez, MD. I thought you might enjoy reading, seeing and learning about Leo's heart valve surgery journey. He writes:
Good Morning Adam:
My name is Leo Hernandez and I had my aortic valve replaced on my 57th birthday on January 6, 2009 by Dr. Richard Shemin at Reagan UCLA Medical Center.
I have read your book – which I found very inspirational – and have been reading your blog for the past few months. I would like to share my story with you in the event you would like to include it in your blog.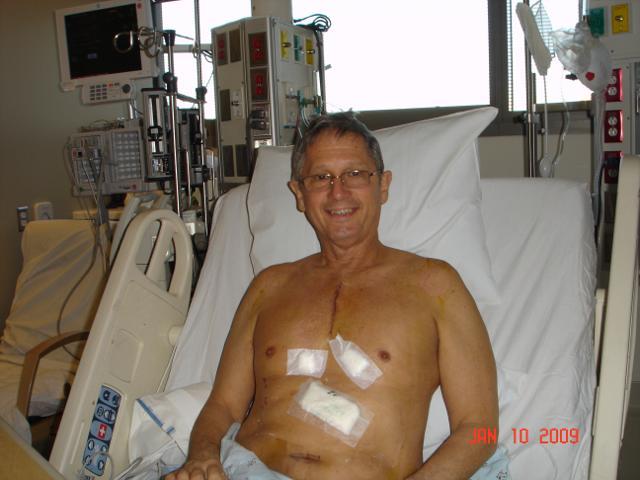 Dr. Leo Hernandez – Shortly After Aortic Valve Replacement
I am a Dermatologist, UCLA Medical School Alumni, member of the UCLA Clinical Faculty, mountain climber and a private pilot. I first found out I had a bicuspid valve when a new
systolic murmur was picked up during my routine bi-annual physical exam by my FAA doctor in the year 2000.
I had the heart murmur checked out with an echocardiogram by the Chief of Cardiology at Wadsworth VA Medical Center (where I am an attending physician). I was told that I had a bicuspid aortic valve and that I would eventually need valve replacement. I was 48 at the time.
I was able to continue functioning normally for the next 8 years, including several ascents of Mt. Whitney, all the local mountains here in Southern California and also Mt. Kilimanjaro in Africa, in 2004.
I had an echo in 2006 which showed my valve area to be 1.5 cm squared – a normal valve area is 4 cm squared. At the time, I did not have any symptoms and felt great. I was told to continue my normal activities.
However, this past summer, I noticed great difficulty when trying to summit Mount Baldy here in Southern California, which I climb every year. Although I was able to finish, it was a very difficult experience. One month later, at the end of August, I tried to climb Mt. Whitney, which I had previously summitted 3 other times in the past few years. I could not even finish 1/3 of the mountain because of extreme fatigue, and a strange feeling that I just could not go any further.
I went back to my cardiologist and had another echocardiogram in Sept, followed by a Trans Esophageal Echocardiogram (TEE) in October, 2008. This last exam showed that my valve area now had shrunk to 0.8 cm squared and I had a pressure gradient of 68 across the valve.
It was time to do something. From your blog, which I had been reading after finishing your book in Sept, I found out about Dr. Richard Shemin, who specializes in the minimally invasive aortic valve replacement procedure. Luckily for me, Dr. Shemin had transferred to UCLA from Boston in 2007, where he now is the Chief of Cardio Thoracic Surgery.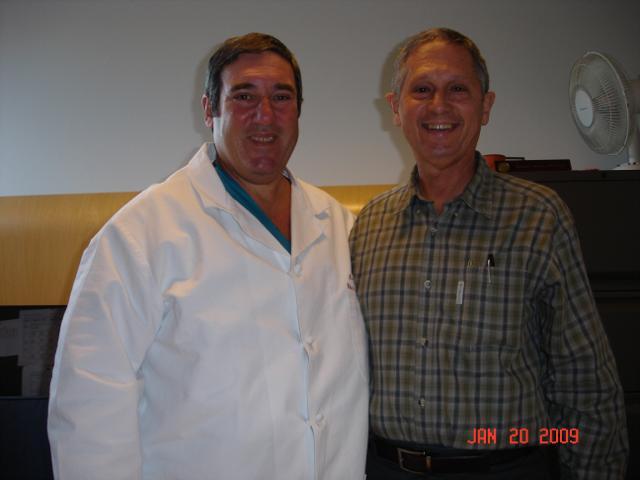 Dr. Leo Hernandez (Patient) with Dr. Shemin (Heart Surgeon)
Through my own referral, I met with Dr. Richard Shemin in late October, 2008 and he recommended that it was time to have my aortic valve replaced. Because of my very active lifestyle, and my love for hiking mountains, he suggested a tissue valve. That way, I would not have to worry about being on Coumadin and the possibility of excessive bleeding, should I sustain a fall or other trauma while far away from medical help.
Since I still felt fine,  except during strenuous exercise, my surgery was scheduled for after the holidays. On 1/6/09, my 57th birthday, I had an aortic valve replacement using the Edwards Lifesciences bovine pericardial tissue aortic valve via mini-sternotomy technique. My recovery in the Hospital went well and I was discharged after 4 days on 1/10/09.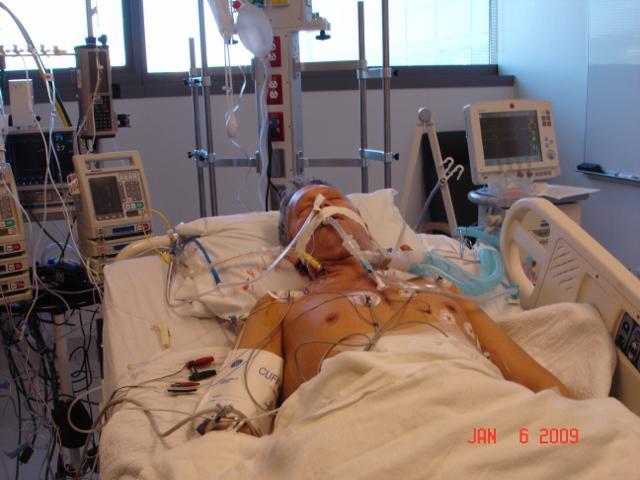 Leo In The I.C.U. On A Ventilator
I have been recovering at home for these past 2 weeks and I feel great. I no longer have chest discomfort unless I sneeze or cough. I am only taking one 325 mg aspirin daily and need no other pain medication. I am up to 45 minutes on my exercise bike and 40 minutes on my inclined treadmill without any problems. I am planning to return to work this coming Monday, January 26th.
Adam, I wanted to thank you for your book and blog as they helped me greatly to prepare for surgery and the recovery process. It was extremely helpful to read the stories of others going through the same ordeal.
Keep up your great work!
Leo Hernandez, MD
Adam's Newest Blogs
Adam's Newest Posts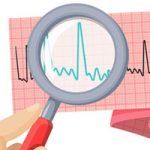 "How Do I Know When My AFib Is Gone After Heart Surgery?" asks Linda Learn More.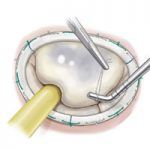 New Findings: Mitral Valve Repair Restores Normal Life Expectancy! Learn More.