"Mitral Valve Prolapse, Anxiety And Chestpain?" asks Cindy
By Adam Pick on September 27, 2008
As we have previously discussed, there are a number of symptoms related to mitral valve prolapse. However, Cindy just wrote me an interesting email about whether-or-not anxiety is a symptom of MVP.
During my own research, I did not find any clinical evidence of the relationship between mitral valve prolapse and anxiety. That said, I thought I would post a blog and see if YOU have any ideas for Cindy. Here is her story:
Hi Adam,
I have a question that I am hoping to get some feedback on. Are there other people out there who have mitral valve prolpase and an anxiety disorder. I am not talking about anxiety that may be present AFTER you find out you need a mitral valve repair or mitral valve replacement. I am talking about a "free floating" anxiety – when you get anxiety for no particular reason, not related to any psychological problem per se. I can go for months and then suddenly one morning I wake up with anxiety in my chest.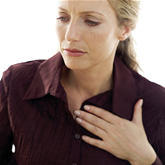 Chest Pain A Symptom Of Mitral Valve Prolapse?
This can go one for several days in a row.
Always occurring upon waking up and often leading to depression for those days on which this happens. I am under doctor's care for depression but this is something that is stumping even him.
It is the strangest thing. I just thought MAYBE it has something to do with having severe mitral valve prolapse. Anyone out there know what I am describing?? I am not at all worried about surgery. This has gone on for years and years. I'm just thinking maybe there is a connection.
Thanks,
Cindy

Dave Richards says

on September 27th, 2008 at 5:57 pm
Cindy, please visit http://www.mvprolapse.com/ and click on the dysautonomia link on the left side of the page. My wife has MVP and when she read this page and others like it, she felt tremendous relief. Speak with your doctor about the possibility that your anxiety could be the result of your autonomic system. Good luck!


Heather says

on September 29th, 2008 at 6:43 am
I had exactly the anxiety you are talking about. I was diagnosed with MVP in 2001 and last year, in 2007, I had open heart surgery to repair my mitral valve.
I have read several articles about the connection between anxiety and mital valve prolapse adn I completely believe that it is a symptom of MVP.
Last Spring, there was a day when I felt "doomed". I didn't have chest pain, but I felt like I was going to die. Hours later, after a visit to the cardiologist, I was told to consult a surgeon. My regurgitation began as a mild leak and within 6 months, it had become severe.
I am interested in talking to others who have been through a mitral valve repair, and how they are feeling a year later, etc……..I am feeling ok,but I have paranoia about future problems, having a heart attack, etc. I feel "twangs" of pain on my left side and I am scared that something is wrong, even though my cardiologist says I am fine…….


Cynthia says

on September 29th, 2008 at 11:29 am
I also have anxiety and depression along with the mitral valve. I have been seeing a cardiologist every six months. She knows I have anxiety so the one thing she keeps telling me is you have got to stay hydrated! Also watching out for caffein and sugar. Anxiety is basically a surge of adrenalin so to combat this, walking helps aleviate this problem. Hope this helps!


Nan says

on September 30th, 2008 at 7:37 am
Dear Cindy,
YES, chronic anxiety, feeling that something is very wrong, IS a symptom resulting from severe mitral regurgitation. You may very well experience great difficulty falling asleep, and if you do, inability to achieve sustained sleep for more than a few hours or so, even with the use of prescription sleep aids, i.e., Lunesta, Ambien, Ambien CR (time released), etc.
The good news is that you now know you're not going crazy, it's not "in your head" and your not having obsessive thoughts that you're unable to communicate to others when they ask you "what's bothering you, that you can't sleep at night?".
My 80 yr old mother, after a full year of the run-around by her cardiologist (who saw her 1 x out of 5, substituting his "Personal Assistant" with each visit, yet well aware of her vitals and complaints), has finally found a cardiologist who took one look at her, and admitted her to the hospital, citing initial "heart failure." A simple blood test and echo-cardiogram confirmed her infraction/ejection rate as "20". In normal settings, this number should be a "60" I'm told. Mother has been put on intravenous Lasik (Furosemide) and instead of the beta-blocker, an ace-inhibitor, i.e., Lisinopril to help restore her dangerously high heart rate (averaging 110-115 past year) and reduce the fluid in/around heart and lungs.
And her previous cardiologist didn't recognize her constant complaints of breathlessness, feeling like she could "collapse", heart palpitations, rapid pulse, excessive thirst, frequent urination — for over a year??? This nit-wit ran into my mother being wheeled down hall of hospital yesterday, and later told me "I saw your mother; she looks good". It took everything in me from blurting out "really? And what the hell would you know, you moron…she was admitted with heart failure last week".
The last echo-cardiogram this nit-wit performed on Mother was last June, 2007. Her infraction/ejection rate was 40 then. Hello? Now I find this out. Oh yeah…he did manage to place two drug-elluding stents into 6 months earlier, and she complained she felt worse after it…and on Plavix for another year, recently discontinued.
Now her cardiologist says she's considering a pace-maker with defibulator. I asked if she plans to repair the mitral valve prolapse and answer was no, she (doctor) can not. I didn't think to ask why, not knowing much about it at the time. After reading this website, I'm scarred that NOT repairing or replacing the mitral valve will lead to heart failure. The congestive heart failure, or "wet heart" Mom has is, I'm sure, a result of the initial problem with her mitral valve that's been going on the past 10+ years, gradually.
Q: CAN ANYONE RECOMMEND A MITRAL VALVE REPLACEMENT EXPERT IN THE SAN JOSE, CA AREA? If so, please reply directly to: askme4free@aol.com — immediately.
My recommendation to those who are presenting with the symptoms I've described….RUN, do not walk….to another cardiologist if you're not getting answers to your questions that make any sense, especially if your being told to see your primary care physician (PCP) for a "complete physical" when you say you feel chronic fatigue, breathlessness, anxiety, heart palps, etc. Insist on an echo-cardiogram. Ask questions!
Differnece between one doctor to another: LIFE. Mom's new cardiologist was able to get her pulse down to 80s within 24 hrs after being admitted to hospital…something that even her previous cardiologist and equally stupid crew weren't able to achieve.


DENNIS JENSON says

on October 2nd, 2008 at 11:13 pm
CINDY
IN AUGUST OF 2000 I WENT IN FOR MY ANNUAL PHYSICAL. WHAT A SUPRISE WHEN THEY HEARD A NOISE IN MY CHEST THAT WAS NOT SUPPOSE TO BE THERE. IT WAS MITRAL PROLAPSE, STAGE 5. YOUR QUESTION ABOUT ALL THIS GOT ME THINKING THAT WHEN I TOLD MY DOCTOR I HAD NO SYMPTOMS OF SUCH THAT IN REALITY I DID. THE ANXIETY WAS PART OF THE DEPRESSION AND ANXIETY THAT I HAD BEEN FIGHTING FOR AROUND 10 YEARS. I DIDN'T NOTICE SUCH AND NEITHER DID ANY OF THE DOCTORS I SAW IN THOSE YEARS OR IN COMFIRMING THE DIAGNOSIS. THIS INCLUDED MY PRIMARY MD, THE CARDIOLIGISTS, MY PSYCHIATRIST, THE SURGEON, 2 OF WHICH HAD HAD OPEN HEART SURGERY THEMSELVES. WHAT I WOULD SUGGEST IS THIS: ASK LOTS OF QUESTIONS. HAVE EACH ONE OF THEM EXPAIN EXACTLY WHAT IT IS THEY ARE PROPOSING TO DO, WHAT IS WRONG WITH YOU IN YOUR HEART, DON'T SETTLE FOR "I DON'T KNOW. DEPRESSION FOLLOWS THIS SURGERY. DON'T LET THEM BRUSH THIS ONE OFF. TELL THEM THEY WILL NOT GET WITH IN MILES OF YOU WITH A KNIFE UNTIL THEY EXPLAIN, IN DETAIL ABOUT THE DEPRESSION AND ITS TREATMENT. BUG THE DAYLIGHTS OUT OF THEM WITH QUESTIONS. RECOVERY IS A LONG PROCESS. THEY WILL TRY AND TELL YOU THAT IN 4 MONTHS YOU WILL FEEL JUST FINE. YES, YOUR HEART WILL NOT HURT MUCH, BUT THE INSESSION (SP) IS ANOTHER THING. YOUR ENERGY LEVEL WILL COME BACK TO NORMAL VERY SLOWLY. A YEAR LATER IS NOT UNUSUAL. I WAS TOLD THE LAST PART OF DECEMBER 2001, 4 WEEKS AFTER THE SURGERY TO GO AHEAD WITH MY PLANS TO ATTEND THE 2002 OLYMPICS IN UTAH IN FEBRUARY I COULD NOT HAVE GONE IF THEY WERE ACROSS THE STREET FROM ME IN CALIFORNIA. OH YES, NURSING CARE IN THE HOSPITAL. IT DOESN.T EXIST. YOU WILL HAVE TO ASK FOR EVERYTHING. IF YOU CAN UNDERSTAND WHAT THEY ARE SAYING TO YOU, MOST RN'S ARE FOREIGN.
THE PHYSICAL THER. ETC. PEOPLE ARE GREAT. THAT IS WHERE IT ENDS. THE PRE-HOSPITAL TALKS DON,T TELL YOU ANYTHING. COME TO THOSE MEETINGS WITH TONS OF QUESTIONS AND AGAIN DON'T SETTLE FOR, "I DON'T KNOW?" TELL THEM TO FIND OUT AND FOLLOW THROUGH TO SEE THAT THE RN YOU TALK TO DOES JUST THAT. WRITE ME OR CALL ME IF YOU HAVE ANY OTHER QUESTIONS. (626) 963-9649. ALL THE BEST, DENNIS


heather j says

on April 6th, 2009 at 10:28 pm
i got diagnosed with mvp in 2001..and im 16..recently i just found out that i have the adrenaline of 8 people but it all comes out in fear..i am literally afraid of everything..i have been from doctor to doctor and they all say the same thing..but in feb. i went to a mvp specialist and he done a little more but once again it isnt helping any..i go back to the specialist tomorrow and if he does anything else and it doesnt help we dont have any other choice but to go through with the sugery..i have anxiety/panic attacks at least 4 times a day..and it all has to do with my mvp.


Andy says

on May 11th, 2009 at 8:16 am
Has anyone experienced anxiety after the mitral valve repair? I had bouts with anxiety prior to the surgery from time to time but now it just seems to be consistant every day. I'd call it a free floating anxiety. After my repair I was in A flutter and had a cardio version. A month later I went into flutter again and had an ablation. I'm in normal rythm now. When I was in flutter I did not experience the anxiety, when in normal rythm I have the anxiety.


carrie tidd says

on June 23rd, 2009 at 9:26 pm
Hi Cindy,
I am 38 and in my 7th week of recovery after my mitral valve repair. In response to your question….I have been "anxious" for most of my adult life, suffering silently with "panic attacks" and anxiety. When I finally met with one of my latest cardiologists, he told me that anxiety/ depression is OFTEN misdiagnosed mitral valve prolapse. He said that the defective heart works in a very similar fashion in trying to cope with the MVP as it does in response to excess anxiety. The symptoms, he said, are nearly identical. As I said, I have had my repair done now, and am beginning to see a change in my anxiety levels, I think….still too soon to tell, really. But I am hopeful that this is one symptom that will significantly decline as I recover.
Best of luck to you during your time of healing. carrie


Aaron says

on May 5th, 2010 at 7:13 pm
I am 48, having been diagnosed with MVP when I was 29. In the beginning, it was just the occasional flutter. Since, I have been to two cardiologists, the first recommended immediate open chest -mitral valve work -didn\'t say repair or replacement. That cardiologist knew nothing of the latest non-invasive repairs being done. He seems to be too busy golfing to keep up. The second did a full workup on me at the hospital, not just the ultrasound that the first did, and gave me the treadmill, the injections, the cat scans, the works. He said, go home and live your life. What a contrast.
Now, it\'s been two years since the second diagnostic and I have had the occasional bout of anxiety, palps etc. They come, they go. But the last two nights, I have had a new set of symptoms. I can\'t sleep. It\'s been two nights that, as soon as I start to drift off, my breathing slows as it should, but the palps and some pain begins quickly bringing me back to a waking state. I have not slept in days and it\'s not helping since lack of sleep makes it worse.
I go to work every day, no trouble doing my job. I can walk, run work you name it. But resting is the problem now.
I wish I had an oxygen tank, but not sure that would do it. If my left ventricle is getting worse as the leakage continues, then perhaps the blood is backing up in the lungs. Not happy about that.
I am not looking forward to surgery.

Adam's Newest Blogs
Adam's Newest Posts