"Do I Really Need Full-Time Help After Heart Surgery?" Asks Etta
By Adam Pick on September 27, 2008
At the age of 62, Etta's mitral valve regurgitation has reached severe status. That said, Etta will be having mitral valve repair surgery in three weeks. In her last email to me, Etta raised an interesting question. Etta asked, "Adam – Do I really need full-time help after open heart surgery?"
This question really brings back memories from my early, early, early recovery from aortic valve replacement surgery. My family and support group was insistent that I was not home alone for the first two weeks after open heart surgery. We even created a detailed Microsoft Excel Spreadsheet that highlighted which days my mom, sister, brother, dad and Robyn (my wife) were responsible for me.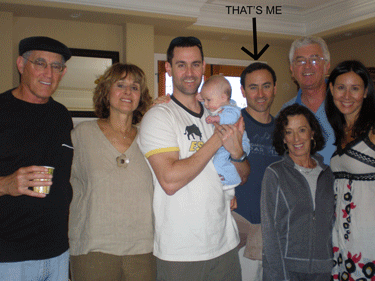 I have to admit… That was a very smart move of my friends and family. Having full-time help was the best!!!
My support group was there to help me with the 'little' and 'big' challenges of early open heart surgery recovery when broken sternum pain is common:
Getting in-and-out of bed
Taking a shower
Opening up a twist-cap bottle
Tying my shoelaces
Going to the pharmacy
Making breakfast, lunch and dinner
As you can tell, I encourage lots of support group help following heart surgery. Plus, my family and friends had a unique type of fun spending time together as I began my healing.
However, I'm curious to know if YOU have any thoughts for Etta. Can you help her out?
Keep on tickin!
Adam

John C. Bolling says

on September 27th, 2008 at 3:28 pm
I had Minimally invasive surgery for the same problem you are having yours for April 29.They went under the breast with a small incision. With this surgery I could have taken care of myself with not much problem if I had needed to. For full frontal open heart I would think you would need help. John


Rosemary Geraci says

on September 27th, 2008 at 3:50 pm
I wouldn't even consider going home "alone" for the first three weeks. My husband was a hero during that time for me. We didn't have anyone else to help, although our Church family brought in meals during that time. I couldn't lift my arms long enough to do make up, wash my hair–I was almost totally dependent on him. I did have home health, but they only came once a week to check my vital signs and small things like that for six weeks.
By all means, arrange help for meals, bathing, etc. You can always discharge them if you find you don't need them. My surgeon had told my husband that I "wouldn't need a baby sitter", but I almost did.


Maureen Sadang says

on September 27th, 2008 at 6:39 pm
Hi Etta, I am 64 years old and had my aortic valve replaced 2 months ago. I can't imagine doing the first 2 weeks alone! my sister, who is an lpn, came to stay with me along with my husband. she was an amazing help and I attribute the success of my recovery on her expert help. there are things you just don't realize that you can't do because your sternum is healing and you just don't want to do anything to offset that process. I bought clothes that button up the front, but I still needed help to get my arms into the holes. I needed help just to get my unders on and up. then there's the toileting issue – like wiping! nobody talks about these things, yet they are the basic issues of self care! It took me 2 weeks to be able to get my arms high enough to shampoo my hair. My sister showered me and helped my dry the spots I couldn't reach. then there's cooking – enjoy help as long as you can. A friend who had bypass surgery had her mom stay with her for a month. After my sister left 2 weeks post surgery, my husband took over. he was a huge help – like getting dressed, into bed and out of bed. I am still sleeping sort of upright after 2 months. I was told not to put any weight on my hands so unless you've got great abs, getting up from a lying postion is really tough at first. I also got a really short hair cut just before surgery so I didn't have to deal with bad hair days! best thing I did.My sister also set upn a journal for me to track my days events, medications – what I was taking and when so I could check them off to make sure I took everything on schedule! awesome idea. she used a highlighter pen to highlight the name of my meds on the bottle so I could see it at a glance. Post surgery brain power is not the best, so all these little things made it alot easier and avoided any errors. I am still using the journal after 2 months as I do follow up appts. I keep track of Drs. directions as well and anything else to do with my recovery. I hope this helps – blessings and good luck. I hope you have someone who can help you – you do not want to be alone!!!!! feel free to ask any other questions you may have. Maureen


Becca Allison says

on September 27th, 2008 at 6:56 pm
Dear Etta,
I'm 56 and had aortic valve replacement July 22, ten weeks ago. I did not have as much trouble as the previous writers with doing things for myself – showering was no problem for me right after I got home, getting out of bed was not easy but doable, etc. I did have help a couple of times with meals, and my husband and sons did the lifting for me while I was on restriction for that, and they drove me around. And as Adam says, do have someone open bottles and jars for you! I did use the journal to track things for the first month, especially the Vicodin, and tapered off that as soon as possible.
I find the darndest things hurt a little still- putting on sox, as I have to squeeze my chest together! But I put them on(saying,"ow!")and walk at 0600 for over an hour, six days a week, and have for the last eight weeks. The heart's working great! I have a lot more energy!
I know I am blessed with a strong will (read:stubborn!)and a strong constitution. Each of us heals in our own way. Ask for help, as the previous writer says, you can always tell them you don't need them.
God bless you with your surgery – we'll soon welcome you to the Mended Hearts club!
Becca


charles m miller says

on September 28th, 2008 at 11:53 am
I had aortic valve replacement at 59 for my congenital two leaflet valve that had deteriorated from mild stenosis to severe stenosis and regurgitation over a 10 year period. Your book was outstanding in relieving many of the anxieties that are common pre surgery. I chose the St. Jude valve, and have not had any significant problems. I'm essentially almost totally pain free as of today, 18 days post 9.8.08 surgery. My surgeon was Terrill Theman, M.D. at the St. Luke's Heart Center in Bethlehem, Pa. We met approximately 2 months prior to surgery on recommendation of my cardiologist David Scoblionko, M.D.who was also affiliated with St. Luke's. As soon as I met Dr Theeman both my wife and I felt that he was the surgeon with whom we felt confident. We did further investigation and learned of his sterling credentials and reputation as the "valve man". Dr. Theeman and St Luke's staff were simply superb. My 8 and 1/2 inch raised skin marking on my chest is not even bothersome. We thank God everyday for their skill and expertise. We have the best medical system in the world!! I am, however, adjusting to the coumadin therapy as it is not yet at the 2-3 therapeutic level required. My appetite is not yet back to normal, I weigh app. 190 when I was a somewhat athletic 200 lbs. I go for 3 walks of a few blocks daily, and look forward to release for driving and cardiac rehab on or about Oct. 10. With that background I can now address the question. I had no problem getting out of bed , getting food form the refrigerator,or walking steps in our 2 story home,however, my wife prepared all the meals, and stayed with me for the first four days after my discharge.I then was able to care for myself during the day although I also had a family support group and friends who telephoned daily and frequently. It is quite helpful to have such a support group. I stopped taking prescription Darvocet 3 days ago and notice that it is also becoming easier to pass bowel movements I still feel somewhat weak, and have difficulty sleeping 8 hours. I awaken every three hours to urinate, and then have difficulty getting back to sleep, because I'm still sleeping on my back when I always slept well on my stomach Hopefully, after my Doctor's visit on 10.8.08 I'll have the courage to sleep on my stomach. Thank you for your book and this internet site. I read it immediately upon receipt. The surgery is not as bad as its made out to be, and one must just deal with the recovery process a day at a time, and enjoy the opportunity to rest, read, and get well. It does take time, but remain optimistic for everyone says you'll feel 10 years younger in a few months!!


fazilat says

on September 29th, 2008 at 12:27 pm
Dear Etta
reading thru the replies bring back so many memories, i had my aortic valve replacement on 12/5/08 and my husband was a real hero and my daughter was a great help, as the lady before mentioned its the things that people do not mention i.e toilet, undies, fastening your bra, definitley get all the help you can get it eases a lot of your mind and you need not worry about the running of the home.
good luck
fazilat


Abby says

on May 9th, 2009 at 9:43 pm
my husband is going to have a mechanical valve in about 3 weeks – we have 2 young children (6 and 8)- my mother in law is coming to stay for a week while he's in hospital and then coming back a week later -should I get more help?


James Hubbs says

on August 20th, 2015 at 11:49 pm
I will be alone after heart surgery and I have no idea what to do about it I can't pay for a visiting aide to come and cook and get out of bed what can I do ?

Adam's Newest Blogs
Adam's Newest Posts