Charlene Offers Patient Wisdom And Praise For Dr. Gleason
By Adam Pick on September 24, 2008
I just received an insightful email from Charlene (in Florida). First of all, her surgery was a success. YEEEAH! CONGRATS TO CHARLENE!!! Second, she raises some critical points for those of you preparing for valve surgery. Here is what she writes:
Dear Adam,
This past July, I found out that I had an aortic aneurysm and would need my aortic valve replacement as well as aorta replacement. As a 45-year old woman with small children, I have to admit this scared the hell out of me. Your book helped so much with all the information and uplifting stories. I would like to pass on some of the wisdom of what I found to you and the others reading your blog.
1. I recommend that everyone get actual copies of all their testing. You may not understand the test results but when you go for a second opinion it helps so much at least you can point out the parts you do not understand and ask the questions. My cardiologist in Florida obviously did not read my initial echocardiogram. It showed the aneurysm back in 2006 and he never said a word about it. It was not until 2008 that he sent me for a CT scan to see what was going on.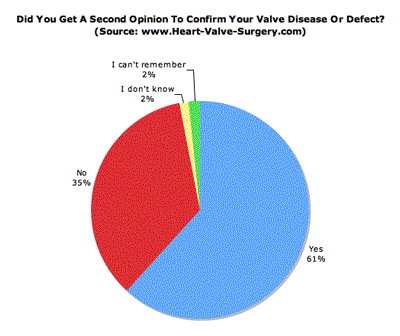 Getting Second Opinions – Patient Survey (2007)
2. Always get a Second Opinion. My doctor in Florida told me that I needed the valve, valve root and aorta thru the arch replaced. (He seemed like a competent surgeon, very nice, spent lots of time with us.) My husband and I were in shock. We started researching doctors and hospitals for the second opinion.
That research led us to the University of Pittsburgh Medical Center and Dr. Thomas Gleason. This man is as close to a miracle worker as you get. Rather than being on Coumadin therapy or facing the possibility of surgery a few years down the road, Dr. Gleason said he could fix my valve and only replace the aorta. (We did have to let him know which valve we wanted in-case he could not save the valve once he got in there.)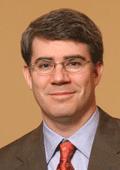 Dr. Thomas Gleason – Heart Surgeon
I am happy to say that on September 10, 2008, I had surgery. Dr. Gleason was able to save my existing valve and just replace the aorta. My surgeon was excellent and I wanted you to know that. Dr. Thomas Gleason with UPMC. He not only did the surgery but also was with me the entire time afterwords when I was unstable. Doctor Gleason did not leave my bedside even in the ICU until his medical team was able to get my heart rate down and stabilize me. Doctor Gleason was there a full 12 hours. My husband and I knew when we met him that he was extraordinary… And, we were right.
I am recuperating nicely and with the help of your heart valve surgery book and everyone's ideas. I hope to be back in Florida in no time. Thank you again.
Sincerely,
Charlene Melcher
Adam's Newest Blogs
Adam's Newest Posts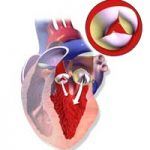 Surgeon Q&A: What Should Patients Know About Aortic Regurgitation? Learn More.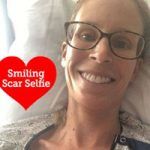 Sara Educates & Inspires 38,443 People About Heart Valve Surgery! Learn More.