Bob's Search For The Number One Hospital In Heart Valve Replacements
By Adam Pick on September 2, 2008
I just received an email from Bob about cardiac care centers. He writes, "Adam – Do you happen to know what is the number one hospital in heart valve replacements? I have a mitral valve prolapse and I need a mitral valve replacement. I would like to know which are the best hospitals in the United States."
Unfortunately, I don't know which hospital is number 1 for heart valve replacement surgery. However, I do have one reference point for Bob regarding the top ten hospitals for heart surgery. Each year, U.S. News And World Report issues a "top 10 ranking" of the best hospitals for heart surgery. While this ranking does not indicate the quantity of heart valve replacements performed each year, it does (in some sense) indicate the quality of heart surgery which I believe is most important.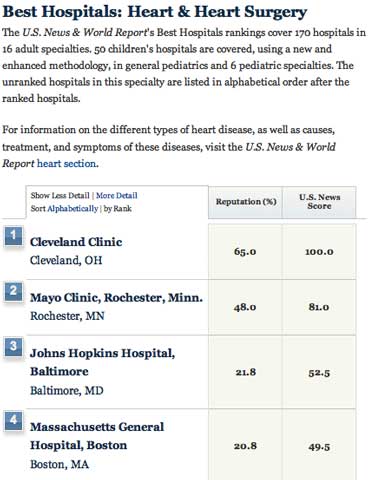 That said, this list might help you get started with your hospital and, more importantly, your surgeon selection process. Here is the link, Best Hospital For Heart Care And Heart Surgery – US News And World Report.
However, you should know that some people feel that these rankings are not properly developed and reported. For an interesting read, please see NPR's article, Heart Hospital Rankings Don't Reveal Picture.
ANOTHER POINT TO CONSIDER: So you know, I had my aortic valve replacement surgery at USC Medical Center in Los Angeles, California. You will note that this facility is not listed on the above-referenced ranking. Personally, I was more focused on finding the right surgeon than finding the right hospital. That said, I think I was incredibly lucky to find Doctor Starnes (my surgeon). Again, it's just another point to consider.
I hope that helps you learn a little more about the number 1 hospital for heart valve replacement.
Keep on tickin!
Adam

Winona Blake says

on September 2nd, 2008 at 8:40 pm
Bob,
I am searching for a surgeon and hospital to repair (I hope) my mitral valve. I have learned that Cleveland Clinic claims to do more valve surgeries a year than any other hospital in the USA. I was told (you can also get the numbers on their website) that in 2007 CC did 1057 mitral valve surgeries, 70% were repairs, and 67% were minimally invasive.
Good luck on your search.
Winona


Bob Vincent says

on December 16th, 2008 at 6:21 pm
Thanks for the prompt answers and help. I have ordered the book. My diagonosis was just last week, and it is the aortic valve that needs replacement.


Camille Saville says

on March 12th, 2009 at 9:26 pm
Adam, thanks for the info. My brother has a severe mitral valve prolapse and surgery is being considered. Cleveland clinic in Ohio is being considered. Glad to see it was on your list. Now I need to get to work and do a little research. Thanks again and stay well!


Virginia P. says

on March 12th, 2009 at 11:35 pm
I had open heart surgery Dec.9, 2008 to replace an aortic valve and also to repair an aortic aneurysm. I have had breathing problems since. The end of January I was in the hospital with a collapsed lung after 4 taps to remove excess fluid. I still am having breathing difficulties after x-rays showed there was minor fluid in the lungs. I also still have no appetite and have a metallic or sick taste like when you have the flu. Does anyone have experiences like this.


Jerry says

on February 4th, 2011 at 8:37 pm
Give UAB Dr.Athanasuleas 205 934 2536 I had Mitral valve replacement 2 weeks ago after having been turned down as to risky (4 th open heart procedure} by Four hospitals in the southeast, I feel like new and would recommend this Doc as a great surgeon with 30 years exp. good luck


bonnie says

on March 25th, 2012 at 2:34 pm
IAM LOOKING YEAR FOR SOME TO DO HEART ON MY 28 YEAR OLD SON
HE HAD A PIGVALE IN ABOUT 2 YEAR AGO NOW HE NEEDS TO HAVE A
SECOND ONE DONE THEY SAID HE HAS AN INFUDTED HEART AN IN HIS BLOOD
THEY SAY THERE IS NOTHING THAT CAN BE DONE BECAUSE THE PRESEURE HAS A BAD OUT CME OF IT BECASUSE IT TO DANGESUES THEY SAY THAY NEED TO RPLACE 1,THRID OF HIS HAERTON THE LIFT SIDE THE MAIN A VALE


Charles Heidelberg says

on March 10th, 2014 at 5:32 pm
What hospital in South Mississippi,Louisiana or Alabama has the best heart valve replacement program? Thank you Charlie Heidelberg


deborah fudge says

on April 8th, 2014 at 1:36 pm
64 female. Petite 5'2″, 108 lbs
Two previous mitral valve repairs in Alabama. Last one 1995
I think it is time for the replacement. Shortness of breath.
Going for echo next Tuesday. Is there any new procedures that can prevent them opening me up? I am under Beaumont care. Devinchi is not for me. My doctor said I am too small. I also would prefer not to have an artificial valve. I am too nervous of a person to hear it clicking. My hearing is very good. Too good some people say.


Jeffrey Warren says

on July 24th, 2014 at 11:28 am
Hello Adam,
I'm writing on behalf of my 81 year old uncle. His heart valve is becoming increasingly calcified. He goes to the doctor every few months to gauge the calcification on his miral valve and it is only a matter of time before they schedule him for the replacement surgery. He lives in central NJ (about an hour from NYC). From your experience do you have a doctor and hospital you recommend? I believe that he would go out of state to have what would be the "best" doctor to perform the surgery so if you could recommend a doctor that too would be appreciated as it is one additional option for him to consider.
Thank you.


Jim Chaney says

on May 10th, 2015 at 10:17 pm
WHAT HOSPITAL DID YOU CHOOSE? I'm also looking for valve replacement surgery near Mississippi.


jmishra says

on July 31st, 2015 at 9:08 am
I want to know who is best surgeon in Michigan for Valve Replacement? I live in Grand Grand Rapids


jmishra says

on July 31st, 2015 at 9:17 am
who is the best surgeon arotic valve surgery in Michigan


Gay Lemmons says

on July 28th, 2016 at 3:26 pm
I am looking for the best aortic valve replacement surgeon in the Missouri/Tennessee area.


E. Jones says

on May 12th, 2018 at 9:54 am
Need mitral valve replacement and possible aortic repair/replace. I am 60. Need best hospital in upstate NY for this surgery. What would you recommend?

Adam's Newest Blogs
Adam's Newest Posts