Sergio's Mitral Valve Surgery Story – Pictures Are Worth Thousands And Thousands Of Words
By Adam Pick on March 7, 2008
So you know… I never expected this.
I never expected to be so connected to the stories of fellow patients and caregivers experiencing heart valve surgery. But, the more I work on this blog, the more I work on this website and the more I work on my book, the more I feel lucky to have had aortic and pulmonary valve replacement surgery.
Yes, I did just say I was "lucky" to have heart valve surgery. How ridiculous and ironic does that sound?
Case in point… Sergio and Maribel Garzon from Cancun, Mexico.
I first learned of Sergio's defective mitral valve when his wife and caregiver, Maribel, emailed me a few months ago. Maribel wrote to thank me for writing my book. After that, we continued to email each other as Sergio prepared to travel to Mexico City for his mitral valve replacement surgery. Sergio had severe mitral valve regurgitation. (To learn more about regurgitant mitral valves, click here.)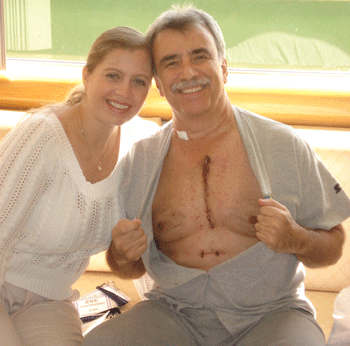 Well… I have good news to report!
SERGIO IS HOME AND DOING GREAAAAAAAATTTTTTTT!!!
I just received the following email and pictures from Maribel:
"Dear Adam: Yesterday we arrived home to Cancun. You can imagine the piece of mind we had here in our house, our bed, our pillows, our bathroom, our air full of nature, trees and back to our family again! It is incredible how fast everything happened and how well it went for us. The whole experience has changed us, we feel lucky this gave us the chance to know wonderful people like you. Thanks to your book, we were so prepared for everything. There were no surprises at all. This is our 18th day from surgery and Sergio is having a wonderful recovery. We will be very happy to meet you someday, maybe someday you decide to come to Cancun!"
Here are a few pictures that Maribel took during Sergio's surgical experience: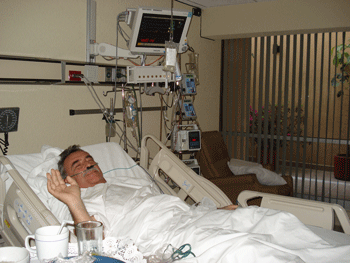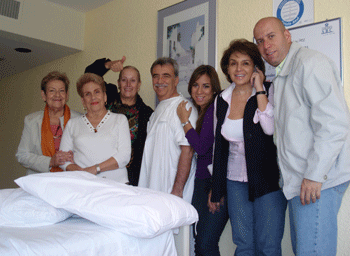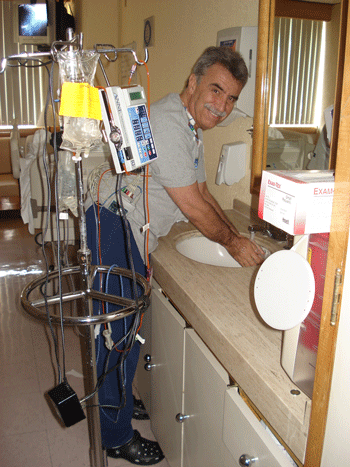 Again, I am incredibly touched that Maribel and Sergio chose to share their mitral valve replacement surgery experience with me. All I can say now is, "GO! SERGIO! GO!" And, of course, "MUCHAS GRACIAS!"
Keep on tickin!
Adam

Lulu says

on March 8th, 2008 at 5:33 pm
People like you should stay a long time in this world. It seems that destiny is taking care of that. Congratulations! We are happy to have a lot more of Sergio.


Leslie says

on March 10th, 2008 at 10:21 pm
Wow what great photos of Sergio! Boy does that IV cart bring back memories – I sure dragged mine around the hospital halls at UCLA! Congratulations Sergio and welcome home. I wanted to check in, Adam, to say that tonite, I went out to dinner with a friend and do you know what I noticed? I AM NOT OUT OF BREATH the way I used to be. I never realized how much and how often I would be out of breath or catching my breath. My surgeon had told me that we "valve" types compensate and don't even know we are doing it. My skin color is better and I have more energy, six weeks out ..I am a lucky lucky girl.
Bless you all, and thank you again Adam for your great site.
Leslie (Lil)


Maribel says

on March 11th, 2008 at 10:01 pm
HI Leslie!
Thank you for your nice words! Every heart valve surgery survivor feels happy when they hear of others getting well too! When did you had surgery? What valve you had replaced?


Sergio Pazos says

on March 13th, 2008 at 6:19 pm
Hello Everybody!!! First of all I want to thank you all for the many good thoughts you've given to me during my surgery and recovery. At the same time for those who are getting surgery or being fixed right now my best wishes for a good or better than mine recovery. To Mercy thank you very much for your thoughts and my best wishes are with you and your son John to have a good recovery. I specially thank you Adam for this incredible work through the book and the blog that helps so many of us with all the information we need to prepare for this kind of surgery and you nice comments of my story in this blog which motivated me through my recovery. If I can be of any help please feel free to contact me! Please think of us as your new friends in Cancun, whenever you want to come and visit us you'll be welcome!
SERGIO PAZOS


mercy says

on March 14th, 2008 at 11:27 pm
Sergio and Maribel: We enjoyed those pictures so much! It's great to see the smiles on your faces. John is doing well, a little tired, but keeping up with his incentive spirometer! We learned from Maribel's suggestion to limit visitors, no matter how well intentioned, in order to avoid a cold, a cough, or the sneezes. You can't protect yourself from everything,but it helps if you don't go looking for it. You and Adam and Doug, are great inspiration. In fact, each person's story brings renewed hope and desire to "do" the recovery well. Since John read about Adam's return to diving, he has been dreaming of his next dive trip! He also likes to snow ski. Anyone out there who can tell us how that was after surgery? Our thanks and love to all of you, our new family. Mercy


Maribel says

on March 15th, 2008 at 5:56 pm
Mercy!!!!! It is good to hear from you and your son John!! We`re glad he is ok. It is normal to feel tired. My husband's surgeon told him before surgery: Sergio, I have to tell you that you will feel like a truck has run passed over you! and it sure did felt like that! He is going to gain strength
day by day. Good you're taking precautions with the colds, he is weak now so better he stays in a clean envioronment. What valve he had replaced? what did he get a mechanical or tissue valve? if it is a mechanical he is going to be in blood thinners the rest of his life, wich is no big deal, but I am telling you this because now he feels tired is because his blood needs to be in shape again, probably his hemoglobin is low. With blood thinners you have to limit the intake of high vitamin K foods and most of those are used to give strength to the blood but Lentils and Almonds are two things very good for rising the hemoglobin levels and iron levels also and are not so rich in vitamin K so he can consume them safely. I have few good links on food and blood thinners if you need them, just ask. Keep us informed on Johns health ok??
Maribel


Raewyn says

on August 17th, 2008 at 7:44 pm
Hi,
glad to hear others are doing well. I am 7 weeks post surgery from mitral valve replacement and tricuspid valve annuloplasty (?) due to rheumatic fever (and a single CABG). I keep forgetting to take my tablets on time, especially the warfarin, any tips or hints on how to keep regular timing with this? I think my brain synapses are still scrambled from being post-pump. I will be trying lentils thanks to Maribel's recommendation.
regards
Raewyn.


kristie says

on December 4th, 2012 at 12:11 am
hi… ive always research about MVP and im glad that all that ive read is positive things. my partner have MVP for almost 2yrs already and only once undergo 2D ECHO coz of lack in financial. im asking for your help how to comfort and feel my partner ok if his sometimes suffering of palpitation and heart murmur… i feel pity on him but i dont have idea or way how to comfort him. im asking if you could suggest me a good diet and what to do if his in pain. thank you and God Bless. im kristie from philippines.


music addiction says

on August 29th, 2018 at 4:42 am
What can we eat after the heart valve replacement

Adam's Newest Blogs
Adam's Newest Posts