"What About Mitral Valve Calcification?" Asks Kara
By Adam Pick on February 16, 2008
As many of you know, I had a congenital birth defect known as a bicuspid aortic valve. After thirty-three years of opening and closing, my two-cusp aortic valve became incredibly diseased with aortic stenosis and regurgitation. Ultimately, I had aortic valve replacement and pulmonary valve replacement. Following surgery, Dr. Vaughn Starnes (my surgeon) informed me that my aortic valve was very calcified as well.
That said, I just received an interesting question about mitral valve disease from Kara. Unlike most questions that focus on mitral valve prolapse and mitral valve regurgitation, this question focused on mitral valve calcification.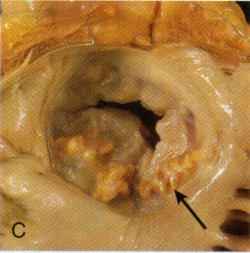 Kara's question reads, "Can you tell me about mitral valve calcification? Do you have any pictures of a calcified mitral valve? What are the symptoms? What is the treatment of mitral valve calcification?"
As you can see above, calcification can impact mitral valves just as it can impact other heart valves. This picture illustrates the build-up of calcium along the annulus of the mitral valve. Ultimately, that impacts the integrity of the mitral valve to open and close properly. My research indicates that most symptoms of mitral valve calcification are similar to the symptoms of other forms of valve disease.
As for treatment of mitral valve calcification, that will be determined by your cardiologist and/or your surgeon. Primarily, there are two forms of surgical, mitral valve treatment – mitral valve replacement and mitral valve repair.
I hope that helps share some insight on mitral valve calcifcation.
Keep on tickin!
Adam

Jacqueline Connelly says

on July 18th, 2008 at 6:56 am
I just learned I have mitral valve calcification from a recent echo test. Since I was 14 I've had a mitral valve problem but never was of much concern. I am currently 45.
Now the doctor wants to do another echo in 6 months to see the change in the calcification, also I do not seem to have any symptom either. This has made me alot more concerned , should I be ?
Is there anything I can change diet , exercise, vitamins and what is this caused from?
Thank you Jackie


maurice saunders says

on January 22nd, 2009 at 12:29 pm
A friend was diagnosed with a calcified heart valve…..a german colleague suggested he try serrapeptase a compound that is available on the national health in germany…its function is that it clears all and any debri found in the body…he is currently trying this


Dorothy Young says

on April 23rd, 2009 at 8:46 am
I have a Calcification mitral valve, I read the above that mentioned taking serrapeptase, I am going to try it is there any thing else I could try. and is there anyway I can change my diet. Does some food cause calcifications more then others. I have calcifications on the spleen and several Lymph nodes. Thank you


Melissa L. Carey says

on September 30th, 2010 at 1:07 pm
I had mitral valve repair 8 years ago. After an echo it appears that the mitral valve has now calcified and there is a high possibility of another surgery. Being that I already have an annuloplasty ring on the mitral valve, what methods can be done to fix this calcification? I have been on metoprolol for about 3 years so I guess medication was already tried.


Charles says

on October 15th, 2010 at 2:45 pm
There is a very strong and growing belief in the medical community that soft tissue calcification (including the heart)is caused by Vitamin D3 and Vitamin K2 deficiencies. K2 supplements have been shown to reverse calcification in rats. A large study involving humans indicates those with calcifications have lower blood levels of K2 & D3 whereas those with no calcifications have optimal levels in their blood.


Tracey says

on October 26th, 2010 at 4:36 pm
My family and I were just recently informed that my 42 year old sister needs to undergo Valve Replacement Surgery. She had this same surgery 6 years ago, and now needs it for both her Tricuspit and Aortic Valves. The original surgery was for one valve. As we are all obviously very worried for her, I must add, and ask what we all want to know. Sadly, my sister is also a severe alcoholic and drug addict, whom takes drugs either orally or through her nose. Our question is has her addictions and use of alcohol and drugs contributed to the Heart Valve Condition? After her first Mitro Valve Surgery she still continued to drink heavily and abuse drugs. She claims they have nothing to do with one another. We are a family has tried everything in our power to help her and do feel helpless to her addictions. She comes from a very stable and loving family and need to know if this has contributed to her heart condition. She is having surgery in the A.M. and we are all just very scared for her in all aspects of her life.
Thank you for any answers you may have.
T.S.


Nicola Munroe says

on June 27th, 2011 at 12:49 pm
I had Mitral Valve Repair in May 2010 i did an echo in April 2011 and was told that i had mild calcification on the Mitral valve which is restricting mobility…Am i going to need to have my valve replaced in the future and is there anything that can be taken to reverse the calcification¿ will i be able to have children.


Volkan says

on December 19th, 2011 at 2:05 pm
My daughter was born with a congenital Mitral Valve Disease.She had both severe leak and mitral stenosis. She was operated when she was four months having a repair surgery. The result was excellent without any regurgitation. Periodical echographies were diagnosing perfect results until one year. 13 month after the operation we took her to the hospital again with breathing difficulty. There was trivial regurgitation both severe mitrol stenosis. The surgeon who has performed this kind of mitral repair surgeries almost to 120 children in last 10 years, informed us that it was the only case out of this 120. The second surgery seems to be necessary. My question is what can be the reason of this calcification causing mitral stenosis? How can we avoid it? If it is a reaction of the body to the repaired valve, does it mean that she will have this calcification each time after each repair surgery? Is this risk reduced after becoming adult?


Lisette Solis says

on June 18th, 2013 at 12:26 pm
I was recently diagnosed with Mitral Valve Calcification. I was also told that I don't need surgery at this stage, but I would need to monitor it. I am not satisfied with just monitoring it, I would like to know what I can do to keep it from hardening more. I read the above comment of the serrapeptase and would like to try it. Where can I find this??? I have a another question for you guys for those who have this condition. Where your symptoms include fatigue, shortness or breathe ( can't take a deep breathe), light headed, and chest pain because I get this and can't deal no more. What have you done to try to feel better????


mary ann says

on October 8th, 2013 at 11:29 am
Hi has anyone used either serropeptasr or Vitamin d3 and k2 for calcification of mitral valve ???????


Judith says

on December 25th, 2013 at 7:26 am
I have been told I have a prolapsed mitral valve which has a small leak and is calcified
at the end. He doesn't need me to make another appointment, is this O.K.

Adam's Newest Blogs
Adam's Newest Posts