Sergio And Maribel Are Off To Mexico City For Mitral Valve Replacement
By Adam Pick on February 14, 2008
Hola!
Over the past month, I have become friendly with Maribel and Sergio from Cancun, Mexico.
Sergio is the patient. At 54 years of age, his mitral valve needs to be replaced. Maribel, as you probably guessed, is his loving wife and caregiver.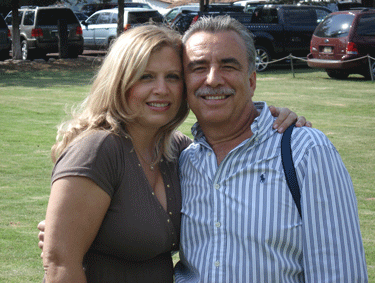 Today, Sergio and Maribel are leaving their home in Cancun for Mexico City. Sergio's mitral valve replacement surgery is scheduled for this upcoming Monday. (To learn more about Sergio's procedure, click here.)
As Maribel writes, "We are so nervous! You can imagine! But at the same time, your book was incredibly helpful because we feel prepared for the surgery. I hope the days go by rapidly. I just want to see the doctor getting out of the surgery and telling me everything is all right. That is my golden moment. I dream of that."
With that thought in mind, here is to your 'golden moment' Maribel.
My prayers and thoughts are with you. Even though the surgery is on Monday, I am sending you great, big, healthy thoughts from Los Angeles right now! May Sergio's surgery be completely uneventful! (Those are the best kinds of heart valve surgeries.)
Keep on tickin!
Adam

mercy says

on February 22nd, 2008 at 7:44 am
We have been praying for a successful surgery for Sergio.
We would like to hear about Sergio soon.
Our son, John, 36 years old, is scheduled for valve replacement and aneurysm repair March 4. 2008. We probably are feeling the same nervousness and butterflies as Sergio and Maribel felt. We feel connected.
Keep on ticking!


Maribel says

on February 23rd, 2008 at 6:52 pm
Dear Adam:
Sergio is still in the intermediate care of the American British Cowdray Medical Centre. Tears are almost falling from my eyes because what is the most wonderful thing about Sergio's problem (other than he is allright and healing) is the way people far away from me, people I haven't had the chance to shake hands with, like you and Mercy are so close to me and had touched our hearts in such a warm way. I will never have the right word to thank you. This kind of experience changes completely the way you think, there are no boundaries,no cities, no states, no territories, no limits, there are just people with the same problems giving support to each other. Sergio's surgery was a success and now I know why!!! angels like you flying all over him!! thank you, thank you all for the prayers and thoughts. I hope one day I can do the same for you.
Mercy: Your son John is going to be all right, he is young and this kind of surgeries have less risk in young people. You be calm ok? he needs you calmed and cheerful, make it easy for him. Adams book is a jewel for the preparation of the surgery and most of all in the emotional aspect because recovery and medical experiences vary from one another. My husband yesterday was dancing!!! in the ICU standing, all plugged in, happy and dancing, he has very little pain, since the first time he didnt need help from me for almost anything and he is 54 so imagine John 36 is going to be ok? Beleive me ANGELS EXIST I had contact with at least 3 or 4 of them in the past week, as soon as I see them again I'll send them right to you!!! If everything is OK we are living aon monday and staying for a week or so in my mom's house here in Mexico City. The hospital has been EXCELLENT, nurses great, doctors, I dont have the words Dr. Rodolfo Barragan and Dr. Carlos Martinez, the chiefs of everything in the National Institute of Cardiology the best there is, grateful to them till death!!!
Thanks to everybody that thought about Sergio. Life, as Earth, is also round, this will come back to you surely!!!


Maribel says

on February 24th, 2008 at 12:44 pm
Hi Adam! Thank you again for the blog comments on Sergio's surgery. Today Sergio is doing better than any other day. He walks a lot and he doesn't feel any pain, I hope he doesn't feel dissapointed when the IV is taken away tomorrow and pain medication depends on him taking it. He is doing ok with the blood thinner he is stable in 2.5 so we are sure leaving the hospital tomorrow. The lungs were very clean since the beginning so he hasn't had problems with them, he says everything was less traumatic and painful than he expected, he is in a very good humor and ready to go. I would love to have more info on life in blood thinners. Can anyone feed me back in this?? Thank you all.


John T. Smith says

on February 24th, 2008 at 9:12 pm
Hello To Maribel
I have been on anticoagulant for 12 years it is no pr4oblem. It does not change your life.
Good luck
John T. Smith


Maribel says

on February 25th, 2008 at 5:42 pm
Thank you John! It seems like there is something more to worry about, now that Sergio is out and healing my worries are on blood thinners!!!! humans!!!!! Well don't missunderstand me I AM SOOOOOO HAPPY about the results of the surgery that I could go jumping to the end of the world!! Thank you for the info on blood thinners I think it is just getting used to a new life right?? See you around this wonderful blog!!


Maribel says

on March 2nd, 2008 at 8:48 pm
HELLO EVERYBODY!!! SERGIO IS DOING BETTER AND BETTER!! WE WENT YESTERDAY WITH THE CARDIOLOGIST AND WITH THE SURGEON AND THEY GAVE US PERMISSON TO GO BACK TO CANCUN!! WE ARE SO HAPPY!! WE FEEL LUCKY!!! NOW EVERYTHING IS OVER, ALL OUR FEARS AND WORRIES THAT WE THOUGHT NEVER ENDED, WELL NOW IS A NEW LIFE TO LIVE, WE CANT POSSIBLY FORGET WHAT WENT ON AND WE WILL FOREVER STAY GRATEFUL TO DOCTORS, FAMILY AND FRIENDS! OUR BLESSINGS FOR YOU ALL. MARIBEL


mercy says

on March 4th, 2008 at 9:52 am
Maribel and Sergio: We continue our prayers of thanksgiving for Sergio and you. We are so happy to hear you are on your way home, it feels like family is coming back home,. John will check in the hospital today (Shands Hosp at Univ. of Florida) at 1100 a.m for pretests and a "relaxing" night before surgery. We do not have a time for surgery yet, just that it will be March 5, wednesday. We are nervous, but also excited, we are blessed that he'll be so close to home (only about 50 miles) and that he and his wife have a HUGE family to help and support. My heart went out to you being in that family waiting room alone, waiting to talk to the doctor!! How scary. But thank God and all the skillful people who worked with your husband, it was nothing but good news. Please keep us in your prayers so we can be strong and calm for John, and his surgeon and team so they can work wonders through their hands. Much love, Mercy.


Maribel says

on March 6th, 2008 at 6:59 pm
Dear Mercy: We arrived to Cancun just yesterday all tired and excited at the same time so I haven't been able to check the blog until now but since your last post believe me: I've been thinking a lot of you and your son John. By now he is done right? I hope everything is going okay with him, as you said he has a great family supporting him and a lot of good thoughts are being sent to him daily. Listen to me: in a blink of an eye he is going to be back at home doing just fine!!! everything is going to be ok. Please keep me informed about the outcoming ok? Be calm, my heat is with you all!!!


mercy says

on March 23rd, 2008 at 4:11 pm
Maribel aand Sergio: We are doing just GRREAT!! John had his checkup with surgeon 16 days after surgery. The surgeon was amazed at how well John is doing. We are so happy and thankful. Maybe one day we can scuba together in Cancun! or if you visit our beautiful horse country of Ocala, Florida we can "snorkel" the springs. Much love, Mercy.


Maribel says

on March 23rd, 2008 at 7:53 pm
Mercy!!! good to hear that John is doing fine!! I knew he was going to be allright, the power of positive thinking is 100% effective and healing. I hope you're now more calmed and relaxed. Maybe it will occur to you what happened to me: I thought everything is ok now and then I realized I will always have something to worry about, it is normal but get control of it!! We?ll be happy to meet you someday!!! Lets stay in touch.

Adam's Newest Blogs
Adam's Newest Posts