The Center for Heart Valve Disease at Northwestern's Bluhm Cardiovascular Institute is led by Patrick M. McCarthy, MD and Robert O. Bonow, MD. Dr. McCarthy is an internationally known cardiac surgeon who specializes in valve repairs and is an innovator of valve repair techniques. Dr. Bonow is a cardiologist who specializes in medical treatment for valve disease and is past chair of the American College of Cardiology/American Heart Association TaskForce on Practice Guidelines (Committee on Management of Patients With Valvular Heart Disease).
Patients that come to the Center for Heart Valve Disease benefit from highly skilled physicians and sophisticated clinical programs that are designed to address specific valvular diagnoses, including:
In 2012, U.S. News & World Report ranked Northwestern's Cardiology and Heart Surgery program 17th in the nation out of over 700 programs and as the highest ranked program in the state of Illinois. Northwestern Memorial Hospital is ranked 12th in the nation out of over 5,000 hospitals and 1st in the Chicago metropolitan region.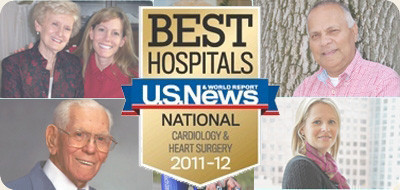 It is a priority among the cardiologists and cardiac surgeons at the Center for Heart Valve Disease to repair rather than replace heart valves whenever possible to preserve a patient's own heart valve so that blood thinning medication (anticoagulation) medication are not required. When repair is not possible, we typically replace diseased heart valves with bioprosthetic (tissue) valves – 95% of our isolated mitral valve replacements receive tissue valves and 97% of isolated aortic valve replacements receive tissue valves. Patients that receive bioprosthetic valves do not require anticoagulants.