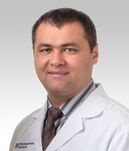 Dr. Andrei Churyla
Dr. Andrei Churyla

Heart Surgeon

Northwestern Memorial Hospital
675 N. St. Clair Street
Chicago, IL 60611
About Dr. Andrei Churyla,
Heart
Valve

Surgeon

Hello! My name is Dr. Andrei Churyla and I am a cardiac surgeon having graduated from Gomel State Medical University in 2003. To date, I have performed approximately 380 cardiac surgeries, of which 200 involved heart valve procedures. I regularly perform surgery at Northwestern Memorial Hospital. Read more...
12 Patient Reviews for
Dr. Churyla
"Dr. Churyla was very down to the point and his bedside manner was great. I stayed a week in the hospital. He was there everyday, explained how everything was going and what to expect after leaving the hospital.
His office called and checked a few times after I went home. It has been 2 months and I have had no issues with afib or shortness of breath. I am getting my energy back and feeling better everyday, which has not been this way for 10 years. I have seen my local cardiologist and had EKG with no issues.
I am so thankful! My family encouraged me to go to Northwestern Medicine. To me, they are the best."
-- Barbara Baker, Aortic Valve, Mitral Valve, Valve Repair, Valve Replacement, Median Sternotomy, Maze Procedure, 10/06/2020

"I can't recommend Dr. Churyla highly enough. He repaired my rheumatic (fever) damaged mitral valve when other heart surgeons at major hospitals had told me that valve replacement would be the only option.
After he performed the Maze procedure and a double bypass, I was taken off the heart/lung machine. He observed the mitral valve leaking and went back in and repaired it. 11-hours in all.
My cardiac health is now very robust thanks to him, and I don't have to take any blood thinners. I could not be happier with Dr. Churyla."
-- Larry Johnson, Mitral Valve, Valve Repair, Maze Procedure, 11/28/2018

> See 10 more patient testimonials
My Specialities &
Clinical Interests
My heart surgery specialties include:
Aortic valve repair and replacement
Transcatheter aortic valve replacement (TAVR)
Mitral valve repair
In addition, I have research and clinical interests specific to:
Transcatheter aortic valve replacement (TAVR)
Arrhythmia in the setting of mitral valve disease and coronary artery disease
Education, Training & Certificates
Dr. Andrei Churyla, heart surgeon, graduated from Gomel State Medical University in 2003.
After medical school, Dr. Churyla completed a General Surgery Residency at Berkshire Medical Center in 2013 and a Cardiothoracic Surgery Residency at Northwestern Memorial Hospital in 2016.
Dr. Churyla is board-certified by the American Board of Surgery and has received many acknowledgments and awards during his career including:
* 1999: Certificate for the Best Medical Student Research. Gomel State Medical University Gomel * 2000: Recipient of the Scholarship for Outstanding Students of The Special Fund of the President of The Republic of Belarus * 2000: Certificate for the Best Student Research. International State Ecologic University. * 2002: Certificate for the Best Medical Student Research. Gomel State Medical University. * 1999 – 2003: Medical School Designation as Highest Honors Student * 2010: Recipient of the 2010 Society of Thoracic Surgeons "Looking to the Future" Scholarship * 2011: Recipient of the Most Valuable Resident Award * 2011 Second Place in Massachusetts Chapter of American College of Surgeons Residents * 2012: Recipient of The Robert J. Tracy Award for Excellence in Vascular Surgery, General * 2015: Finalist in JCTSE "Cardiothoracic Surgery Resident Jeopardy Competition" * 2015: Recipient of The Ralph Zupanec Surgical Award, General Surgery Residency Program at Berkshire Medical Center
Schedule Appointment

with Dr. Andrei Churyla, MD

To schedule an appointment with Dr. Churyla, you can:
Call

(312) 460-2313

right now
Request an appointment by clicking here.
The office of Dr. Churyla is located at 675 N. St. Clair Street, Chicago, IL 60611. To get driving directions to this office, please click the map below.
> Click for driving directions to Dr. Churyla's office.
Watch Educational Video with Dr. Andrei Churyla
Learn about heart valve surgery from Dr. Churyla in this video:
TT Maze Procedure for Atrial Fibrillation: Liz's Patient Success Story
News & Online References Featuring Dr. Andrei Churyla
Here is the latest news featuring Dr. Andrei Churyla:
Page last updated: March 9, 2022