Webinar Video: The Advantages of the Ross Procedure
By
Adam Pick
- Patient, Author & HeartValveSurgery.com Founder
To educate the patients and caregivers about aortic valve disorders and the Ross Procedure treatment option, HeartValveSurgery.com and The Mount Sinai Medical Center hosted a live webinar on October 3, 2013.
The webinar featured Paul Stelzer, MD, a leading cardiac surgeon who has performed over 530 Ross Procedures, and Adam Pick, a Ross Procedure patient and founder of this website. To watch the webinar titled, "The Advantages of the Ross Procedure", simply click the play button below..
To Download the FREE Webinar eBook
If you would like to download the complete transcript of this webinar, simply click here.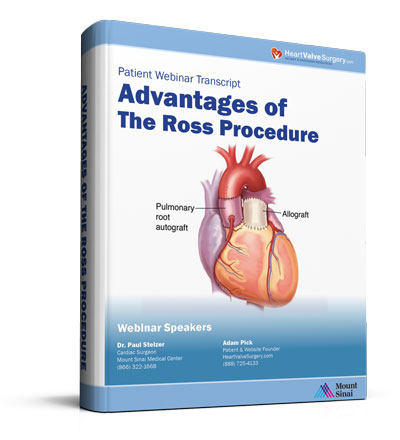 You Might Also Like
To help you learn more about the Ross Procedure, here are additional resources to educate and empower you about this special form of aortic valve replacement:
Page last updated: September 18, 2020