Yum! A Healthy Lemon & Herb Rotisserie Chicken Recipe!
By Adam Pick on May 16, 2019
I don't know about you… But, I can't leave Costco without getting a hot rotisserie chicken.  And, it's not just Costco. I'm into all types of rotisserie chicken from different grocery stores and ethnic restaurants.  I simply love the taste and different flavors.
The other day I thought, "Hmmm… Can I make a rotisserie chicken?"
So you know, I never used a rotisserie before. But, I remembered that my barbecue came with a rotisserie kit.  I headed out to the garage and found the rotisserie kit which had a little electronic crank, a spit and two forks.  Next, I did what Ethan, my 10-year old son, would do.  I typed, "Chicken Rotisserie Recipe" into YouTube.  Yep!  I instantly saw thousands of recipes. However, a video for a "Lemon & Herb Rotisserie Chicken" looked yummy.
With purpose, Robyn and I went to Ralphs, our local grocery store.  We got the ingredients.  We came home.  Then, I went to work.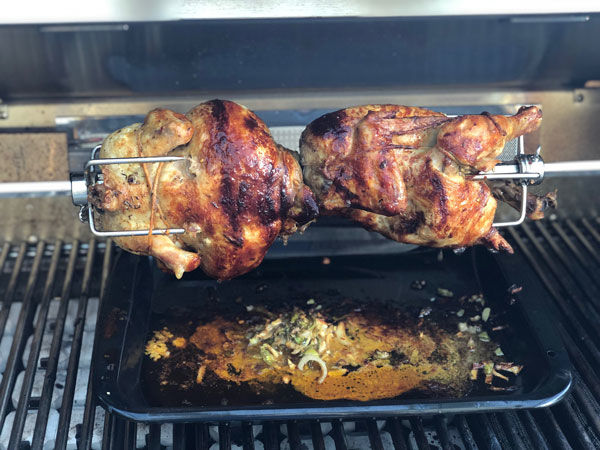 Yes, I actually made this!
Three hours later, we were enjoying a home-cooked rotisserie chicken!!!
It wasn't just good.  It was dang good!!!
The recipe called for a stuffing of onions, celery, rosemary and thyme which made the chicken taste somewhat like a Thanksgiving turkey.
Since then, I have made 3 more rotisserie chickens. I can't get over how easy and yummy it is.  (Fyi, I'm salivating right now and it's only 9:14am.)
If you have any interest in a GREAT Lemon and Herb rotisserie chicken, here's Chef Tony Matassa with his recipe.
The total prep time of Chef Tony's recipe was about 15 minutes.  The hardest part was trussing the chicken.  It was my first time.  So, it got a little messy.  But, other than that, it was easy-breezy.
As for the cook time, the 5-pound chicken spun round-and-round for about 110 minutes.  The target meat temperature was 170 degrees Fahrenheit.
If you'd like to see Chef Tony's recipe, I posted it below.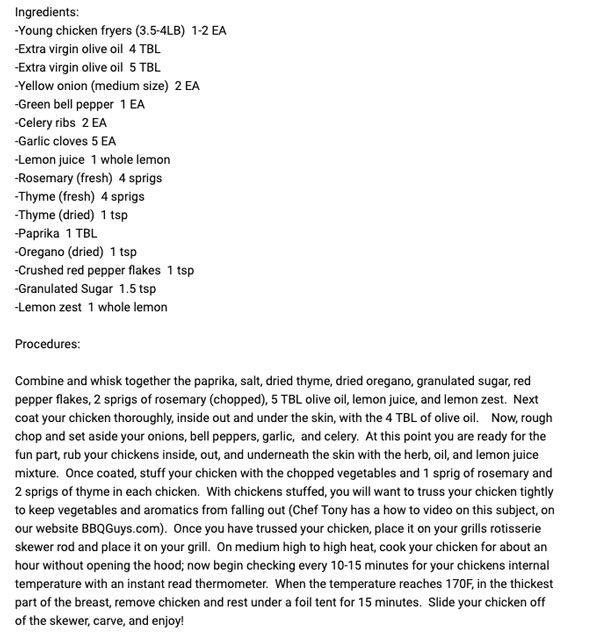 If you get a chance to try this recipe, please let me know what you think!
Also… I'll let you know if I come across any other healthy recipes in the future!
Keep on tickin!
Adam
Adam's Newest Blogs
Adam's Newest Posts