Technology Update: Can A Mitral Valve Be Replaced Using A Catheter?
By Adam Pick on March 18, 2016
At the recent Heart Valve Summit, I received several questions about the latest technologies including TAVR, sutureless valves and the MitraClip. I also received questions about the new transcather mitral valve replacement device that is currently in a feasibility study.
So… To educate our community, I tracked down Dr. Richard Bae, who manages the interventional echocardiography lab at Minneapolis Heart Institute. Here are the highlights from our chat:
I hope this video helped all of us learn more about transcatheter mitral valve replacement devices that are currently in a feasibility study. Many thanks to Dr. Richard Bae for sharing his clinical experience and research specific to this new therapy. Needless to say, this is very exciting!
Keep on tickin!
Adam
P.S. for the hearing impaired members of our community, I have provided a written transcript of my interview with Dr. Bae below:
Adam: Hi, everybody. It's Adam with HeartValveSurgery.com. We're here at the Heart Valve Summit in Chicago, Illinois, and I'm here with Dr. Richard Bae who leads the Interventional Echo Lab at Minneapolis Heart Institute in Minneapolis, Minnesota. Dr. Bae, thanks for being with us.
Dr. Bae: Thanks for having me, Adam.
Adam: We've been answering your questions on Facebook that our community posted. I have a question for you, Dr. Bae, because I understand you're doing some very new cutting edge implantations of transcatheter devices for mitral valve replacement. Can you share a little bit about what has happened? I had heard that this technology wasn't going to be ready for years and years.
Dr. Bae: Right. We've been working with a company called Tendyne, and they've developed a percutaneous mitral valve replacement strategy which goes in through a small incision in the left ventricular apex. It's a small incision on the side of the chest. Then, the catheter is delivered through a small hole in the tip of the heart and delivered under ultrasound guidance which I'm helping with. Then, it is attached to the outside of the heart by a little tether. It's a very slick procedure.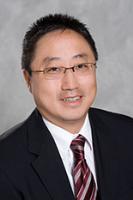 Dr. Richard Bae
We are in the feasibility part of the study. Initially, it was approved by the FDA for ten patients. Now, I think it's been expanded to 20 patients. We've done all seven patients in the United States up to this point. It started in April so we just did our seventh patient earlier this week. Obviously, it's very early on into the experience, but it's been moving quickly. So far, all the patients have done well. They're typically extubated in the operating room, and we've had no strokes, no deaths so far.
It looks like a promising technology; a less invasive approach for patients that aren't good surgical candidates. Obviously, it's early on, more to come, but so far, it looks promising.
Adam: Great. Dr. Bae, thanks for all the work you're doing. I do have one follow up questions. You mentioned the candidates; the patients who this technology is potentially suited for. Can you describe about who it might be for and who it is not for?
Dr. Bae: At this point, we're looking at patients who have leaky mitral valves, severely leakiness who are symptomatic, and who would normally meet the criteria to have their mitral valve operated on, but for other reasons, other health problems, they are not felt to be surgical candidates. This is an option for them to get therapy without the high risk of the open-heart surgery if they're too high risk patients.
At this point as it's a feasibility study, it can be due to leakiness because of a problem with the valve, or a problem from a previous heart attack; anything that's causing severe leakiness of the valve in patients that are not considered surgical candidates. There are some technical factors they have to look at with a CAT scan of the heart before the procedure to make sure that the heart is big enough, that if the valve isn't going to cause problems inside the ventricle, cause problems with the other valves, that sort of thing. Those are the patients that we're looking at at this point.
Adam: Great. Dr. Bae, thank you so much for all the great work you're doing. This feasibility study we really appreciate it. Congratulations on your success. Thanks for coming by and meeting with us.
Dr. Bae: Thanks for having me.

Cathy Moseley says

on March 18th, 2016 at 5:29 pm
Will people who have severe regurgitation due to rheumatic heart disease be candidates at some point?

Adam's Newest Blogs
Adam's Newest Posts