Special Announcement: "Patient Day 2015" to be Hosted by Edwards Lifesciences on March 13
By Adam Pick on March 9, 2015
This is pretty darn awesome! If you are the recipient of an Edwards Lifesciences valve or repair ring, here's a really neat community event that I want to share with you.
Heart valve innovator and manufacturer Edwards will be hosting its first-ever "Patient Day" on Friday, March 13. During this event, Edwards heart valve patients will connect in real-time at the company's corporate headquarters in Irvine, California, to share their stories and explore how they can better support each other and improve the lives of future heart valve patients.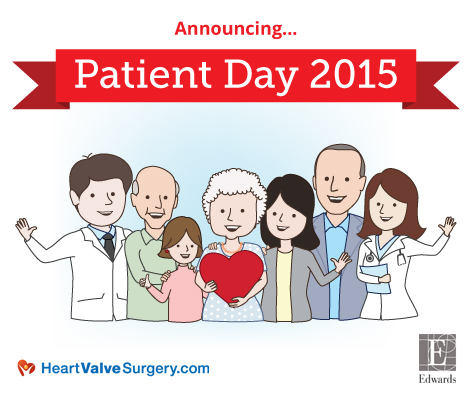 This educational exchange will help Edwards and its partners, including patients, caregivers and non-profits, improve the patient experience and outcomes.
The agenda for Patient Day 2015 includes special talks, opportunities for Edwards heart valve patients to share their stories and interact with one another, participate in educational valve manufacturing tours, connect with associations dedicated to serving heart patients, and take part in other fun activities. All of the participants also have the chance to bring a guest who supported them during their valve treatment journey. Patients may even get to meet the employees who handmade their heart valve!
You may be wondering if I'll be there? Yes, I will and I'll be sure to share special patient stories and report on all the excitement and learnings of the day. Others scheduled to attend and speak include Edwards' CEO Mike Mussallem, patient advocates Bray Patrick-Lake and Max Page (aka Little Darth Vader), and heart health non-profits American Heart Association, Mended Hearts and WomenHeart: The National Coalition for Women with Heart Disease.
Want to attend future patient events at Edwards?
Although Edwards has reached its capacity for this first-of-its-kind event hosted by the company, they expect Patient Day 2015 to shape future patient events they may host. If you want to be informed about similar events, let them know by signing up at www.edwards.com/patientday.
I look forward to bringing you special stories from Edwards Lifesciences Patient Day 2015!
Keep on tickin!
Adam

kerlampert says

on March 11th, 2015 at 9:24 am
Aloha I will be celebrating 1year since my aortic valve replacement! March 10, 2014


Adam says

on March 11th, 2015 at 10:31 am


Truls Kalkvik says

on March 11th, 2015 at 7:48 pm
Aloha to you all I will also be celebrating 1year since my aortic valve replacement! March 10, 2014.

Adam's Newest Blogs
Adam's Newest Posts