Special Web Chat Series Announced By The Cleveland Clinic
By Adam Pick on January 31, 2013
Hey everybody,
I just learned that during February — which is Heart Awareness Month — the Cleveland Clinic will be hosting several, educational web chats. As shown on the schedule below, this is a special opportunity to connect with the leading cardiologists and heart surgeons at the Cleveland Clinic.  To learn more or register for these events, please click here.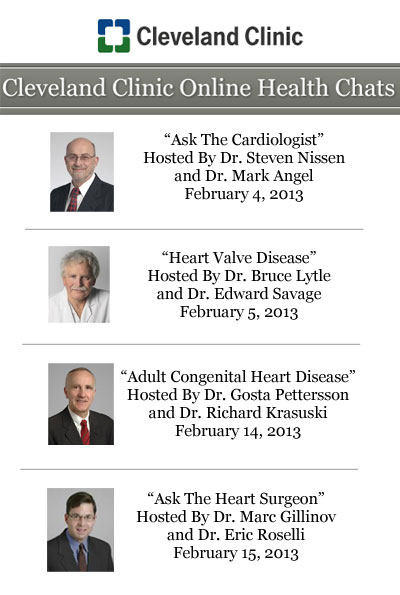 If you are evaluating a heart valve repair or heart valve replacement procedure, I would strongly encourage you to attend these online events. To learn more or register for these events, please click here.
Keep on tickin!
Adam

Ginger French says

on February 2nd, 2013 at 9:55 pm
WOULD YOU ADDRESS OR CAN YOU DIRECT ME TO INFORMATION REGARDING REPLACEMENT OF AORTIC VALVE WITH POSSIBLE AORTIC STEM AND/OR MITRAL VALVE WORK IN A 60 YEAR OLD WHO HAS HAD A HEAD INJURY? AS A RESULT FALLING IS NORMAL, AND THERE IS CONCERN REGARDING ADDING COUMADIN/WARFARIN DUE TO THE INCREASED RISK OF BLEEDING WITH ALL OF THE BUMPS AND FALLS.
MANY THANKS.


Joseph Poracky says

on February 12th, 2013 at 3:34 pm
Ginger: I had my arotic valve replacement surgery done at Northwestern Hospital in Chicago by Dr. McCarthy's team on 1/19/12. The first two months were tough, but I followed thru with the rehab and also lost 75 pounds. We live in SW Florida and I swim every day for 45 minutes. I have energy to burn and feel like a new person. As far as the Warfarin blood thinner I find that a non issue. You can get an INR test Meter from Phillips 800-804-0002 and test your levels that the doctor has given. That saves you from trips to the doctor's office. You have to monitor your level, but it is no big deal. Last week I took an hour flight in the World War II P-51 Mustang and that was a real hoot. Good luck and feel tree to email me if you have any questions. JOE

Adam's Newest Blogs
Adam's Newest Posts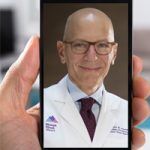 Telehealth Reform: COVID-19 Unites 180 Distinguished Physicians to Send Congress This Letter Learn More.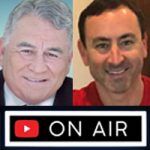 Unexpected! Hear Me Talk About Our New Patient Survey & More on "Bill Martinez Live" Learn More.