Guest Post: After Bicuspid Valve Replacement Surgery, Theresa Focuses On Recovery Progress
By Adam Pick on July 27, 2012
One of my favorite parts of this project is hearing from patients after their surgeries. Yesterday, Theresa sent me a thoughtful note that touched on several elements of the surgical process. That said, I thought you might like to read and learn from Theresa's experience.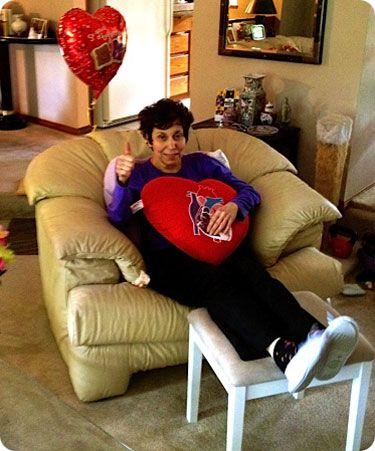 Theresa LoMonaco – Heart Valve Replacement Patient
Here is Theresa's note:
Hi Adam – I wrote to you recently with a question about the risks of doing an aortic valve replacement with a mitral valve repair.   I have been researching aortic stenosis and heart valve replacement since I was first diagnosed with mild stenosis some 10 years ago.   I later found your informative book and then your heart valve blog.   I want to say what a good job you do with the blog and the latest version is so professional and informative.
I wanted to let you know that I went ahead and had my aortic valve replacement with Dr. Jeffrey Swanson on 7/10/12.
I chose a bovine tissue replacement valve; I believe it was an Edwards Life Sciences valve.  I had a median sternotomy.    I developed thickening of my left ventricle from the time I had my echo last December to my test in May, 2012.   I went from moderate to severe stenosis to severe stenosis in 5 months.   I had no symptoms other than being tired but I attributed that being 65 years old and working full time and doing lots of volunteer work.   My blood pressure did start to go up right before I before I saw my cardiologist.
Besides replacing my bicuspid aortic heart valve, Dr. Swanson was able to remove the excess muscle from my left ventricle; I didn't even know this was possible.   I had also been told that I had rheumatic fever when I was 7 years old when I got very sick for 3 months with strep throat.  Dr. Swanson said many people were misdiagnosed with this condition.   My echo showed mild stenosis of my mitral valve, but Dr. Swanson told me that I never had rheumatic fever and I had no scarring and no narrowing of my mitral valve.   My mitral valve and my coronary arteries are in perfect condition.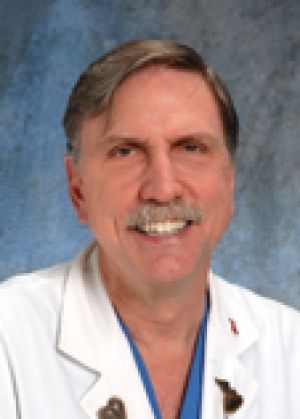 Dr. Jeffrey Swanson – Theresa's Surgeon
My biggest fears about open heart surgery didn't come to pass.   I was worried about pain management, being on the heart/lung machine, and what my incision would look like.    I haven't had much pain, just soreness and I had minimal issues with my cognition/memory for about a week or so, and my incision is healing well because I have good skin that doesn't scar  My chest is still very bruised and it's been 17 days since my surgery.   I felt really bad the 3rd and 4th day in the hospital, as I was nauseated and I felt feverish (I had no fever) and I was very weak.   I forced myself to walk first holding someone's hand and then on my own.    I've had to drink a lot of ginger ale as my stomach has been upset on and off and that was the worst of this.   The nursing staff in ICU and CRU were great and they helped me deal with all of my symptoms.    I concur that the best thing was my first real shower that a nurse helped me take on the day I got released.   She didn't want me to be afraid to shower and to look at my incision.   I was in the hospital 5 1/2 days and I was in ICU for a little over a day because they were waiting for a bed for me on the cardiac recovery unit.
The unexpected things that happened to me was that I gained 20 lbs. of water weight on the day of surgery, as I was on the heart/lung machine for 1 3/4 hrs.   It came off in about 10 days thankfully.   I felt like the Michelin Tire Man cartoon and I look normal now.   I was also taken off one of my blood pressure medications in the hospital, but my cardiologist to put me back on it and increased the dose of another one of my blood pressure medications because my blood pressure went up when I got home as I'm not in bed or in a chair most of the day.   My cardiologist will re-evaluate my medications again in mid to late August.
Dr. Swanson said that my blood pressure might go up because the stenosis was like a dam holding back my blood and now it's rushing through my arteries full force.   I've been making progress with my respiratory exercises.   I found the spirometer really challenging.   Dr. Swanson found out I sang in years past, so he suggested I start singing from my diaphragm as my lower lungs were compressed.   I have been singing along loudly to my favorite Broadway shows, like Camelot and South Pacific.   I would never have thought of that myself.   I can ace the spirometer after singing.
I keep trying to focus on my progress and not the length of the recovery process.  Getting out of bed without pushing/pulling myself out has been my biggest challenge but my legs muscles are getting very strong.   Yesterday, day 17, was a big day,  I walked with my husband around the track slowly for 1 lap; and today I walked 2 laps.   I have gone out several times since I got home on 7/15/12 and I'm still a bit shaky outside, but I was going stir crazy in the house and you walk just so much in your house.
I just wanted to share this with others if you think it will help them, Adam.   Recovery is challenging, but it's doable and everyone's pace will be different.   I worked out up until the day before my surgery to ensure I would have a better recovery and it has still been challenging.
Keep on tickin!
Theresa
Adam's Newest Blogs
Adam's Newest Posts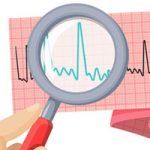 "How Do I Know When My AFib Is Gone After Heart Surgery?" asks Linda Learn More.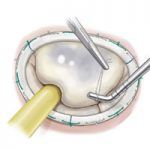 New Findings: Mitral Valve Repair Restores Normal Life Expectancy! Learn More.