Today, My Thoughts Are With Kelly & Mitch
By Adam Pick on February 2, 2012
Over the past few months, many patients and caregivers in our community have been fortunate to meet Kelly Nugent and Mitch Friedman at Heart Valve Journals, our social network.
As Kelly and Mitch prepared for heart valve surgery due to aortic valve regurgitation and mitral valve regurgitation, they openly shared their experiences, thoughts, feelings and emotions about their pursuit of healthy hearts.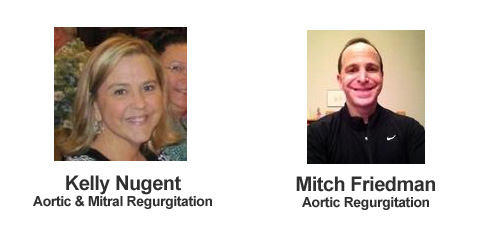 For example… Yesterday, Kelly wrote in her journal:
"I want to thank everyone who is praying for me, from my friends who let me know that I am in their prayers, to the people that are part of prayer requests and pray circles, you are truly beautiful people." — Kelly Nugent
Mitch updated his journal yesterday from the catheter lab at his hospital. Mitch wrote:
"Lying in cath recovery right now with my iPad. Everyone was right, cath is no big deal. Great job Berm on the updates. You 'da man. Thanks for all the postings everyone!!!" — Mitch Friedman
Today, as they both undergo surgery, Kelly & Mitch are in my thoughts and my prayers. May they both have uneventful surgeries and speedy recoveries.
Keep on tickin' Kelly & Mitch!
Adam

Geoff Beale says

on February 2nd, 2012 at 2:08 pm
Good luck to both of you! The cath was the worst part of my experience. Almost 4 years since my operation.


Judy Weiss says

on February 2nd, 2012 at 3:13 pm
I had mitral valve replacement on oct 25, 2011 . I'm still not back 100 percent but it takes time. I want to wish both of you good luck and a speedy recovery.


Kerrigan says

on February 2nd, 2012 at 5:48 pm
I had the aortic valve replaced with a "pig valve" and the ascending aorta replaced with a Dacron tube 3 years ago. The recovery period will progress well with the cardio rehab programs which will be available to you; heed Adams' advice, get into one ASAP and stick with it – makes all the difference.
The surgery was the easy part; you will come through with flying colors!
It is nice to have a heart which functions "normally" now at last!
God Bless; hoping for the best for you!!


Fred says

on February 2nd, 2012 at 6:12 pm
Hi Adam,
Just received Marc Gillinov's "Heart 411" and urge you to give it a review for your readers.
Keep on ticking!


Mary Ferraro says

on February 3rd, 2012 at 10:20 pm
Had my mitral repaired in '08. Took 10 weeks to get back to work. It was all worth it. Now I can breathe without effort & my heart just beats without banging on my ribs or rattling my body. After being restricted from sports for almost 50 years, now I can bike & play & go to the gym without worry. Yes, the scar is annoying but it is my badge of success. You will get a tiny bit better every day. I remember the first time I could tuck my shirt in my pants all around . . . I laughed at how important the little victories in life are! I think it's great to finally hear my cardiologist say that now my heart is boring when before it sounded like there was an alien in there. Holding you both in my prayers tonight.


Lynn Walka says

on February 4th, 2012 at 7:09 am
Hello again Mitch, Congratulations! I look forward to hearing when they make you go up and down a few stairs!
When you get out make sure you visit your cousin cows on any farm which I did in Ireland after my cow valve over one and a half year's ago just to say thank you. You are on your way to recovery! Lynn

Adam's Newest Blogs
Adam's Newest Posts