"Happy Thanksgiving!" From Ethan, Robyn and Me
By Adam Pick on November 22, 2011
If you didn't know… Thanksgiving is, by far, my favorite holiday.
How can you go wrong with comfort food, family, friends and the overwhelming reminder of thankfulness? On that note, I want to extend a tremendous "Thank you!" to all members of this growing community of patients, caregivers, surgeons, cardiologists, nurses, cardiac centers and medical device manufacturers.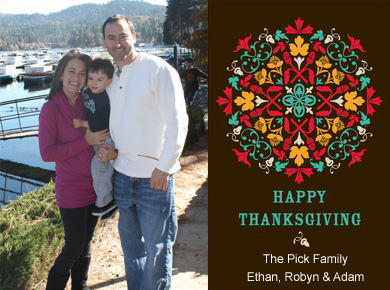 Together, we are empowering each other in a way that I never imagined when this project started five years ago. I am continuously touched, moved and inspired by your words, your stories, your encouragement and your ongoing pursuit of healthy hearts.
May you have a very happy and a very safe Thanksgiving!
Gobble! Gobble!
Adam

Fran Zilko says

on November 22nd, 2011 at 3:12 pm
What a beautiful family photo.Ethan is getting so big and handsome. Thank you for all you do and have done to help us who are heart valve people. We all have a lot to be thankful for.


Adam Pick says

on November 22nd, 2011 at 3:28 pm
Hi Fran,
Thanks for the thanks!
Yes, Ethan is definitely getting big. Or, should I say tall. He's a Pick no doubt. Very tall and… very skinny. 🙂
All the best to you and your family!
Adam


Grace Jacobs says

on November 23rd, 2011 at 9:34 am
As always, the family photo is beautiful. Wishing you and yours
a very Happy Thanksgiving. I love this holiday and wish everyone the best of everything and above all to thank all our service people who keep our country safe.
Grace


Nancy Friedman says

on November 24th, 2011 at 12:27 am
Adam. Not able to sign on on the journals. Keeps telling me " file is too big ". Nothins seems to help/ works. Any help ?
Happy. Turkey day & thanks for all undo. . Going in 2-9-12. ForAVR.