Today, My Thoughts Are With Jeff, Tammy & Kent
By Adam Pick on June 29, 2011
I just visited Heart Valve Journals, our interactive community where patients meet and learn from each other. While clicking through many of these amazing journals, guestbooks and photo sections, I noticed that during the next 24 hours Tammy, Jeff & Kent will be going in for heart valve surgery.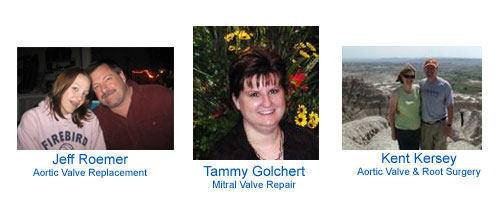 Jeff Roemer needs a new aortic valve. Tammy Golchert is undergoing mitral valve repair. And, Kent Kersey needs an aortic valve replacement and root reconstruction. If you like, feel free to visit their Heart Valve Journals by clicking their names above.
My thoughts and prayers are with Tammy, Jeff and Kent.
Keep on tickin!
Adam

Vangie says

on June 29th, 2011 at 5:23 pm
Jeff, Tammy and Kent – I will say extra prayers for you, but I know you will all be fine!


Ricky (a female) says

on June 30th, 2011 at 3:29 pm
God and your medical teams will take care of all of you.I know He did me.


Diane Horsak says

on June 30th, 2011 at 4:21 pm
ALL MY PRAYERS ARE WITH YOU. GOD BE WITH YOU . DIANE

Adam's Newest Blogs
Adam's Newest Posts