"Gobble! Gobble! Happy Thanksgiving!" From Ethan, Robyn & Me
By Adam Pick on November 24, 2010
Robyn, Ethan and I want to wish all of our friends in the United States a very "Happy Thanksgiving!".  And, even if you're not from the U.S., we want you to know how grateful we are for you and your contribution to this caring community of patients, caregivers, cardiologists and surgeons.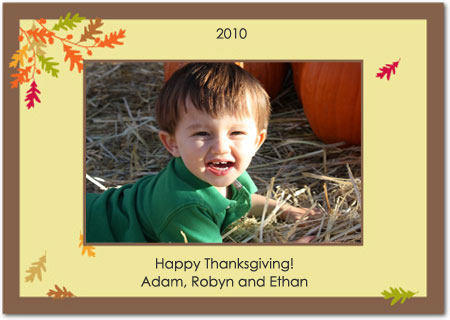 So you know, Thanksgiving is my favorite holiday.
May you have a wonderful day!
Gobble! Gobble!
Adam

Jim Fitzpatrick says

on November 24th, 2010 at 4:52 pm
And you too, Adam. Thanks for all you do for so many.
Jim


Richard Volpe says

on November 24th, 2010 at 8:57 pm
As Thanksgiving holiday approaches, I am once again filled with thoughts of gratitude. Thank you Adam. This year gave me the greatest challenge. Thanks to you and other people who stood by me I passed the test with flying colors.
My surgery is behind me and I want to pass along all the love and support I have received to others who also face health problems, small or large.
Attitude is everything and I want to thank you and everybody on this site from the bottom of my healthy heart for helping me maintain the strength and determination to make it through a very long process, start to finish.
I wish you and your loved ones a Happy & Healthy Holiday Season!
Richard Volpe


Grace Jacobs says

on November 25th, 2010 at 10:37 am
Dear Robyn, Adam and Ethan,
The best of Thanksgiving wishes to a wonderful family. Ethan is adorable – a big hug and kiss from me. All the best,
Sincerely,
Grace Jacobs

Adam's Newest Blogs
Adam's Newest Posts