"Happy Mother's Day!" Wishes From Ethan
By Adam Pick on May 9, 2010
Ethan, my one-year old son, wants to say "Happy Mother's Day!" to all the moms and grandmas!!!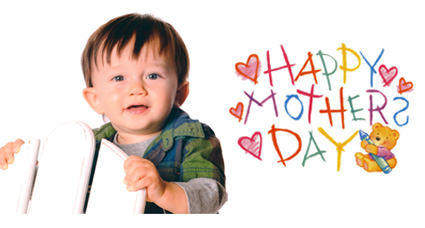 Robyn, my wife, and I also want to wish the moms a very special day. 🙂
Happy Mother's Day!
Ethan, Robyn and Adam

Ricky P.Laufer says

on May 9th, 2010 at 4:08 pm
Happy Mommy's day .Ethan is a very lucky little boychik to have the great parents as he has.Enjoy eachother.ADAM,Keep on tickin….. we all need you.


Elle says

on May 9th, 2010 at 4:21 pm
Thank you Adam, Robyn & Ethan, my family and I also want you wish Robyn Happy Mother's day. out of all the years, this is my most restful mother's day – funny its after 4months of my open heart surgery. Slowly but surely :). Take Care and I've been sharing your book Adam with friends and family. Live, Love, Laugh, Elle Sacramento California


Carmen D. Downey says

on May 9th, 2010 at 5:32 pm
Thank you for your lovely Mother's Day Greeting.
It was a joy to be able to be able to celebrate this day with family and friends.
I hope you all have a wonderful day.
Dixie


Grace Jacobs says

on May 10th, 2010 at 7:34 am
Loved seeing the photo of Ethan – he is adorable.
All my best wishes to you and Robyn. Stay well and happy.
Love,
Grace


Phyllis Pivo says

on May 10th, 2010 at 10:06 pm
Thnak you, Adam, for the Mother's Day greetings. And I hope you, your lovely wife, Robyn, & your beautiful son, Ethan had a wonderful day. This Mother's Day was the most meaningful to me, as it was almost one year ago (May 26, 2009) that I had my mitral valve replaced by Dr. Staarnes. Thank you so much for your book & your blog & newsletter. It has helped me throughout my recovery & meant so much to me.
May you & your family be blessed with good health & happiness always.
Love,
Phyllis

Adam's Newest Blogs
Adam's Newest Posts