Patients Unite, I Speak, At Inova's 4th Annual Reunion
By Adam Pick on February 23, 2010
Not too long ago, I received a very special email from Dr. Paul Massimiano of Inova Health Systems in Falls Church, Virginia. In the email, Dr. Massimiano informed me that Inova holds an annual patient reunion to (i) share their latest research and (ii) show Inova's appreciation for their patients, families and friends.
As I read the note, my eyebrows jumped to the top of my forehead. I thought, "That is fannnnnnn-tas-tic! I've never heard of anything like this before… A patient conference? Great for Inova! Great for its patients!"
Then, to my surprise, Dr. Massimiano asked me if I would be interested in speaking at the event.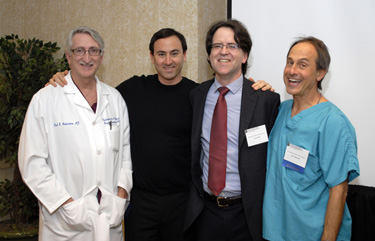 Dr. Paul Massimiano, Adam Pick, Dr. Niv Ad & Dr. John Glick
I almost fell out of my chair as I thought, "What? No way! Dr. Massimiano is asking me to speak at Inova's patient reunion?"
My appreciation (and disbelief) for this request was compounded when, a few days later, I found myself on the phone with Dr. Niv Ad, the Chief of Cardiac Surgery at Inova, and Lisa Martin, his research administrator.
As Dr. Ad and Lisa further explained the nature of this wonderful event, I knew one thing… I wanted to attend.
That said, I recently found myself in front of packed room of patients, caregivers, surgeons and researchers at the Marriott Hotel in Falls Church, Virginia – just outside of Washington, D.C.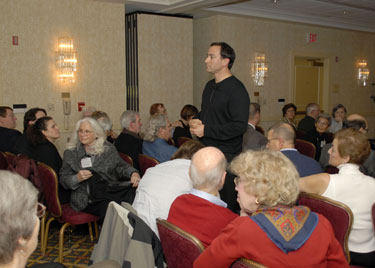 Adam Pick Speaking At Inova's Patient Reunion
I had such a great time interacting with Inova's patient and caregiver community. Needless to say, it was a definite highlight of my very unexpected career as an author.
After my presentation, Dr. John Glick of the Gesundheit Institute spoke. If you are not familiar with the Gesundheit Institute, led by Dr. Patch Adams, I would encourage you to learn more about this unique organization. I was touched, moved and inspired by the global impact of Dr. Glick's clowning passion.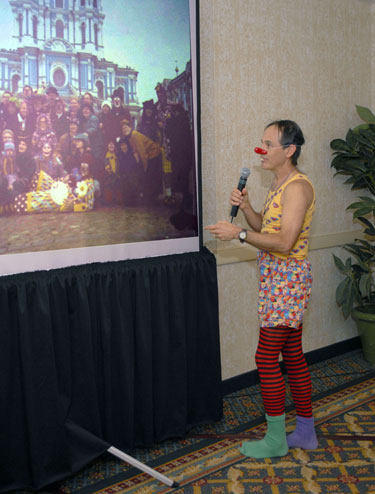 Dr. John Glick Discusses "Clowning" Benefits In Russia
After the presentations, I was able to speak one-on-one with several patients and caregivers during a book signing in which I gave away several free copies of my book.
I really, really, really, really, really have to applaud Dr. Niv Ad, Dr. Massimiano, Lisa Martin and the entire Inova team for creating such an extraordinary environment for their patient community.
As I flew back to Los Angeles the next day, the Inova reunion made me think, "Are other cardiac care centers doing anything like this? If not, maybe they should."
Keep on tickin!
Adam

Cheryl says

on February 23rd, 2010 at 4:45 pm
Hi Adam
You must be very proud to have been invited to speak at this event. I'm curious as to what type of questions you were asked. Had many of the people there heard about your book and website? Your book, the services and information you research and provide are also groundbreaking for the heart valve community so I can see why you were on the speaker list.
I initially downloaded your first book off the internet because I wanted it right away and it otherwise wasn't available in Canada. I am going to be ordering a couple of copies for my surgeon and cardiologist and will soon be having you ship them to a friend in the States who will then bring them over this summer. I am looking forward to seeing what you've added before I give them away. Continued success. Cheryl, Ontario


June Flynn says

on February 23rd, 2010 at 4:51 pm
Dear Adam:
I was not the least bit surprised to find out that Inova asked you to speak. Be careful — this may become yet another career you didn't know you had in you.
I am certain that you will not remember me, because I know that you receive hundreds, if not thousands, of e-mails from people seeking your guidance. I e-mailed you over a year ago regarding my mother's impending heart valve surgery. I read your book cover-to-cover and tried to shared it with my family members. They told me I was going over the top trying to get information and that I just needed to give the doctors a little more time to assess things. Like I said, it's been a little over a year and now her surgery is next week. I am prepared and full of knowledge (and fear), but I certainly feel like I have someone I can ask questions of and that's you.
Your compassion and understanding for what we are all going through is amazing. With your beautiful new family, it is hard to believe that you even have the time to think of so many others, but you do. I thank you for that and I'll keep reading everything you post. You've helped me (and my family — they just don't know it yet) more than you'll ever know.
With deepest appreciation and admiration,
June Flynn


Carol Lang says

on February 26th, 2010 at 2:07 am
Adam,
What an awesome concept! So many times we see stories about reunions with premature babies, their parents, & the hospital staff from the NICU. This is truly unique & more medical centers that do heart valve surgery could learn from this & do the same.
Like Cheryl, I'm also curious what type questions you were asked.
Thanks for all you do for all of us,
Carol Lang


Bradley says

on September 13th, 2012 at 1:16 pm
Your blog was very helpful to me when I was trying to understand my surgery and trying to pick surgeons. I ending up picking Drs. Massimiamo and Ad. My mitral valve was repaired and my rhythm issues cured by the Maze procedure. I cannot say enough good things about these two doctors, their practice and INOVA. I am glad to see they involved you in their reunion. My surgery was Jan 11, 2012, so I am now 8 months out and totally fixed. The surgery was done between ribs on my right side under my arm. I am looking forward to my first reunion!

Adam's Newest Blogs
Adam's Newest Posts