Elizabeth Taylor's Heart Valve Surgery, A MitraClip Success Story
By Adam Pick on October 10, 2009
Elizabeth Taylor just announced that her heart valve repair was successful, adding that "it is like having a brand new ticker."
The message on her Twitter page comes two days after she announced she was having heart surgery at an undisclosed hospital to repair a leaky heart valve. In a short message, the Oscar-winner thanked fans.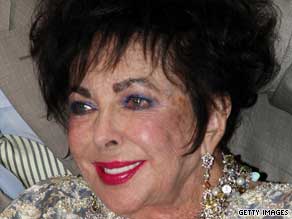 Elizabeth Taylor
"Dear Friends, My heart procedure went off perfectly," she posted on Twitter. "Thank you for your prayers and good wishes. Know they all helped." The 77-year-old did not go into further detail about her heart condition or the medical procedure.
Elizabeth Taylor suffered from mitral valve regurgitation. A new minimally invasive procedure, known as the MitraClip, was used to repair her leaky valve without any physical trauma to her sternum. This unique device, which was recently acquired by Abbott Laboratories from Evalve, Inc., does not require open heart surgery or the use of a heart-lung machine. Click this link to learn more about the MitraClip for mitral valve repair surgery.
While the MitraClip does have a CE mark in Europe, the technology is not approved by the FDA in the United States. However, the device is currently in clinical trials and may become FDA approved within the next few years. The MitraClip belongs to a new class of minimally invasive procedures that use a catheter-based approach to replace and repair heart valves.
Keep on tickin' Elizabeth!
Adam

jerold pick says

on October 11th, 2009 at 9:40 pm
Keep up the good work,
the sight looks terrific,
Love,
Pops


Karen Mulhollem says

on October 20th, 2009 at 12:29 pm
I just got the report from a heart scan, it looks like I need to see a cardiologist as they seem to have found an 'enlarged' rt. ventricle.
I am not sure if it's even related, but from the little research I've done, it looks like it needs to be 'repaired'.
I read about Elizabeth Taylor's experience (good) with the new procedure and since I'm not Elizabeth Taylor (far from it!) can I expect to have to go through open heart surgery/heart lung machine and all the nasty scars?
If I do need the surgery (haven't seen the cardiologist yet) could it be availabe to me if I go to a larger city?  I live 100 miles from Orlando Florida and about the same to Jax. Florida.
Karen


Marlene Nelson says

on November 25th, 2009 at 12:14 am
Do you know of any hospitals in the US that do the procedure that Liz Taylor recently underwent. If the Mitraclip is not FDA approved, how did she get it?? Out of the Country?? or??? My mother in law is interested

Adam's Newest Blogs
Adam's Newest Posts