"Did You Get An M.R.I. Before Heart Valve Surgery?" Asks Gregg
By Adam Pick on August 23, 2009
Through your stories and my ongoing research, I have learned that properly diagnosing heart valve disease can be tricky. That said, I always encourage patients to get a second opinion prior to any surgical treatment (if possible).
However, Gregg just sent me an interesting question about the use of M.R.I.'s as a diagnostic tool for valvular disorders. [If you have never seen an M.R.I. of the human heart before, please see below… Can you identify the two valves that are opening-and-closing in this image?]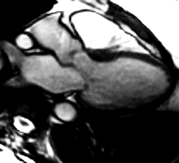 M.R.I. of the Human Heart
Gregg writes, "Hi Adam –  Having been diagnosed with a bicuspid valve and an enlarged aorta, I am scheduled for a follow-up echocardiogram this month to determine if there have been any changes to my current condition. My question to you is whether an echo is okay or should I get an MRI? I ask this because during a consult with a surgeon – who is well known for his work in valve repair and valve replacement – he recommended an M.R.I. as a more thorough test.  I am curious to know what you and your readers think? Thanks. Gregg"
In my experience, the use of an echocardiogram remains the non-invasive, industry standard for diagnosing heart valve diseases like aortic stenosis and mitral regurgitation. Furthermore, my gut tells me that echocardiogram machines which feature 3D technology will continue to preserve the widespread utility of echocardiograms as the non-invasive benchmark for valve disorder detection and monitoring.
To this point, here is an interesting video which discusses the benefits of three dimensional echocardiograms. (Please note there are about 10 seconds at the beginning of the video that have no content.)
However, I am aware of M.R.I. use as an alternative test for collecting additional information about heart valve disorders.
In fact, the National Heart and Lung Institute suggests, "Cardiac M.R.I. uses a powerful magnet and radio waves to make detailed images of your heart. A cardiac M.R.I. image can confirm information about valve defects or provide more detailed analysis. This information can help your doctor plan your treatment. An MRI also may be done before heart valve surgery to help your surgeon plan for the surgery."
So you know… Prior to my heart valve surgery, I did not have an M.R.I. performed. Instead, my cardiologists used two distinct echocardiograms to formally diagnose the severe stenosis of my aortic valve.
Did you have an M.R.I. as part of your diagnostic process? If so, please click leave a comment below. In advance, thanks for sharing your experience with all of us!!!
Keep on tickin!
Adam
Adam's Newest Blogs
Adam's Newest Posts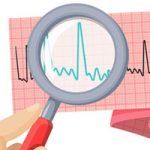 "How Do I Know When My AFib Is Gone After Heart Surgery?" asks Linda Learn More.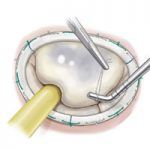 New Findings: Mitral Valve Repair Restores Normal Life Expectancy! Learn More.