After 57 Cardiac Rehab Sessions, Charles Feels Very Fortunate
By Adam Pick on May 31, 2009
When talking with patients and caregivers about heart surgery recovery, I can never say enough about cardiac rehabilitation programs. I hear from patients over-and-over-and-over-and-over again about how valuable cardiac rehabilitation programs are for their physical, social and mental well-being after heart surgery.
Here's a quick note I just received from Charles Harrall, an active 65-year old businessman from Nevada, about cardiac rehab, goal setting and medication management. Charles writes:
Hi Adam,
I am one year past my aortic valve replacement, mitral valve repair and a triple bypass.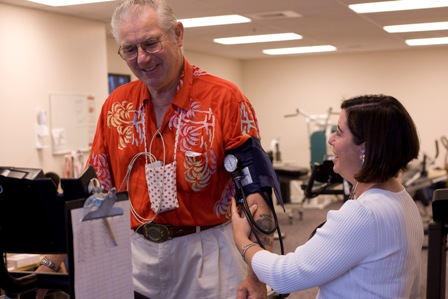 Patient At Cardiac Rehabilitation – On Treadmill
I took your advice to heart (pun intended) and I went to cardiac rehab… 57 times!!! I think I am doing great now because I had my goals and achieved them.
When I came home from the hospital I was taking 9 medications. Plus, I was on oxygen. Now, I am down to 3 medications with dosages that are 50% less than they were. I am 65 and very fortunate that I had a great doctors and excellent care. I also realized doctors can only help people who are willing to help themselves.
Your heart valve surgery book helped me take charge of my health and have successful results.
God Bless!
Charles Harrall

Sherri Hendry says

on May 31st, 2009 at 7:35 pm
Charles,
I couldn't agree w/ you and Adam more about Cardiac Rehab….I recently graduated from Phase II the beginning of May and have decided to continued w/ the program as a Phase III patient…( as long as my budget allows).
So far I have not had any cardiac depression and I must say it all has to do w/ the cardiac rehab program….It's my happy hour as a bunch of us call it…I now go 5 days a week and the social interaction w/ other cardiac patients…is wonderful…I have a new best buddy and we time our attendance at rehab as close to one other as possible….we've been deemed by staff and Laverne and Shirley…Since going and having a positive attitude others have lightened up and have joined my buddy and I. I look forward to going! I tell folks this is my choice, my life, and my time.
Good luck on your recovery and congrats on your success!


Kerrigan says

on June 1st, 2009 at 11:40 am
After completing a 12-week (36 session) Cardio Rehab program following my valve replacement surgery I'm continuing on my own at a gym, 3 times a week.
I can't say enough about the importance of the post-operative rehab program in a formal setting (supervised.)
It has been one of the keys to my ongoing recovery progress and I HIGHLY recommend anyone who has had our cardiac events enroll in one and see it through!


Steve Rultedge says

on July 10th, 2009 at 6:06 pm
Charles, Great message. I start my rehab on August 17th.

Adam's Newest Blogs
Adam's Newest Posts