About Me & My Aortic Valve Replacement Known As The Ross Procedure
By Adam Pick on January 9, 2007
Hi there! Welcome to my site!
I thought you might want to know a little more about me and why I developed this site and wrote the book, "The Patient's Guide To Heart Valve Surgery".
So you know, I am a senior analyst for iSuppli Corp., a market research firm based in El Segundo, California. I've been lucky to be called a "leading analyst in my field", and have been featured in The Wall Street Journal, BusinessWeek, CIO Magazine, The Economist and several other publications for my odd, weird and unique knowledge of electronics manufacturing for products like computers and cellular phones.
I grew up in Sherman Oaks, California, a suburb of Los Angeles. For college and graduate school I went to the University of Michigan in Ann Arbor, Michigan.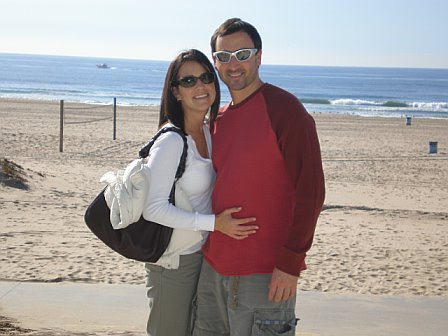 I learned that I would need heart valve replacement surgery on November 3, 2005.
Eight weeks later, Dr. Vaughn Starnes performed an aortic valve replacement (the Ross Procedure) on me at the University of Southern California Medical Center.
After a very challenging recovery, I am now back to work, exercising five times per week and traveling the world for fun and business.
My heart valve surgery success story was elevated on May 20, 2006 when I asked Robyn Podell, my girlfriend of two years, for her hand in marriage.
As part of my experience with heart valve surgery, I learned the highs, the lows, the challenges, the opportunities and the frustrations of heart valve surgery. The book, "The Patient's Guide To Heart Valve Surgery" is my attempt to further educate future heart valve surgery patients and caregivers about this life-saving medical procedure.
Feel free to email me at adam@heartvalvessurgery.com if you would like to chat or ask me a question.
Until next time… Keep on tickin!
Adam

Don Mundy says

on January 10th, 2007 at 8:57 am
I find you website interesting and am considering your book. I have had a leaking valve for about 8 years now. It does not hinder me and has not grown. I see my docter every 6 months, get a CT scan or Echo every 6 months and have not seen any change in my heart. I am almost 60 and do not want to be on blood thinner for the rest of my life. I also don't won't to change valves again. I keep waiting for a breakthough procedure. I met a man who had undergone a Ross Replacement. My consern is how long do I wait. I don't want to be too old to have all the options because of illness and I don't want to do it too soon and start the clock ticking for my next surgery. There is no one in my area doing the Ross Procedure so I would have to travel with bothers me since problems could require a quick fix which might not be possible. Is the Ross Procedure growing as an option or is it becoming less prevelent? Do I get it now while there is expertise or wait untill it grows?


Adam says

on January 10th, 2007 at 10:55 am
Hi Don,
You have some great questions.
As you know, I had a Ross Procedure. It was performed by Dr. Vaughn Starnes at USC Medical Center. Dr. Starnes was absolutely amazing. It's one year after surgery and my cardiologist gave me clearance for two years!!!
I still can't believe it.
That said, the Ross Procedure has been a blessing for me thus far.
In my book, I write about how I came to the conclusion that the Ross Procedure was for me and how I found the right surgeon for me.
Regarding the timing of your procedure, I can't really comment on that. I would raise those questions to your cardiologist.
In my case, I had no option. My aortic valve was stenotic and leaking and my heart was dilated.
The doctors gave me 30 – 120 days to live. I also write about that experience in the book.
That said, let me know if you have any additional questions.
I hope that helps!
Adam


Heather Taylor says

on January 10th, 2007 at 1:32 pm
Thanks for the site Adam! This is very helpful information!


Mindy says

on March 1st, 2007 at 10:47 am
Hi Adam,
I'm a very worried mother of a 8 years old boy that was born with an ASD, VSD, sub-aortic stenosis and a bicuspid aortic valve. He had open-heart surgery at 6 days old for the severe stenosis and another at 3 years old for the stenosis again and to close up the VSD as it was enlarging. I just found out this week that he needs to have the Ross Procedure done which terrifies me tremendously. I worry about all of the scar tissue and the Ross procedure has so many different possible end results. We have 5 children in our home 3 of my own and we are fostering 2 others. I try to explain to them what to expect from this surgery due to their concerns and I don't have all the answers. Does your book have any views in regards to a child going through this Ross Procedure? Any trial or tribulation from a childs point of view? I would be very inclined to purchase your book if there was any information that would benefit a lot of our unanswered questions. Please let me know!
Regards,
Melinda McCumber
Near Chicago, IL


Adam Pick says

on March 1st, 2007 at 11:36 am
Mindy,
Your is a very touching story. I'm sorry to hear about all the issues you, your family and of course your son has experienced specific to pediatric valve surgery. I can not imagine how challenging this must be you. Open heart surgery is tough enough for adults to digest but to think about your interactions with you son and other children about this issue is heart-wrenching (no pun intended).
Anyways, my book does not really dive into the impact of the Ross Procedure for children. Perhaps I will spend some additional time on this topic in the next book.
However, I do have a suggestion for you. Have you spoke with Dr. Vaughn Starnes about this? He was my surgeon and is known for his work with the Ross Procedure and children.
http://www.childrenshospitalla.org/12594.cfm
Let me know if you would like an introduction.
Thanks for writing. Adam

Adam's Newest Blogs
Adam's Newest Posts