3 Facts Heart Valve Surgeons Need to Know About Patient Reviews
By
Adam Pick
- Patient, Author & HeartValveSurgery.com Founder
Published: July 31, 2020
We all know that – when seeking out a new restaurant or an expert handyman – millions will go online to Yelp or Home Advisor to check consumers' reviews.
But does the same principle of "social influence" on digital media apply for heart valve surgeons? New evidence and case studies suggests the answer is "yes."
According to the healthcare professionals' outlet, HealthLeaders, "Choosing a doctor based on online profiles and patient reviews is the old 'word-of-mouth' at today's scale and speed."
So, what are 3 facts that heart valve surgeons need to know about patient reviews and social media?
Fact 1:  70% of Patients Say Positive Online Reputation is "Very" or "Extremely Important" When Selecting a Doctor
That was a survey result of 839 people about online reputation and patient reviews. This figure highlights the key role online reviews play when patients research and ultimately select a healthcare provider.
When factoring in the additional 19.4% of respondents who said positive patient reviews and a strong star rating was "somewhat important," that puts the total portion of people who put patient reviews somewhere on the "important" spectrum at over 89%.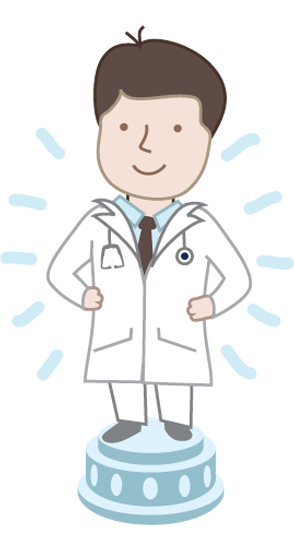 Fact 2: Nearly 75% of Patients Research Doctors Online
That's right.  Nearly three-quarters of patient survey respondents have researched medical professionals on the Internet when it comes to their care. Additionally, nearly 6 in 10 (57.1%) will go online "sometimes" to "often" to look for care.
Not only is this sizable group of patients researching online for doctors and medical care – but among this online group of patients – the factor that contributes the most to their decision was "online reviews from other patients!"
Fact 3:  Only 5 Reviews Can Boost Readers' Purchase Intent By 270%
Indeed, reviews are all over the Internet. Yelp was designed to connect consumers with local businesses, and according to Yelp, more than 14.7 million health-related business reviews have been posted to the site. According to Facebook, two-out-of-every-three of its 2.38 billion active monthly users visit the page of a local business at least once per week. 3.5 billion Google searches are done every day with users checking business reviews all over the globe!
All of this may sound daunting.
Here's the bright side.
Research by the Spiegel Research Center at Northwestern University reveals that the likelihood of a product or service getting purchased increases by 270% when it gets as few as 5 reviews.
Just getting to 5 patient reviews can have a major effect!
What is the Impact of Patient Reviews for Heart Valve Surgeons?
While the data above suggests that patient reviews should be a strategic consideration for physicians, most surgeons have taken little or no action to cultivate patient review activity on the Internet.
Recognizing how important this trend is…  Some surgeons, however, are moving quickly to harness patient reviews as an important initiative to expand their practice and treat new patients with valvular disorders including aortic stenosis and mitral regurgitation.
For example, Dr. Patrick McCarthy, the Chief of Cardiac Surgery at Northwestern Medicine, has over 150 patient reviews on his Interactive Surgeon Profile at HeartValveSurgery.com.
What has been the result?
Dr. McCarthy recently shared, "Between 15% to 20% of my patients have found me or seen me because of HeartValveSurgery.com."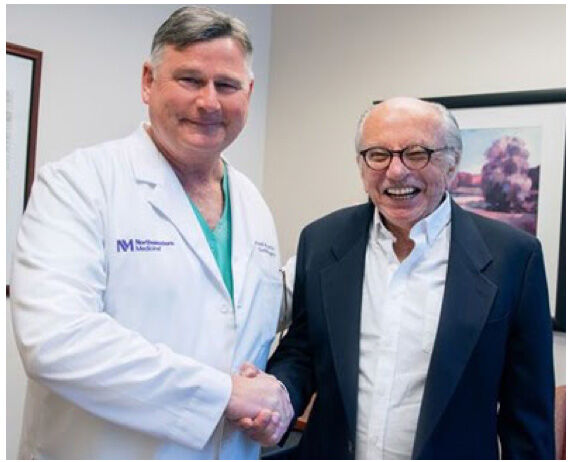 Dr. Patrick McCarthy (Chief of Cardiac Surgery at Northwestern Medicine)
has over 150 patient reviews at HeartValveSurgery.com
Is Dr. McCarthy alone?
The answer is "no."
Over 100 surgeons and more than 40 leading cardiac centers have patient testimonials at HeartValveSurgery.com.  Sponsors of the website include Cleveland Clinic, Cedars-Sinai Medicine, Columbia University Medical Center and Michigan Medicine.
Still Not Convinced? Then How Does 300 New Patients Sound?
If you are not a believer in the power of patient reviews yet, please consider the case study of Dr. Allan Stewart, the Medical Director for HCA East Florida's Miami-Dade Cardiovascular Surgery Programs.
Since launching his Interactive Surgeon Profile at HeartValveSurgery.com, Dr. Stewart has racked up over 40 patient reviews.
What has been the impact?
Dr. Stewart recently stated, "Thanks to my Interactive Surgeon Profile, over 300 patients have come into my office. All of them have had surgery."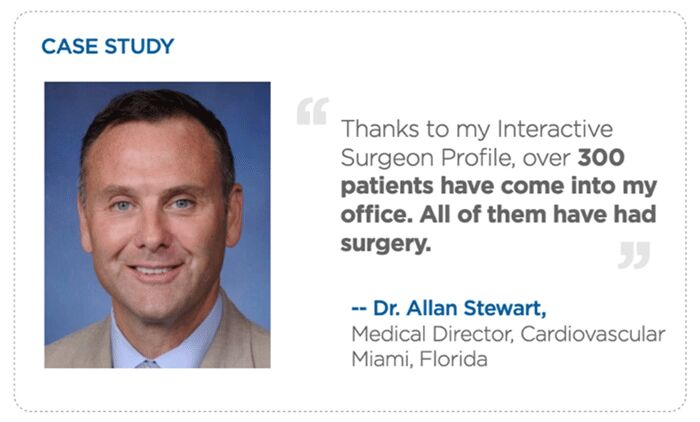 Ready to Grow Your Practice with Patient Reviews?
Since 2009, HeartValveSurgery.com has helped leading cardiac surgeons – such as Dr. McCarthy and Dr. Stewart – generate online patient reviews and treat new patients using its Interactive Surgeon Profile service.
The Interactive Surgeon Profile service leverages novel and geo-targeting technologies to increase your patient reviews and acquire new patients for your practice using instant self-referral pathways.
To learn how your practice and your hospital can benefit from an Interactive Surgeon Profile, please email adam@heartvalvesurgery.com. Or, you can click here to schedule a live demonstration.
Keep on tickin!
Adam