Heart Surgeon Salary - Facts and Figures
By
Adam Pick
- Patient, Author & HeartValveSurgery.com Founder
After writing my book, The Patient's Guide To Heart Valve Surgery, I have received many questions about heart surgery.
One of the odd questions patients and caregivers ask me is, "How much do heart surgeons make?" and "What is a heart surgeon salary?"
I have to admit this was not a critical concern of mine before, during or after my heart valves were removed during my Ross Procedure. Personally, I just wanted to find the best surgeon with the best skills to remove my defective valve and minimize any potential heart valve surgery complications post-surgery.
I never thought, "Hmmmm. I wonder what kind of car Dr. Starnes (my surgeon) drives?" I never thought, "Is Dr. Starnes a millionaire?" For some reason, heart surgeon salary was just not important for me.
Average Yearly Salaries Of Heart Surgeons
That said, in 2007, I did find a quick snippet on the web for people interested to know about heart surgeon salaries from CNN Money.com. As you can see on the chart below, the median heart surgeon salary for the category of "Surgeon - Heart Transplant" in the United States is $405,725.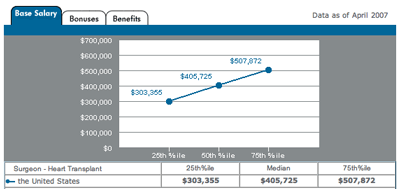 It's 2020 now... So, I wanted to update this page. According to Salary.com, there has been an increase in annual heart surgeon salaries given inflation and cost of living expenses.
Salary.com states, "The average Surgeon - Heart Transplant salary in the United States is $616,053 as of December 28, 2018, but the range typically falls between $398,023 and $745,396. Salary ranges can vary widely depending on many important factors, including education, certifications, additional skills, the number of years you have spent in your profession."
You May Also Like
If you were interested in heart surgeon salaries, you may also want to review these articles about the cost and expenses of heart surgery:
Page last updated: September 17, 2020