Heart Surgeon Salary - Facts and Figures
By Adam Pick - Patient, Author & HeartValveSurgery.com Founder
After writing my book, The Patient's Guide To Heart Valve Surgery, I have received many, many questions about open heart surgery and minimally invasive procedures for heart valve repair and replacement.
One of the odd questions patients and caregivers ask me is, "How much do heart surgeons make?" and "What is a heart surgeon salary?"
I have to admit this was not a critical concern of mine before, during or after my aortic and pulmonary valves were removed during my Ross Procedure. Personally, I just wanted to find the best surgeon with the best skills to remove my defective valve and minimize any potential heart valve surgery complications post-surgery.
Average Yearly Salaries Of Heart Surgeons
I never thought, "Hmmmm. I wonder what kind of car Dr. Starnes (my surgeon) drives?" I never thought, "Is Dr. Starnes a millionaire?" For some reason, heart surgeon salary was just not important for me.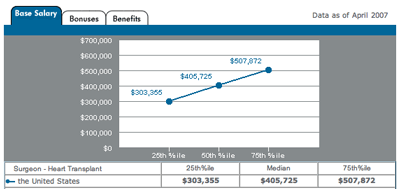 That said, I did find a quick snippet on the web for people interested to know about heart surgeon salary from CNN Money.com. As you can see on the chart above, the median heart surgeon salary for the category of "Surgeon - Heart Transplant" in the United States is $405,725.