Open Heart Surgery Scars
By Adam Pick - Patient, Author & HeartValveSurgery.com Founder
Expectations About Open Heart Surgery Scar Healing


Depending on the type of open heart surgery you have, most patients will be left with some form of open heart surgery scar. If you have a minimally invasive procedure (e.g. mini-sternotomy), the scar size may only be three inches.

However, if your procedure requires the sternum to be broken, the incision is typically much larger. For men, the scar can be up to 10 inches long.
For women, the open heart surgery scar can be up to 8 inches long. The size of the open heart surgery scar is directly correlated to the size of the sternum (chest bone).
Believe it or not, many people are very curious to see an open heart surgery scar. That is why I have posted some of my personal pictures of my heart surgery bypass scar below.
I'll never forget when Dave Navarro, who is a family friend, asked to see my scar during a filming of his show, Rock Star: INXS. I obliged. Dave's response was, "Wow. That is gnarly!" I smirked. I never thought my open heart surgery scar would be called "Gnarly!" by a rock guitar legend.
One Week & Ten Months After Heart Surgery
As you can see in these pictures, open heart surgery scars can heal quite well. Certain scar treatment products, like Mederma, can really help the skin heal.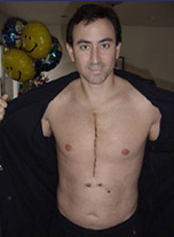 Open Heart Surgery Scar
One Week After Heart Valve Replacement
So you know, the picture of me on the beach (below) was taken 10 months after my open heart surgery. You can see that my open heart surgery scar is barely visible. Today, I'm more than 20 months post-op and my open heart surgery scar is barely visible.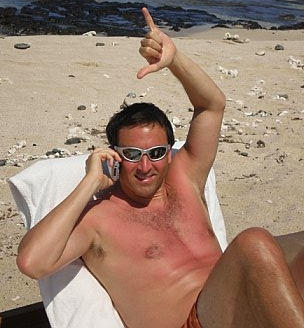 10 Months After Open Heart Surgery Scar
Yes, I can see the scar. But, for most people they have to really, really, really look to discover the fact that I had double heart valve replacement surgery.
I hope this helps you better understand the realities of open heart surgery scars.
Keep on tickin!