Ronny Turiaf's Heart Surgery Replaces Aortic Root, Preserves Valve
By
Adam Pick
- Patient, Author & HeartValveSurgery.com Founder
On July 26, 2005, former Gonzaga University men's basketball player Ronny Turiaf underwent successful open heart surgery at Stanford Medical Center to repair an aortic aneurysm, following an amazing basketball career at Gonzaga. Turiaf, the 2005 West Coast Conference Player of the Year, was the 37th pick of the Los Angeles Lakers in the 2005 NBA Draft.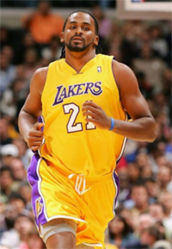 Ronny Turiaf was in surgery for approximately six hours and was then transferred to the intensive care unit. Ronny Turiaf's heart condition was diagnosed while participating on the Lakers' Summer League team. To preserve Ronny Turiaf's aortic valve, his aortic root was replaced during the operation. Ronny Turiaf was initially expected to miss the entire 2005-06 NBA season and to work toward joining the Lakers for the 2006-07 campaign following heart surgery.
However, after being given what Lakers' coach Phil Jackson termed "a new lease on life", Ronny Turiaf recovered more quickly than expected. Just six months after his heart surgery, he signed a new contract with the Lakers, forgoing an opportunity to play in Spain for more money. Ronny Turiaf was able to play by the 2006 season, but was used only sparingly, as Jackson was still wary about playing him.
After his rookie season, Ronny Turiaf was named to the French national basketball team for the 2006 Basketball World Championship tournament. On Wednesday, November 1, 2006, in the second game of the 2006-2007 season, Turiaf scored career highs in almost every category, including 23 points, against the Golden State Warriors. So far in the 2006-07 season, he has been a key component, given the absence of teammates Lamar Odom, Kwame Brown, and Luke Walton due to injury.
When in the game, Turiaf is noted for the high level of energy with which he plays. When not in the game, he remains an animated cheerleader from the Laker bench, well-known for his sideline antics and for keeping his team joyful, even when losing.
You Might Also Like
Page last updated: September 18, 2020