A "Day In The Life" of a Heart Valve Surgeon with Dr. Allan Stewart
Written By: Adam Pick, Patient Advocate, Author & Website Founder
Medical Expert: Allan Stewart, MD, Chief of Cardiac Surgery, Mercy Heart Institute
Published: December 1, 2021
Have you ever wondered, "What's it like being a heart surgeon?"
If you answered "Yes" to that question… Here is your chance to go inside the operating room, the offices, the patient consults, and the meetings of Dr. Allan Stewart, the Chief of Cardiac Surgery at Mercy Heart Institute in Miami, Florida.
Dr. Stewart is a minimally-invasive, heart valve specialist who has performed over 5,000 cardiac procedures and more than 2,000 operations that included heart valve repair or replacement therapy. In our community, Dr. Stewart is celebrated for successfully treating over 300 patients including Bill Easton, Joseph Panbianco and Meredith Friedberg.
Key Learnings From Dr. Allan Stewart
Dr. Stewart shared several interesting points about his life as a heart valve surgeon. The key learnings include:
Since Dr. Stewart was 11 years old, he wanted to become a heart surgeon.  His grandparents and a Nova television episode that featured a pediatric heart transplant fascinated and motivated Dr. Stewart.
Specific to patient care, Dr. Stewart is passionate about helping patients understand the opportunity and the benefits of heart valve therapy instead of the fear that many patients experience. Dr. Stewart believes the heart valve surgery can be a "reset button" for patients and their health. As Dr. Stewart states, "We want to add life to our patient's years not just years to our patient's life."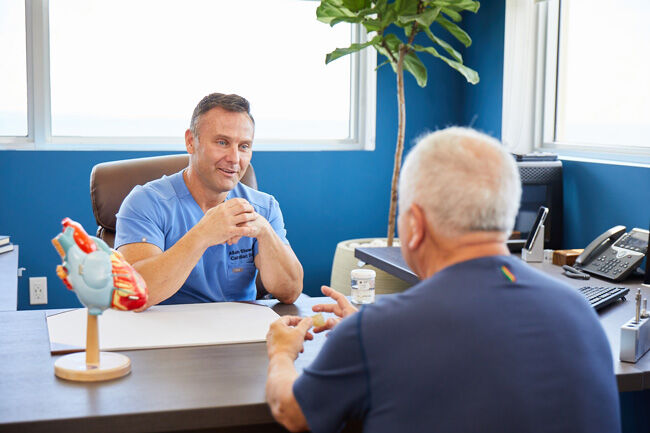 Dr. Allan Stewart (Heart Surgeon) with Patient
Today, there are many different types of cardiac surgery that can treat valvular defects including aortic stenosis and mitral regurgitation. While the therapies available to patients today are safe and effective, Dr. Stewart prepares for each operation with contingency plans to ensure a safe and successful result.
Dr. Stewart is an endurance athlete who has participated in several marathons and triathlons with his patients.  Dr. Stewart starts his day with one hour of exercise at his office.
To accelerate patient recovery and reduce patient discomfort, Dr. Stewart has spent the majority of his career learning and developing minimally-invasive techniques.  During the Structural Heart Meeting at Mercy Heart Institute, Dr. Stewart and his team discuss patients who may benefit from catheter-based approaches to heart valve treatment including transcatheter aortic valve replacement (TAVR), transcatheter mitral valve repair (TMVr) using the MitraClip and transcatheter mitral valve replacement (TMVR).  TAVR, TMVr, and TMVR do not require patients to have an incision to their chest or ribs and the patient does not require general anesthesia or the heart-lung machine.
Oftentimes, Dr. Stewart's patients who undergo a transcatheter procedure leave the hospital within 24 hours.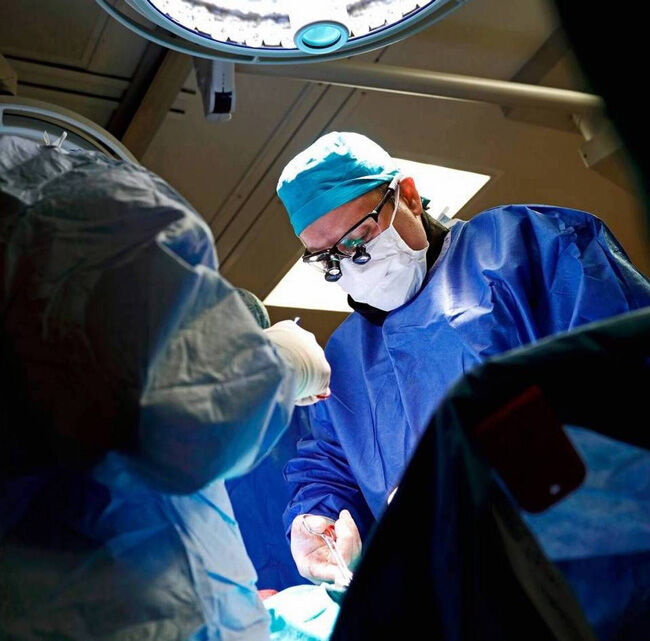 Dr. Stewart Performing Minimally-Invasive Aortic Valve Surgery
On the day HeartValveSurgery.com visited Dr. Stewart, he performed two procedures.  The first patient had a mitral valve repair, tricuspid valve repair and a surgical ablation, commonly known as a Maze procedure, to treat atrial fibrillation.  For the second patient, Dr. Stewart performed a minimally-invasive aortic valve replacement using the Perceval sutureless heart valve.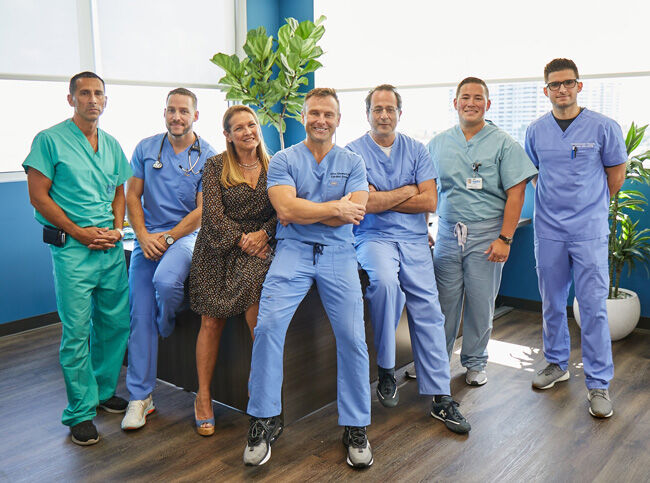 Cardiac Surgery Team at Mercy Heart Institute in Miami, Florida
As cardiac surgery is a "team sport", Dr. Stewart has assembled an elite team of cardiac surgeons, physician assistants, anesthesiologists, perfusionists, imaging specialists, interventional cardiologists and more.  During a procedure, there are typically between 8 to 10 people in the operating room.
Throughout his entire career, Dr. Stewart has had only one heart valve coordinator, Debra Segreti.  Debra has worked with Dr. Stewart at Columbia University Medical Center and Mount Sinai Hospital in New York City prior to moving with Dr. Stewart to Miami, Florida.  In addition to coordinating patient care for Dr. Stewart, Debra is also a heart valve patient.  Debra had her mitral valve replaced over 20 years ago.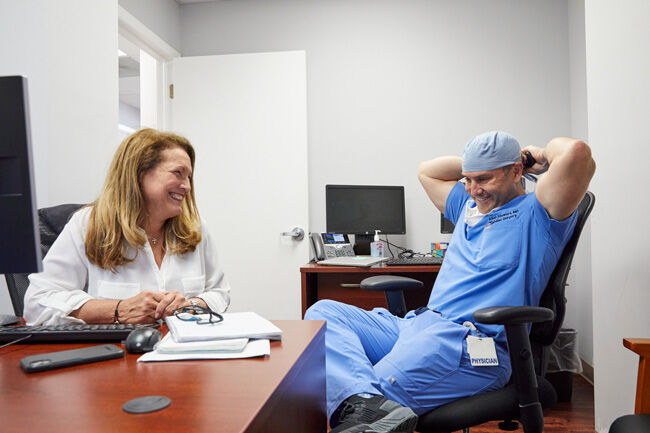 Debra Segreti (Practice Manager & Patient Advocate) with Dr. Stewart
Thanks Dr. Stewart and Mercy Heart Institute!!!
Many thanks to Dr. Stewart and the entire team at Mercy Heart Institute in Miami, Florida.  We really enjoyed visiting your new cardiac center and learning about Dr. Stewart's unique approach to heart valve therapy.
Related links:
Keep on tickin!
Adam
Video Transcript:
Dr. Allan Stewart: I want to welcome you to our brand new concierge cardiovascular office space here at the Mercy Heart Institute in Miami. I'm excited to share with you a day in my life.
The way I start my day is arrive here in my office at about 6 o'clock in the morning and begin with an hour of exercise. That's important to me because it gets my energy flowing and also allows some mindless time to think about my day and how I'm going to make it most efficient. Most importantly, I'll look at the surgeries I'm going to do that day and review all the relevant images, the CAT scans, echocardiograms, and catheterizations that are specific to that person.
This is the aortic valve we're going to use today. It's called a Perceval valve.
Today is like most days in the Mercy Heart Institute. There are two cases, both valves. One is a mitral valve repair and the second is a minimally invasive aortic valve replacement.
Cardiac surgery is now a host of procedures that can be done with minimal risk to a patient's life or any morbidity associated with it. in order to achieve that, I think about the steps and each pitfall of each step so that I can have a Plan B and C for each procedure.
After that, I will take a walk over to the hospital, go into the pre-op holding area and meet each patient I'm operating on that day. They'll meet the anesthesiologist at that point. Then I will review the procedure with my team while the patient is being prepped and ready for the operation to begin.
What we're going to go see here in our structural heart valve meeting are noninvasive treatments for these types of problems. Often times now, we can replace aortic valves with no incision in the leg, no general anesthesia, no heart-lung machine, and a recovery that leads to a hospital discharge within 24 hours. The same is true for the mitral valve where we're now repairing valves with a clip. Again, patients can go home the same day or the day afterwards after having these procedures, which are turning out to be as effective, if not better, than traditional open heart surgery.
This is my partner, Dr. Mawad. This is the most relaxing point of the operation for us. We're just in a zone and we're getting ready for a successful mitral valve repair. Good morning!
All: Good morning!
Dr. Allan Stewart: I wanted to become a heart surgeon since I was 11 years old, and part of that was because two people were very instrumental in my life were my grandparents. One was a diesel mechanic and the other was a carpenter. Very early on in life, they taught me how to work with my hands. I always enjoyed the dexterity in working with my hands and also loved spacial relationships, seeing in three dimensions, seeing how things worked from a mechanical point of view. It wasn't until age 11 that I saw a Nova episode, which was the first pediatric heart transplant performed by someone who turned out to be my mentor later in life, a gentleman named Dr. Eric Rose. By watching that TV show, I said that's what I want to be when I grow up.
I love the immediate gratification. I love the ability to intersect with somebody at the scariest moment in their life and make them better but not make them better temporarily but make them better perhaps for the rest of their life and give them a chance to live a life that's even better than the life they lived before they recognized they needed heart surgery.
Surgery is a team sport. There are a variety of people in the room, about eight or ten, that all have very defined roles. Each of us need to intersect seamlessly in order to achieve a perfect result.
The operation is finished, and it became a little more complex than we originally intended because both leaflets of the valve were leaking pretty substantially rather than just the one. The number of repair techniques increased, but the result was a perfectly functioning valve with no leakage at all. We also added a tricuspid valve repair because the tricuspid valve was quite large and ended in ablation to get back to a normal heart rhythm. The end result is we've added life to his years rather than just years to his life.
So, my entire professional career, I've had only one administrative assistant, and that's Deb Segreti. She started with me when I was still a resident at Columbia and has progressed throughout my career in Manhattan Then when I said I was moving to Miami, moved with me.
Debra Segreti: Hi, I'm Deb Segreti, and I have been Dr. Stewart's assistant, right-hand person, everything person for many years. I am a heart valve patient. I had mitral valve over 20 years ago replaced, and I'm here to help everyone, the patients, the staff. I am the practice manager. However, it doesn't stop at being a manger.
Dr. Allan Stewart: We're still together as a team. She spent my entire professional career with me at – geez, it's emotional. I got to think about it for a second.
Debra Segreti: It doesn't stop at being a manger. I help patients from the minute they pick up that phone to make that first call, I will walk them through it til recovery. I have made many, many life-long friends through this, and I'm always here for everyone.
Dr. Allan Stewart: It's been great having you here to share a day in my life as a cardiac surgery here in Miami at the Mercy Heart Institute. I hope some useful information has been gleaned from this visit but if more question exist, please don't hesitate to reach out to me directly.