Incentive Spirometer: Benefits for Heart Surgery Patients
By
Adam Pick
- Patient, Author & HeartValveSurgery.com Founder
If you are preparing for heart surgery, get ready to use an incentive spirometer.
So you know, patients are typically required to use an incentive spirometer after heart surgey. In fact, I can't remember talking to any patient who did not use an incentive spirometer after a surgical heart valve operation.

As I personally experienced, the initial use of an incentive spirometer will most likely occur in the intensive care unit after the procedure. There are different forms of incentive spirometers but the image above is a good represenation of what an incentive spirometer device looks like.
Although it looks like a mundane breathing tube, the spirometer is critical for patients as it prevents the onset of pneumonia and the collapse of alveoli within the lungs.
What Does An Incentive Spirometer Do?
The incentive spirometer is a medical apparatus used for measuring the volume of air inspired and expired by the lungs. That's right. The device has one job. To monitor the strength of your lungs as you breathe in and breathe out.
Each time, the spirometer records the amount of air and the rate of air that is breathed in-and-out of the lungs over a specified time. The goal for patients is to increase the volume of breath as they inhale and exhale.
During my stay at the hospital, I used the incentive spirometer constantly - once an hour at least. I joked with my family that the spirometer had become my new best friend.
What Are The Benefits of Using an Incentive Spirometer?
After any surgery involving general anesthesia, good care of the lungs is important to avoid pneumonia and other residue fluid in the lungs.
For heart surgery patients... Use of an incentive spirometer is even more important because most surgical heart surgeries require the use of a heart-lung machine. As a result, the heart is stopped and cooled. During the procedure, the lungs are deflated which can create mucous within the lungs.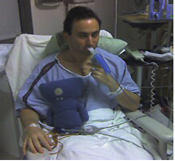 Me in The Intensive Care Unit with My Spirometer
Following surgery, patients are asked to use an incentive spirometer and encouraged to take deep breaths and cough (if necessary). This helps remove any extra mucous or fluid in the lungs. So you know, if the airsacs stay closed and mucous builds up, pneumonia can develop.
According to the Cleveland Clinic, "Using your incentive spirometer after surgery will help you keep your lungs clear and will help keep your lungs active throughout the recovery process, as if you were performing your daily activities."
Please note that it can be a bit painful to use an incentive spirometer at first. However, with good and regular breathing exercise, patients begin their road to recovery quickly without pneumonia and fluid build-up in the lungs.
You Might Also Like
Here's more information about the recovery from heart surgery that might interest you:
Page last updated: September 17, 2020