Surgeon Spotlight: Dr. Andrei Churyla
Northwestern Medicine, Chicago, Illinois - Sponsored Post
Andrei Churyla, MD is an attending cardiac surgeon at Northwestern Memorial Hospital Bluhm Cardiovascular Institute, and an assistant professor of surgery at Northwestern University Feinberg School of Medicine. He has been in practice at Northwestern for two and a half years, after completing a three-year cardiothoracic surgery fellowship. His passion for helping people and solving the complexities of heart disease has a long history.
"Ever since middle school—when doctors saved my uncle's life as he fought necrotizing pancreatitis—I knew I would become a surgeon," says Churyla. During his second year of medical school, Churyla assisted on his first thoracic surgery and was amazed: "It was my first time seeing the heart, visible and working, in a surgical environment. It was fascinating to me that someone could perform surgery on such a complex organ," he says. "I've been pursuing my dream of becoming a cardiac surgeon ever since."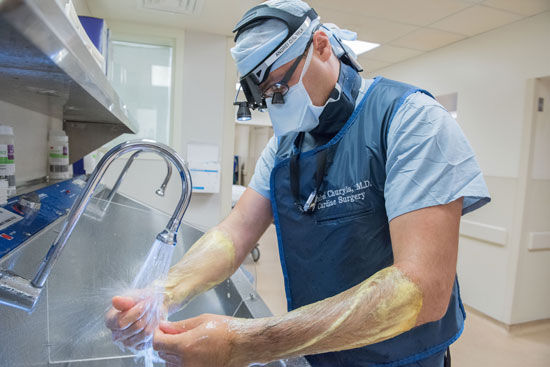 An unexpected emigration
Churyla was born and raised in the Republic of Belarus, a country bordering Russia and Ukraine. Unlike American students—who attend pre-medical training for four years of college before medical school—eligible students in Belarus are able to proceed directly to medical school after high school, and Churyla was on the fast track to becoming a cardiac surgeon. In 2003, he completed six years at Gomel State Medical University in Belarus, shadowing surgeons all the while.
But in a surprise to everyone including Churyla, his path took an unexpected turn.
"It was not my original intention to come to America, but my professor of pathology emigrated to the U.S., and he urged me to consider it," Churyla explains. "He sent me a link to the annual Green Card Diversity Visa Lottery, and I thought it couldn't hurt—so I submitted my application and went on with my life." Six months later, Churyla's wife, Alesia, called to ask him if he knew anyone in Kentucky; there was a mysterious letter for him from the faraway place."
The letter was from the U.S. government: Churyla and Alesia had been randomly chosen from millions of applicants to come to the U.S. "We only had a few friends in the United States at the time, so there was a lot of discussion involved in making the decision to pick up our lives and move across the world," says Churyla. "It was a difficult choice; our families did not want us to leave. But Alesia and I wanted the chance to succeed here, to become valuable members of American society."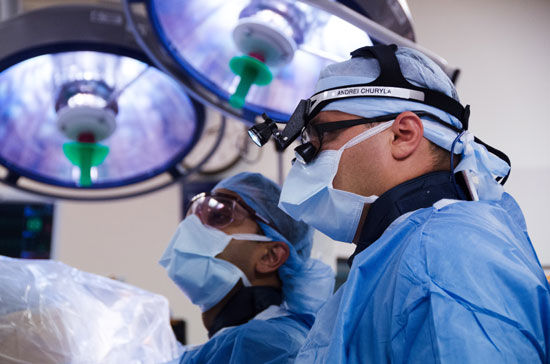 The couple moved to Boston near their friends, and immersed themselves in a several-years-long process of studying English equivalents in medical terminology so they could succeed in the U.S. medical education system. (The two met in medical school; Alesia is an internal medicine physician.)
A move to Chicago
In 2013, Churyla finished a residency at Berkshire Medical Center in Pittsfield, Mass., and the couple moved to Chicago, where he began a Fellowship at Northwestern University's McGaw Medical Center. For the next three years, he trained under the guidance of many of Northwestern Medicine's top cardiac experts, including Patrick M. McCarthy, MD; S. Chris Malaisrie, MD; and Duc Thinh Pham, MD.
Churyla's clinical interests include all aspects of adult cardiac surgery with a main focus on open heart valve repair and replacement, transcatheter valve surgery, arrhythmia surgery and coronary bypass surgery. He is also interested in aortic surgery as well as complex reoperation surgery and transplant surgery. He is board-certified in general surgery and cardiothoracic surgery.
"My operating experience with Dr. McCarthy during my fellowship was extremely informative and comprehensive," he says. "Now that I'm an attending surgeon and creating my own practice, I am interested in building on the work Drs. McCarthy, Malaisrie, and Pham are currently pioneering."
Focusing on heart valve surgery and atrial fibrillation
Specifically, Churyla is interested in heart valve surgery and atrial fibrillation surgery, both concomitant and stand-alone procedures. "For people with atrial fibrillation who require surgery—those who are highly symptomatic, have a large left atria, or have failed electrophysiology ablation—we are able to offer surgical intervention by creating left atrial lesions or bi-atrial lesions, with excellent results."
One procedure he is particularly interested in is the modified total transthoracoscopic Maze procedure, also known as a TT Maze procedure and left atrial appendage closure. This is a minimally invasive surgery in which a cardiac surgeon creates scar patterns on the outside of the heart and closes the left atrial appendage with a clip. A cardiac electrophysiologist then interrogates lesions and connects them as needed on the inside of the heart using a catheter. This twofold approach helps prevent atrial fibrillation from occurring.
The field of transcatheter opportunities
The rapidly growing field of transcatheter treatment options is also a focus for Churyla. In recent years, the cardiovascular team at Northwestern Memorial Hospital has expanded its work in the field of transcatheter valve replacement, including aortic (TAVR), mitral and tricuspid transcatheter treatment options. Churyla has a keen interest in this work.
Currently, the cardiovascular team at Northwestern Memorial Hospital is participating in the following transcatheter clinical trials:
Aortic Valve Transcatheter Clinical Trials: PARTNER 3 CAP, PARTNER 3 Aortic Valve in Valve, EARLY TAVR, EXCEED
Mitral Valve Transcatheter Clinical Trials: Apollo, COAPT CAS, MitraClip EXPAND, PARTNER 3 Mitral Valve in Valve
Tricuspid Valve Transcatheter Clinical Trials: Cardioband
A change in the path leads to a more integrated approach
Churyla says his unexpected career path shift gave him a more open mind about integrative treatment approaches, which is a great fit with the Northwestern Memorial Hospital model of collaboration across many team members.
"In Belarus, I was originally on a path straight to becoming a cardiac surgeon, but moving to the U.S. changed that, necessitating more training in general surgery—which is a more traditional path than I originally planned," he says. "But I've gained extra insight from that experience. There are many skills taught in general surgery that aren't utilized in cardiac surgery, but with those skills, I've entered my cardiac surgery focus with much more maturity.
"It turns out that a traditional path to cardiac surgery suits me well, and showed me the value in an approach that incorporates many techniques," he adds. "The team at Northwestern Memorial Hospital is made up of many strong partners, across many disciplines, and the collaborative approach to tailoring treatment to each and every patient ensures the greatest success possible. It's very gratifying when we can help a patient reclaim their health and their life."
Making Chicago a home
Churyla and his wife are raising three children in Chicago, a daughter and twin sons. Their neighborhood's proximity to Northwestern Memorial Hospital means Churyla can get to the hospital quickly for urgent cases, and offers easy access to many of the city's most popular cultural hot spots for families, like the Museum Campus and Lincoln Park Zoo.

Like their parents, the Churyla children are bilingual, and Chicago boasts a large population of Russian-speaking friends—so the family can enjoy their new home while honoring some of the culture of their homeland in Belarus. "Even though it's across the ocean, it feels like we have the same traditions and culture," says Churyla. "Chicago is a wonderful home for us."

Page last updated: July 21, 2021