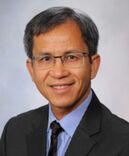 Dr. Si Pham
Dr. Si Pham

Heart Surgeon

Mayo Clinic in Florida
4500 San Pablo Road South
Jacksonville, FL 32224
About Dr. Si Pham,
Heart
Valve

Surgeon

Hello! My name is Dr. Si Pham and I am a cardiac surgeon having graduated from University of Pittsburgh in 1983. To date, I have performed approximately 6,000 cardiac surgeries, of which more than 1,500 involved heart valve procedures. I regularly perform surgery at Mayo Clinic in Florida. Read more...
4 Patient Reviews for
Dr. Pham
"I was admitted for surgery on December 17th for a Mitral Valve repair and double heart bypass. I was fortunate enough to be in the care of three absolutely top notch physicians Dr. Pham, Dr. Sareyyupoglu and Dr. Oken. The care and expertise that I received both before during and after my procedures was first rate and I am now almost fully recovered. But for the dedication of my team of physicians and very caring nurses, my medical prognosis would have looked very different."
-- Mitchell Davies, Mitral Valve, Valve Repair, 12/17/2021

"I had a diagnosis of severe aortic stenosis and needed a valve replacement. Dr. Pham and his team decided I needed an open-heart valve replacement procedure. Dr. Pham was outstanding, as well as all the care givers at the Jacksonville hospital. My recovery was very quick and I'm now back to walking 5-miles a day. Thank you Mayo Clinic Jacksonville!"
-- Carol Smith, Aortic Valve, Valve Replacement, 11/11/2021

> See 2 more patient testimonials
My Specialities &
Clinical Interests
My heart surgery specialties include:
Aortic valve surgery
Tricuspid valve surgery
Mitral valve surgery
In addition, I have research and clinical interests specific to:
Heart valve dysfunction after heart transplant
Mesenchymal stem cells and their products to improve heart function, prevent coronary artery bypass graft failure, and reduce ischemic reperfusion injury
Ex-vivo lung perfusion to improve donor lung function
Education, Training & Certificates
Dr. Si Pham, heart surgeon, graduated from University of Pittsburgh in 1983.
After medical school, Dr. Pham completed his Residency in 1986 with the University of Pittsburgh. He then went on to complete a Research Fellowship in Cardiothoracic Surgery in 1987 with the University of Pittsburgh. Dr. Pham served as Chief Resident of General Surgery in 1989 and Resident of Cardiothoracic Surgery in 1992 also at the University of Pittsburgh.
Dr. Pham is American Board-Certified in General Surgery, Cardiothoracic Surgery and Surgical Critical Care.
Throughout his career, Dr. Pham has earned many awards and recognitions including the following:
* Chair, Department of Cardiothoracic Surgery, Mayo Clinic, Jacksonville, Florida
* Distinguished Alumni Award, Lebanon Valley College, 2018
* Health Care Heroes Award by the Greater Miami Chamber of Commerce, 2007
* Award for Excellence in Medical Research by the Vietnamese American Medical Research Foundation, 2005
* Doctor "Honoris Causa" - University of Moron, Buenos Aires, Argentina, 2002
* Dalsemer Research Scholar Award - American Lung Association, 1997 - 1999
* Faculty Fellowship Award - American College of Surgeons, 1994 - 1996
Schedule Appointment

with Dr. Si Pham, MD

To schedule an appointment with Dr. Pham, you can:
Call

(904) 447-8381

right now
Request an appointment by clicking here.
The office of Dr. Pham is located at 4500 San Pablo Road South, Jacksonville, FL 32224. To get driving directions to this office, please click the map below.
> Click for driving directions to Dr. Pham's office.
News & Online References Featuring Dr. Si Pham
Here is the latest news featuring Dr. Si Pham:
Page last updated: April 11, 2022