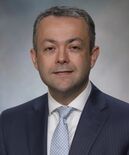 Dr. Basar Sareyyupoglu
Dr. Basar Sareyyupoglu

Heart Surgeon

Mayo Clinic in Florida
4500 San Pablo Rd South
Jacksonville, FL 32224
About Dr. Basar Sareyyupoglu,
Heart
Valve

Surgeon

Hello! My name is Dr. Basar Sareyyupoglu and I am a cardiac surgeon having graduated from Ankara University in 1999. Mayo Clinic performs more than 4,500 cardiac surgeries each year. We are experts in treating pediatric, congenital and complex forms of heart valve disease using minimally invasive procedures including transcatheter aortic valve replacement (TAVR) and robotic mitral valve repair. In addition, Mayo Clinic specializes in treating cardiac conditions often related to heart valve disease including atrial fibrillation, coronary artery disease and aortic aneurysms. I regularly perform surgery at Mayo Clinic in Florida. Read more...
7 Patient Reviews for
Dr. Sareyyupoglu
"Dr. Sareyyupoglu performed a valve-sparing aortic root replacement on me in October 2021. To be able to replace my aorta due to a very large aneurysm while saving my aortic valve is nothing short of AMAZING!
His skill, care and willingness to explain in terms a patient can understand is great. Team him up with Mayo and it's a combination that can't be beat!
Thanks Dr S! You saved my life."
-- James Sheehan, Aortic Valve, Root Replacement, 10/25/2021

"I highly recommend Dr. Sareyyupoglu and the Cardiac Team at the Mayo Clinic in Jacksonville, Florida.
Dr. Sareyyupoglu far exceeded my expectations staring with all meetings leading up to surgery, surgery and post-op care. I can't thank him enough for sparing my aortic valve during the aortic root replacement. The nurses that took care of me during my five days in the hospital after surgery also exceeded my expectations."
-- Dan Kinkel, Aortic Valve, Valve Repair, Root Replacement, 10/22/2021

> See 5 more patient testimonials
My Specialities &
Clinical Interests
My heart surgery specialties include:
Sternal sparing aortic and mitral valve operations
Valve-sparing aortic root replacement
Minimally invasive repair of structural heart defects
Education, Training & Certificates
Dr. Basar Sareyyupoglu, heart surgeon, graduated from Ankara University in 1999.
After medical school, Dr. Sareyyupoglu completed an Internship in Medicine and Surgery at Ibni Sina Hospital in 2000. He then completed his Cardiothoracic Surgery Residency at Kosuyolu Heart and Research Hospital in 2006 followed by an Adult Cardiothoracic Surgery Fellowship at Mayo Clinic Rochester in 2009.
Schedule Appointment

with Dr. Basar Sareyyupoglu, MD

To schedule an appointment with Dr. Sareyyupoglu, you can:
Call

(904) 569-7738

right now
Request an appointment by clicking here.
The office of Dr. Sareyyupoglu is located at 4500 San Pablo Rd South, Jacksonville, FL 32224. To get driving directions to this office, please click the map below.
> Click for driving directions to Dr. Sareyyupoglu's office.
News & Online References Featuring Dr. Basar Sareyyupoglu
Here is the latest news featuring Dr. Basar Sareyyupoglu:
Page last updated: October 1, 2022