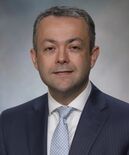 Dr. Basar Sareyyupoglu
Dr. Basar Sareyyupoglu

Heart Surgeon

Mayo Clinic in Florida
4500 San Pablo Rd South
Jacksonville, FL 32224
About Dr. Basar Sareyyupoglu,
Heart
Valve

Surgeon

Hello! My name is Dr. Basar Sareyyupoglu and I am a cardiac surgeon having graduated from Ankara University in 1999. Mayo Clinic performs more than 4,500 cardiac surgeries each year. We are experts in treating pediatric, congenital and complex forms of heart valve disease using minimally invasive procedures including transcatheter aortic valve replacement (TAVR) and robotic mitral valve repair. In addition, Mayo Clinic specializes in treating cardiac conditions often related to heart valve disease including atrial fibrillation, coronary artery disease and aortic aneurysms. I regularly perform surgery at Mayo Clinic in Florida. Read more...
3 Patient Reviews for
Dr. Sareyyupoglu
"My experience with Mayo Clinic started on December 2020 and is ongoing until now. From the beginning, it was clear that Mayo Clinic is based on three tenets: human care, innnovation, and team work.
Human care is the reason for Mayo Clinic existence. Care is based on love, competency and equality. There is a common vision at all levels of the organization.
Innovation: This tenet is a core competency for Mayo Clinic in which information is gathered quickly and decisions are taken quickly and using organization current expertise.
Team Work: It is noticeable that every professional at Mayo Clinic is proud to belong to the organization and dedicated to make his/her own contribution to the betterment of the Mayo Clinic.
My heart Surgeon Dr. Basar Sareyyupoglu and my current cardiologist Dr. Sabrina Phillips are great examples of human care, innovation and team work.
Today, I'm capable of exercise at my peak and enjoy my life after my surgery."
-- Avelino Lima, Aortic Valve, Valve Replacement, 02/26/2021

"My experience with Mayo Clinic as a whole was excellent, from initial consultation to hospital stay to post-surgical follow-up. Dr. Sareyyupoglu and his team, from office visits to pre-op to post-op, were attentive and answered all of my questions. The staff in cardiac rehab were also excellent. They listened to my concerns and encouraged me all the way."
-- Debra Collier, Aortic Valve, Valve Replacement, 02/09/2021

> See 1 more patient testimonials
My Specialities &
Clinical Interests
My heart surgery specialties include:
Sternal sparing aortic and mitral valve operations
Valve-sparing aortic root replacement
Minimally invasive repair of structural heart defects
Education, Training & Certificates
Dr. Basar Sareyyupoglu, heart surgeon, graduated from Ankara University in 1999.
After medical school, Dr. Sareyyupoglu completed an Internship in Medicine and Surgery at Ibni Sina Hospital in 2000. He then completed his Cardiothoracic Surgery Residency at Kosuyolu Heart and Research Hospital in 2006 followed by an Adult Cardiothoracic Surgery Fellowship at Mayo Clinic Rochester in 2009.
Schedule Appointment

with Dr. Basar Sareyyupoglu, MD

To schedule an appointment with Dr. Sareyyupoglu, you can:
Call

(904) 569-7738

right now
Request an appointment by clicking here.
The office of Dr. Sareyyupoglu is located at 4500 San Pablo Rd South, Jacksonville, FL 32224. To get driving directions to this office, please click the map below.
> Click for driving directions to Dr. Sareyyupoglu's office.
Page last updated: August 24, 2021