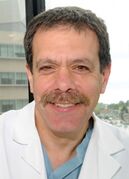 Dr. Michael Acker
Dr. Michael Acker

Heart Surgeon

Hospital of the University of Pennsylvania
3400 Spruce Street
Philadelphia, PA 19104
About Dr. Michael Acker,
Heart
Valve

Surgeon

Hello! My name is Dr. Michael Acker and I am a cardiac surgeon having graduated from Brown University in 1981. To date, I have performed approximately over 9,000 cardiac surgeries, of which over 3,000 involved heart valve procedures. I regularly perform surgery at Hospital of the University of Pennsylvania. Read more...
6 Patient Reviews for
Dr. Acker
"Superb staff and hospital. Surgery went off without a hitch, and quick recovery."
-- Charles Haas, Mitral Valve, Valve Repair, 10/05/2015

"Dr. Michael Acker is an outstanding surgeon. He is Chief of Staff and a Professor at HUP in Philadelphia, PA. He specializes in high risk patients and also does heart transplants as well as many valve surgeries. He is well respected at HUP."
-- Patricia Garcia, Mitral Valve, Valve Replacement, 01/12/2015

> See 4 more patient testimonials
My Specialities &
Clinical Interests
My heart surgery specialties include:
Complex and high-risk mitral valve surgery
Mitral valve repair and replacement
Mitral valve surgery in patients with heart failure
In addition, I have research and clinical interests specific to:
Heart failure and mechanical circulatory support
Education, Training & Certificates
Dr. Michael Acker, heart surgeon, graduated from Brown University in 1981.
After medical school, Dr. Acker completed a General Surgery Residency at Hospital of the University of Pennsylvania in 1988. Then, Dr. Acker completed a Cardiothoracic Research Fellowship at University of Pennsylvania in 1987. Dr. Acker also completed a Cardiothoracic Surgery Residency at The Johns Hopkins Hospital in 1991.
Dr. Acker is board certified by the American Board of Surgery and the American Board of Thoracic Surgery.
During his career, Dr. Acker has received several awards and special credentials including:
*Director, Penn Medicine Heart and Vascular Center
*Chief, Division of Cardiovascular Surgery, Penn Medicine
*Philadelphia Magazine Top Docs, 2002 – 2020
*America's Top Doctors, 2007, 2008, 2010, 2012 – 2020
*Best Doctors in America, 2003 – 2020
*Alfred Stengel Health System Champion Award, 2013
*Gordon Buzby Surgical Leadership Award, 2018
Schedule Appointment

with Dr. Michael Acker, MD

To schedule an appointment with Dr. Acker, you can:
Call

(888) 699-7556

right now
Request an appointment by clicking here.
The office of Dr. Acker is located at 3400 Spruce Street, Philadelphia, PA 19104. To get driving directions to this office, please click the map below.
> Click for driving directions to Dr. Acker's office.
Watch Educational Videos with Dr. Michael Acker
Learn about heart valve surgery from Dr. Acker in these videos:
Top 6 Mitral Valve Surgery Myths Busted!

The Future of Heart Valve Surgery: Insights from Dr. Michael Acker

Surgeon Q&A: Mitral Valve Regurgitation & Stroke with Dr. Michael Acker
News & Online References Featuring Dr. Michael Acker
Here is the latest news featuring Dr. Michael Acker:
Page last updated: December 6, 2022