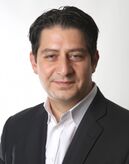 Dr. Mark Russo
Dr. Mark Russo

Heart Surgeon

Robert Wood Johnson University Hospital
125 Paterson St., Clinical Academic Building Suite 4100
New Brunswick, NJ 08901
About Dr. Mark Russo,
Heart
Valve

Surgeon

Hello! My name is Dr. Mark Russo and I am a cardiac surgeon having graduated from Albert Einstein College of Medicine in 2002. To date, I have performed approximately 5,000 cardiac surgeries, of which 3,500 involved heart valve procedures. I regularly perform surgery at hospitals including Robert Wood Johnson University Hospital, Community Medical Center, and Monmouth Medical Center. Read more...
6 Patient Reviews for
Dr. Russo

"Over the years whenever I would see cardiovascular surgeons, they would say, 'Wow! What you have is so rare, we don't know what to do.' I am so thankful to Dr. Russo and to God, who I believe guided me to him. I am very, very lucky with my outcome, and for any patients who have had a problem for decades, whatever it is, if you haven't seen a doctor to follow-up on what new procedures are available, I encourage you to. It saved my life.
"When I woke up from my surgery, my first thought was extreme gratitude. 'I am still here.' I touched my chest and only felt soreness, not pain; I couldn't believe how it wasn't that painful. I was just really happy that the surgery had a positive outcome, and so grateful to Dr. Russo."
-- Lorraine Leshko, October 12, 2020, heart valve surgery patient
"I underwent a TAVR with Dr. Russo and his team. I feel so much better than I have in a long, long time. I have more energy and can breathe so much better. My wife and the family tell me I am more alert and that I finally have some color back to my face."
-- Glenn Dunn, Aortic Valve, Valve Replacement, Transcatheter, 09/19/2012

> See 5 more patient testimonials
My Specialities &
Clinical Interests
My heart surgery specialties include:
Complex Aortic Surgery
Minimally Invasive Aortic Valve and Mitral Valve Surgery
Transcatheter Aortic Valve and Mitral Valve Surgery
In addition, I have research and clinical interests specific to:
Less invasive therapies and rapid recovery strategies
Development, evaluation, adoption, and diffusion of novel heart valve therapies
Application of data and artificial intelligence in clinical decision making
Education, Training & Certificates
Dr. Mark Russo, heart surgeon, graduated from Albert Einstein College of Medicine in 2002.
After medical school, Dr. Russo completed his General Surgery Residency at Columbia University Medical Center in New York City. He then completed Post-Doctoral Research Fellowships at Columbia University's College of Physicians and Surgeons and the National Heart, Lung and Blood Institute. Dr. Russo was the Assistant-Attending-in-Cardiothoracic Surgery at NewYork-Presbyterian Hospital in New York City.
Today, Dr. Russo is the Chief of the Division of Cardiac Surgery; Director of Structural Heart Disease; and Associate Professor of Surgery at Rutgers-Robert Wood Johnson Medical School.
Dr. Russo specializes in the treatment of complex and re-operative aortic and valvular disease.
Dr. Russo has received many acknowledgements and awards for his commitment to heart and valvular therapy including:
* Board Member, Heart Valve Voices * Member, American Association of Thoracic Surgeons * Member, Society of Thoracic Surgeons * Member, 21st Century Cardiothoracic Surgical Society Education Award * New Jersey Women's Physician Alliance * Nominee, New Jersey Physician of the Year * Healthcare Hero, Horizon Blue Cross/Blue Shield * President's Award, Society of Thoracic Surgeons * Young Investigator Research Award, Thoracic Surgery Foundation for Research and Education * Benson R. Wilcox Research Award, Thoracic Surgery Directors Association/Society of Thoracic Surgeons * Young Investigator Award European Society of Cardiology * Blakemore Prize, Columbia University * Dean's Award, Albert Einstein College of Medicine
Dr. Russo is board-certified by the American Board of Thoracic Surgery.
Schedule Appointment

with Dr. Mark Russo, MD

To schedule an appointment with Dr. Russo, you can:
Call

(732) 387-6336

right now
Request an appointment by clicking here.
The office of Dr. Russo is located at 125 Paterson St., Clinical Academic Building Suite 4100, New Brunswick, NJ 08901. To get driving directions to this office, please click the map below.
> Click for driving directions to Dr. Russo's office.
News & Online References Featuring Dr. Mark Russo
Here is the latest news featuring Dr. Mark Russo:
Page last updated: July 21, 2021