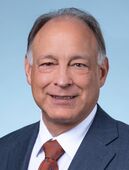 Dr. Kevin Miller
Dr. Kevin Miller

Heart Surgeon

St. Anthony Hospital Medical Campus
11700 W. 2nd Place, Suite 280
Lakewood, CO 80228
About Dr. Kevin Miller,
Heart
Valve

Surgeon

Hello! My name is Dr. Kevin Miller and I am a cardiac surgeon having graduated from University of Kansas Medical School in 1986. To date, I have performed approximately 4,100 cardiac surgeries, of which over 1,000 involved heart valve procedures. I regularly perform surgery at St. Anthony Hospital Medical Campus. Read more...
7 Patient Reviews for
Dr. Miller
"On Saturday evening, September 10th, you performed an aortic dissection on my dada, Lyle Zimmerman, and treated him in the ICU for two weeks. As I write, I find it difficult putting into words how grateful and thankful my family and I were at the time and continue to be for what you did for him.
We still talk about how thorough, caring and sensitive you were explaining what had been going on in his body, what the surgical procedure consisted of, you shared the success of your father's surgery and what we could expect post operatively. During the procedure my mom and I prayed so much but there was also a calmness knowing how comfortable we felt with my dad in your hands.
When you completed his surgery at 10:30 PM, your third major surgery that da, you came to where my mom and I were waiting, and knowing how exhausted you had to have been, you still discussed how dad was with such great comfort, patience and compassion.
His post op experience had its hiccups which we were aware could happen with a 90-year-old man considering all his body was going through, but your care and compassion were unwavering. My mom was growing weaker and no matter how my dad's health progressed, you knew we wanted him home. You identified a window when he was stable enough to make the trip back to Iowa and you made it happen.
Since his discharge, he was in a rehabilitation center for three weeks and breezed through it, then home care which has been discontinued already. The cardiac Physiologist performed tests and said not only was a miracle performed in Denver, but he didn't need a pacemaker at this time either. We thank God for the miracle YOU performed.
You said to wait until December to really assess how well he's doing. Other than a few minor cognitive moments and his new obsession with bowel movements (yikes), he is doing great! Thankfully he doesn't remember much about his ICU experience, but he remembers YOU and "that beautiful sport coat" you were wearing.
It brings tears to my eyes thinking how happy I am heading back to oIowa in a couple of weeks to spend Christmas with him ... a miracle for sure and I thank God for gifting you with the hands, the wisdom and compassion to be the wonderful surgeon you were to my dada and family.
Wishing you, your family and staff a healthy, happy RELAXING and enjoyable holiday season. You all deserve it, and we cannot thank you enough!"
-- Gail Zimmerman, Aortic Valve, Valve Repair, Root Replacement, 09/10/2022

"Dr. Miller is the best and he works at St Joseph which has one of the lowest infection rates in the country. My surgery while straight forward, presented some issues, and Dr Miller's skill probably saved my life."
-- Tom Dadismsn, Aortic Valve, Valve Replacement, Root Replacement, 10/04/2016

> See 5 more patient testimonials
My Specialities &
Clinical Interests
My heart surgery specialties include:
Minimally invasive aortic valve surgery
Minimally invasive mitral valve surgery
In addition, I have research and clinical interests specific to:
Development of minimally invasive cardiac procedures
Spinal cord ischemia with aortic cross-clamping
Use of cardiopulmonary bypass to support postpartum cardiomyopathy
Education, Training & Certificates
Dr. Kevin Miller, heart surgeon, graduated from University of Kansas Medical School in 1986.
After medical school, Dr. Miller completed both a Residency in General Surgery in 1990 and was Chief Resident in 1990 and 1991 at University of Nevada School of Medicine. Next, Dr. Miller was both a Resident in Cardiothoracic Surgery in 1992 and 1993 and Chief Resident in Cardiothoracic Surgery in 1993 and 1994 at University of New Mexico School of Medicine.
Dr. Miller is board certified by the American Board of Thoracic Surgery.
Dr. Miller was named in 5280 Magazine's TOP Doctors in both 2013 and 2014.
Schedule Appointment

with Dr. Kevin Miller, MD

To schedule an appointment with Dr. Miller, you can:
Call

(720) 730-3353

right now
Request an appointment by clicking here.
The office of Dr. Miller is located at 11700 W. 2nd Place, Suite 280, Lakewood, CO 80228. To get driving directions to this office, please click the map below.
> Click for driving directions to Dr. Miller's office.
Page last updated: December 21, 2022