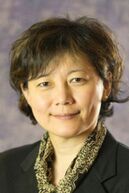 Dr. Betty Kim
Dr. Betty Kim

Heart Surgeon

Penrose Hospital
2222 North Nevada Ave, Suite 5011
Colorado Springs, CO 80907
About Dr. Betty Kim,
Heart
Valve

Surgeon

Hello! My name is Dr. Betty Kim and I am a cardiac surgeon having graduated from Yale School of Medicine in 1991. To date, I have performed approximately 3,000 cardiac surgeries, of which over 1,500 involved heart valve procedures. I regularly perform surgery at Penrose Hospital. Read more...
3 Patient Reviews for
Dr. Kim
"I had my aortic valve replaced by Dr. Kim and her team in June of 2022. I was amazed that the procedure could be done with minimal pain and that I avoided going on the heart lung bypass machine.
Before my surgery I was very sick. I could not even walk in my trilevel home due to feeling so short of air. I also had severe fatigue which kept me from enjoying my favorite activities and leaving my home. When I heard about the minimally invasive procedure it seems like a good fit for me because I knew I needed my valve fixed but I was scared about undergoing a big procedure requiring a large incision and general anesthesia.
Dr. Kim's team helped guide me through the process of testing and I was able to quickly undergo my procedure. Dr Kim expertly used my carotid artery as the access point to allow a minimally invasive catheter based valve to be placed in my old aortic valve. The anesthesiologist used moderate sedation and I was able to breathe on my own without a ventilator. I was moved quickly from the operating room and I spent only one night in the hospital.
Since coming home, I have gained more strength and endurance with the help of cardiac rehabilitation. I am now able to get out of my home and enjoy my family again without feeling so short of breath. Everyone tells me that I have so much more color and life in my face since the surgery. I am so thankful that I underwent this procedure by Dr Kim and her expert team at Penrose Hospital. "
-- Ralph Gustafson, Aortic Valve, Transcatheter, 06/15/2022

"Dr. Kim is the best in town. I would recommend her to anyone needing any type of heart surgery in Colorado Springs, Colorado. Very easy to talk to. Explanation of my conditions and the surgical procedures were spot on. Kudos to her and her team; they took great care of me."
-- Andrae Farr, Aortic Valve, Valve Replacement, Root Replacement, 01/20/2022

> See 1 more patient testimonials
My Specialities &
Clinical Interests
My heart surgery specialties include:
Aortic valve surgery
Mitral valve surgery
Minimally invasive techniques including transcatheter and robotic valve surgery
In addition, I have research and clinical interests specific to:
Alternative therapies for valve surgery
Hybrid approaches to aortic valve surgery
Education, Training & Certificates
Dr. Betty Kim, heart surgeon, graduated from Yale School of Medicine in 1991.
After medical school, Dr. Kim completed a general surgery residency and cardiothoracic surgery fellowship at Walter Reed Army Medical Center in Washington DC in 2002. She has additional advanced cardiac surgery training at the Brigham and Women's Hospital in Boston, Massachusetts and at the Cleveland Clinic in Cleveland, Ohio, specific to innovative techniques that include percutaneous valves (e.g. transcatheter aortic valve replacement) and robotics. She has been in practice at Vanderbilt Medical Center and in North Carolina performing the full scope of cardiac surgery.
Dr. Kim is board-certified by the American Board of Thoracic Surgery.
Throughout her career, Dr. Kim has received several awards and recognitions including:
* Top Doctor - Colorado Springs (2019 - current)
* Woman of Impact - American Heart Association - Colorado Springs (2021)
* Board Member - El Paso County Medical Society (2021 - current)
In addition, Dr. Kim has won numerous patient nominated awards during her career to include CARES award and Extraordinary Hero award. She was named a 5-star Healthgrades Doctor in Cardiac Surgery two years in a row at Vanderbilt while in Tennessee.
Dr. Kim was also instrumental in starting two local chapters of the Mended Hearts on the East Coast and spoke on behalf of the American Heart Association for Women's Heart.
Schedule Appointment

with Dr. Betty Kim, MD

To schedule an appointment with Dr. Kim, you can:
Call

(719) 259-1847

right now
Request an appointment by clicking here.
The office of Dr. Kim is located at 2222 North Nevada Ave, Suite 5011, Colorado Springs, CO 80907. To get driving directions to this office, please click the map below.
> Click for driving directions to Dr. Kim's office.
News & Online References Featuring Dr. Betty Kim
Here is the latest news featuring Dr. Betty Kim:
Page last updated: August 4, 2022