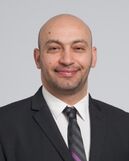 Dr. Haytham Elgharably
Dr. Haytham Elgharably

Heart Surgeon

Cleveland Clinic
9500 Euclid Avenue
Cleveland, OH 44195
About Dr. Haytham Elgharably,
Heart
Valve

Surgeon

Hello! My name is Dr. Haytham Elgharably and I am a cardiac surgeon having graduated from Zagazig University in 2006. Cleveland Clinic performs more than 4,500 heart surgeries each year. All Cleveland Clinic cardiac surgeons complete between 300-400 cardiac cases per year. Read more...
3 Patient Reviews for
Dr. Elgharably
"I feel blessed to have been under the excellent care of Dr. Haytham Elgharably for my heart operation. I was told by three different doctors that the valve could not be repaired but Dr. Elgharably was able to repair it.
The entire team was excellent, and I feel that I could not have been in better hands. I could have had this proceedure done locally, but waited several months and drove hundreds of miles to have it done at the Cleveland Clinic by Dr. Haytham Elgharably, and I am convinced that it was the best choice I could have made. "
-- richard west, Mitral Valve, Valve Repair, 03/08/2023

"My wife, daughter and I feel truly blessed to have received the world-class care that the Cleveland Clinic and Dr. "E" provided me during my open heart surgery.
This is not the first surgery for me as it was a repair to a previous bovine valve that I had for a couple years and was attacked by an unknown infection undiagnosed at another hospital.
My daughter was my advocate and was very happy with daily communications from everyone at the clinic -- especially Dr. "E" and his team.
My surgery was flawless with no complications. My prognosis is a long and happy retirement. It is with the deepest sincerity that we again salute and thank all of my physicians, nurses and caregivers who helped us navigate this during COVID visiting restrictions.
I was without my family for 25 days. But, not to worry. My Cleveland Clinic family came to the rescue!
I can't imagine anything better than the incredible care I received in an emergency life threatening situation. I am honored to recommend such a world class surgeon. Thanks Dr E!!!"
-- Robert Masi, Aortic Valve, Valve Repair, 05/13/2020

> See 1 more patient testimonials
My Specialities &
Clinical Interests
My heart surgery specialties include:
Aortic valve repair and replacement
Mitral valve repair and replacement
Education, Training & Certificates
Dr. Haytham Elgharably, heart surgeon, graduated from Zagazig University in 2006.
After medical school, Dr. Elgharably completed his cardiac surgery residency at Egyptian National Heart Institute in Cairo, Egypt in 2010.
Dr. Elgharably came to the United States in 2011 for a research fellowship in wound healing and biofilm infection at The Ohio State University in Columbus, Ohio where he graduated in 2012.
Dr. Egharably completed his specialty training at Cleveland Clinic with a fellowship in cardiothoracic surgery in 2013 and a residency in integrated thoracic surgery in 2019.
Schedule Appointment

with Dr. Haytham Elgharably, MD

To schedule an appointment with Dr. Elgharably, you can:
Call

(888) 322-5067

right now
Request an appointment by clicking here.
The office of Dr. Elgharably is located at 9500 Euclid Avenue, Cleveland, OH 44195. To get driving directions to this office, please click the map below.
> Click for driving directions to Dr. Elgharably's office.
News & Online References Featuring Dr. Haytham Elgharably
Here is the latest news featuring Dr. Haytham Elgharably:
Page last updated: March 22, 2023