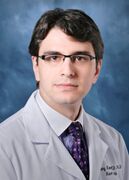 Dr. Danny Ramzy
Dr. Danny Ramzy

Heart Surgeon

Cedars-Sinai Medical Center
127 S. San Vicente Blvd., Suite A3600
Los Angeles, CA 90048
About Dr. Danny Ramzy,
Heart
Valve

Surgeon

Hello! My name is Dr. Danny Ramzy and I am a cardiac surgeon having graduated from McMaster University in 2000. To date, I have performed approximately 3,000 cardiac surgeries, of which 1,000 involved heart valve procedures. I regularly perform surgery at Cedars-Sinai Medical Center. Read more...
3 Patient Reviews for
Dr. Ramzy
"I was referred to Dr. Ramzy by my cardiologist in Arizona when I needed surgery on my aortic valve. At first, I was considered for a minimally invasive procedure with a catheter. But when I wasn't a fit for that program, I was happy that another minimally invasive procedure did turn out to be the right one for me.
I met and consulted with Dr. Ramzy online. After seeing my records, Dr. Ramzy determined that I was a good candidate for a mini thoracotomy, which is a small three-inch incision in between my ribs. My body responded well, and I was out of the ICU in just one day. I was then transferred to a regular room where I received excellent care from Dr. Ramzy's highly competent and helpful nursing staff.
I was discharged after just five days and remained in LA for 2-3 more days so that I could return for a post-operative follow up before driving back to Arizona. With the small incision, I was able to limit my stay in LA to just one week. My surgery was in late October and so, six weeks after my surgery, I am still recovering. But I have been gradually regaining my physical functions. I am a pastor and preached my first sermon on November 8. As of early December, I have started lifting weights again. My surgery was successful, and I have been able to control what few issues I have had with pain with Tylenol. I would most definitely recommend Dr. Ramzy to anyone in need of an aortic valve procedure"
-- Denis Cronkright, Aortic Valve, Valve Replacement, Mini-Thoracotomy / Port Access, 10/22/2020

"Dr. Ramzy's knowledge and ability are "over the top". He has a great bedside manner. Everyone on his staff was very helpful, friendly and knowledgable."
-- Stephen Statt, Mitral Valve, Tricuspid Valve, Valve Repair, Valve Replacement, Maze Procedure, 02/27/2020

> See 1 more patient testimonials
My Specialities &
Clinical Interests
My heart surgery specialties include:
Robotic mitral valve repair
Minimally invasive valve repair and replacement
Mini-thoracotomy aortic valve replacement
In addition, I have research and clinical interests specific to:
Robotic cardiac surgery
Minimally invasive techniques
Lung transplantation
Education, Training & Certificates
Dr. Danny Ramzy, heart surgeon, graduated from McMaster University in 2000.
After medical school, Dr. Ramzy completed several internships, residencies and fellowships.
In 2001, Dr. Ramzy completed a General Surgery Internship at the University of Toronto in Ontario, Canada. Over the next 7 years, Dr. Ramzy completed a Junior Residency, Doctor of Philosophy in Medical Science and a Clinical Investigator Program at the University of Toronto. Dr. Ramzy also completed a Cardiovascular Science Collaborate Program and was the Chief Resident at the University of Toronto.
In 2010, Dr. Ramzy completed a Cardiothoracic Surgery Residency at the Hospital of the University of Pennsylvania in Philadelphia. During the next two years, Dr. Ramzy completed fellowships in Transplant and Mechanical Assist Devices and Aortic Surgery at the Hospital of the University of Pennsylvania.
Dr. Ramzy is a diplomate of the American Board of Surgery (2009), American Board of Thoracic Surgery (2011), Royal College of Physician and surgeon of Canada Clinical Investigator (2008) and Royal College of Physician and surgeon of Canada General Surgery (2008).
Schedule Appointment

with Dr. Danny Ramzy, MD

To schedule an appointment with Dr. Ramzy, you can:
Call

(424) 278-9757

right now
Request an appointment by clicking here.
The office of Dr. Ramzy is located at 127 S. San Vicente Blvd., Suite A3600, Los Angeles, CA 90048. To get driving directions to this office, please click the map below.
> Click for driving directions to Dr. Ramzy's office.
News & Online References Featuring Dr. Danny Ramzy
Here is the latest news featuring Dr. Danny Ramzy:
Page last updated: July 21, 2021