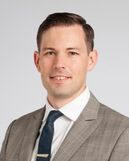 Dr. Daniel Burns
Dr. Daniel Burns

Heart Surgeon

Cleveland Clinic
9500 Euclid Avenue
Cleveland, OH 44195
About Dr. Daniel Burns,
Heart
Valve

Surgeon

Hello! My name is Dr. Daniel Burns and I am a cardiac surgeon having graduated from University of Western Ontario in 2011. Cleveland Clinic performs more than 4,500 heart surgeries each year. All Cleveland Clinic cardiac surgeons complete between 300-400 cardiac cases per year. Read more...
8 Patient Reviews for
Dr. Burns
"I travelled from North Carolina to Cleveland Clinic hoping to get robotic-assisted surgery (and because I knew of Cleveland Clinic's reputation). After all of my testing, Dr. Burns thought that I would qualify for robotic-assisted surgery, but also advised me of certain situations that may change the plan during surgery.
Dr. Burns did a great job explaining everything, has a warm and professional personality, as well as, a great sense of humor.
I went into surgery not worrying at all about the outcome. The staff in the intensive care unit (ICU), step-down and regular care was terrific. I tell all that I really had a good time during this experience - hard to believe, but I did! I would have recommended Cleveland Clinic and Dr. Burns to anyone who needs heart surgery."
-- Colleen Finegan, Mitral Valve, Tricuspid Valve, Valve Repair, Mini Sternotomy, 08/12/2022

"As a nurse I researched the hospital and surgeon I felt was most skilled. I decided to go to the Cleveland Clinic and to have Dr. Burns as my surgeon. He is an excellent doctor and I so appreciated his professional and compassionate bedside manner. He was straight forward and honest about my surgery and potential complications.
I had successful surgery and I highly recommend Dr. Burns, his team and the Cleveland Clinic. My future is bright and I am feeling great!"
-- Laura Bickford, Mitral Valve, Valve Repair, Robotic Surgery, 01/28/2022

> See 6 more patient testimonials
My Specialities &
Clinical Interests
My heart surgery specialties include:
Mitral and aortic valve surgery
Minimally invasive and robotic assisted cardiac surgery
Transcatheter valve surgery, atrial fibrillation ablation and coronary artery bypass graft surgery (CABG)
Education, Training & Certificates
Dr. Daniel Burns, heart surgeon, graduated from University of Western Ontario in 2011.
After medical school, Dr. Burns completed a Cardiac Surgery Residency at University of Western Ontario in 2017. Dr. Burns also completed a Fellowship in Complex Mitral Valve Repair at the Bristol Heart Institute at the Bristol Royal Infirmary in the United Kingdom. Dr. Burns then continued his sub-specialty training with a Fellowship in Minimally Invasive and Robotic Cardiac Surgery at the Cleveland Clinic.
Dr. Burns has completed additional training in the areas of epidemiology and biostatistics, complex mitral valve repair and minimally invasive robotic cardiac surgery. Dr. Burns is board certified in Cardiac Surgery.
Dr. Burns was appointed Assistant Professor of Surgery at Cleveland Clinic Lerner College of Medicine, Case Western Reserve University, in June 2020.
Schedule Appointment

with Dr. Daniel Burns, MD

To schedule an appointment with Dr. Burns, you can:
Call

(888) 664-4651

right now
Request an appointment by clicking here.
The office of Dr. Burns is located at 9500 Euclid Avenue, Cleveland, OH 44195. To get driving directions to this office, please click the map below.
> Click for driving directions to Dr. Burns's office.
Watch Educational Videos with Dr. Daniel Burns
Learn about heart valve surgery from Dr. Burns in these videos:
Robotic Mitral Valve Repair: Insights, Outcomes & Patient Questions with Dr. Burns & Dr. Gillinov

Robotic Mitral Valve Repair: What Have We Learned After 2,000 Operations?
News & Online References Featuring Dr. Daniel Burns
Here is the latest news featuring Dr. Daniel Burns:
Page last updated: September 13, 2023