Dr. Ali Khoynezhad
,

Heart Valve Surgeon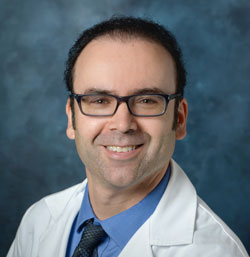 Hello! My name is Dr. Ali Khoynezhad and I am a cardiac surgeon having graduated from University of Cologne College of Medicine, Koln, Germany in 1996. To date, I have performed approximately 3,000 cardiac surgeries, of which 1,100 involved heart valve procedures. I regularly perform surgery at MemorialCare Heart & Vascular Institute. Read more...

43 Patient Reviews for Dr. Khoynezhad
"I was referred to Dr. Khoynezhad by my cardiologist due to the complex procedure needed to repair my aortic root. I had my aortic valve replaced with a mechanical valve and ascending aorta graft in 2004. My last check up the root had enlarged. An appointment with Dr. K explained the procedure and the risk. I scheduled my surgery at Long Beach Medical Center. Dr K saw me every day I was in the hospital. I am so glad I was referred to Dr. K and his staff for my surgery. After 9 weeks, I am back to work feeling great.
Thank you to Dr. Khoynezhad, office staff Laila & Rebecca, and Long Beach Medical Center. "
-- William Hayes, Aortic Valve, Valve Replacement, Root Replacement, Maze Procedure, 02/27/2018

"Dr. Khoynezhad is professional, extremely competent, knowledgeable and easy to talk to. He is willing to answer all questions and surrounds himself with staff that has the same attributes. This is very important when facing open heart surgery that you have complete confidence in your medical team. "
-- James Belford, Aortic Valve, Valve Replacement, 02/08/2016

> See 41 more patient testimonials
My Specialities & Interests
Specific to heart valve surgery, you should know that I have several specialties including:
Aortic and mitral valve repair
Minimally-invasive aortic root repair
High risk and re-do valve surgery
In addition, I have research and clinical interests specific to:
Development of minimally invasive procedures to repair the aortic root and the ascending aorta
Reduction of spinal cord injury after surgery on descending thoracic aorta
Outcome of patients with aortic dissection

Education, Training & Certificates
Dr. Ali Khoynezhad, heart surgeon, graduated from University of Cologne College of Medicine, Koln, Germany in 1996.
After medical school, Dr. Khoynezhad received a doctorate from Humboldt University in Berlin, Germany. Then, Dr. Khoynezhad moved to the United States where he completed an internship at Wake Forest University Baptist Medical Center.
Dr. Khoynezhad completed his Surgical Residency at North Shore University-Long Island Jewish Medical Center, Albert Einstein College of Medicine in New York. Dr. Khoynezhad completed his Cardiothoracic Surgery Residency in New York at Montefiore Medical Center in New York.
Doctor Khoynezhad also performed two fellowships. He was a Minimally Invasive Cardiac Surgery Fellow at Lenox Hill and an Endovascular Fellow at UCLA Medical Center.
Dr. Khoynezhad has received several awards including:
* Recipient of the "Who's Who In Medicine and Healthcare in America" * Named "America's Top Surgeons" by Consumers Research Council of America
Dr. Khoynezhad is board certified and on over 20 professional organizations. He is also a national trainer for minimally invasive aortic valve repair.

Schedule Appointment with Dr. Khoynezhad
To schedule an appointment with Dr. Khoynezhad, you can:
Call

(888) 534-2049

right now
Request an appointment by clicking here.
The office of Dr. Khoynezhad is located at 3828 Schaufele Avenue, Long Beach, CA 90808.
To get driving directions to this office, please click the map below.
> Click for driving directions to Dr. Khoynezhad's office.